Click Here for More Articles on Shutdown Streaming
Tune in to YOUTH FOR JUSTICE AND PEACE Virtual Showcase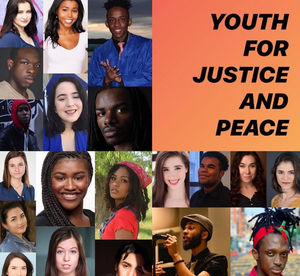 Youth for Justice and Peace A Virtual Showcase of young creatives for racial equality Black Lives Matter began as a call to action in response to state-sanctioned violence and anti-black racism. The organization has been persistent in their efforts since 2013. And after the death of George Floyd, the rest of the world has shifted its focus to the long standing movement. This showcase came into fruition as a direct response to that shift.
They wanted to expand how people though about social justice and their goal was to help in a way that was active, thoughtful and personal. So why a showcase? As a creative, it can be easy to feel like your work isn't helping. We are taught from a young age that if we want to do good in the world, we should take on professions in medicine or government. And in order to enforce any kind of change that you need to be a lawyer or a politician or a Supreme Court justice. In the same vain, we learn that being a performer or artist is primarily self-serving, because it's "all about you." And the amount of work it takes and the power that lies in those lines of work is continuously diminished. However, if we stop to think about what impacts our thinking, our values and the way we understand the world in our day to day, it isn't simply the politicians on Capital Hill, but the actors on television, the singers in recording studios, the writers editing their recent work and the illustrators animating a new children's series. Our culture is heavily impacted by the entertainment we consume. So who better to speak out and be included in conversations regarding change, than creatives?
The showcase will take place on August 1st and August 8th at 7pm EST. To purchase a ticket, they are asking for a donation of $5 to the following organizations: The Black AIDS Institute, Thorn, Grassroot Law Project, The Cameron Boyce Foundation, The Innocence Project, and Common Ground.
After making your donation fill out our RSVP form in their instagram or email them at youthforjusticeandpeace@gmail.com and you will receive the link to the stream of the event. The collective features: Faith Bentley, Chri Eli Blak, Nat. C, Justin Cales, Javes (JV) Charles, Ella Devito, Chrissy Diaz, Belle Doyle, Hannah Duran, Amado Xavier Lambert, Sabrina Lassegue, Vilma Ledferd, Violet Moncavage, Lorena Maggiore, Sade Morris, Regina Romero, John Sharpe Jr., Valerie Torres-Rosario, Daniel Velez, Karina Verna and Damba Yansane.
instagram.com/youthforjusticeandpeace
Related Articles
More Hot Stories For You
Dr. Fauci on the Return of Theatre: 'We [Could] Gradually Approach True Normal as We Get Through 2021'
As we pass six months since the lights of Broadway last lit up the theatre district, much talk has ensued concerning when theatre might realistically ...

Volume II of All-Female JESUS CHRIST SUPERSTAR Concept Album to be Released This Week
On September 18, we will see the release of She Is Risen: Volume II, the hotly awaited follow-up that brings together the extraordinary team that made...

Kenny Ortega Says - 'I'd love to do HOCUS POCUS on Broadway'
Forbes has reported that Kenny Ortega would love to bring Hocus Pocus to Broadway! The director/choreographer shared, 'a?oeIa??d love to do Hocus Pocu...

Governor Cuomo Says 'We Are Not Yet at a Point' Where Movie Theaters, Concert Venues and More Can Reopen
In a press conference yesterday, New York Governor Andrew Cuomo discussed the reopening of businesses in New York, including movie theaters and concer...

Neil Patrick Harris Reveals He and His Family Contracted COVID-19 Earlier This Year
In an interview on The Today Show recently, Neil Patrick Harris revealed that he and his family contracted COVID-19 earlier this year....

Lin-Manuel Miranda, Brandon Victor Dixon, Rory O'Malley and More Unite for #MeBecomesWe
Brandon Victor Dixon and Ashley 'Monet''s WeAre Foundation and Rory O'Malley and Kristen Wyatt's Belt The Vote are uniting the theatre community in a ...