Tony Nominee Lauren Ridloff Joins the Cast of AMC's THE WALKING DEAD Season 9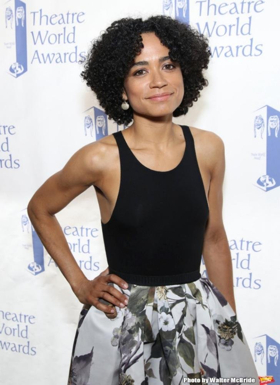 According to Entertainment Weekly AMC's hit zombie drama Walking Dead has cast Tony nominee Lauren Ridloff in a multi-episode arc.
Ridloff will play Connie, "a seasoned SURVIVOR deft at using her senses to read people, situations, and trouble. Her character is deaf and uses American Sign Language (ASL) to communicate." There is a character from the comics named Connie, who is a member of a New Group of survivors who comes to live at Alexandria, though that Connie is not deaf. In the comics, the group arrives after a time jump, and Season 9 is confirmed to contain a time jump.
Ridloff, who is deaf, earned a Tony nomination this year for her performance in the Broadway play Children of a Lesser God. THE WALKING DEAD will be her first major television role. She will not be the only Tony nominee among the cast; Danai Gurira was nominated in 2016 for writing the play Eclipse.
Called a "sensational find" by The New York Times, Lauren Ridloff has received a Best Actress nomination by the Berkshire Theater Critic Awards for her portrayal of Sarah Norman in the 2017 Berkshire Theater Group production of the Tony Award-winning Children of a Lesser God. Ridloff also appears in the Palme D'Or nominated film Wonderstruck, directed by Todd Haynes and starring Julianne Moore and Michelle Williams. She can be seen in John Legend's music video, Love Me Now. As the first Miss Deaf America of African-American and Mexican descent, Lauren is a Chicago native, currently residing in Brooklyn. Lauren is represented by KMR.
Photo Credit: Walter McBride