The Public Theater Hosts Play Festival From MFA Playwriting Program at Brooklyn College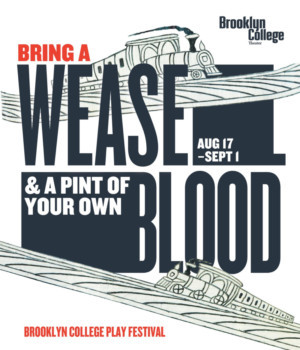 The Department of Theater at Brooklyn College is one of New York City's outstanding institutions in the training of theater artists. With the assistance of a generous grant from the Tow Foundation, the Department of Theater, in conjunction with the MFA Playwriting Program, headed by co-coordinators Mac Wellman and Erin Courtney, will present the annual Weasel Festival, hosted by The Public Theater (August 17-24). This festival of new works, previously produced by the playwrights, will feature performances of full length plays written by Kate Dakota Kremer, Rachel Kauder Nalebuff, Jerry Lieblich, and April Ranger all of whom are recent graduates of the MFA Playwrighting Program at Brooklyn College.
As the only department within the City University system to offer a comprehensive selection of graduate programs in Theater (Acting, Design & Technical Theater, Directing, Performing Arts Management), we capitalize on our New York City location and the expertise of our nationally recognized faculty in order to give our students an excellent yet financially accessible education in the art, craft, study, and appreciation of theater. In doing so, this year's Weasel Festival will feature current students and alumni of the Brooklyn College Graduate Acting Program and be designed by current students from the renowned MFA Design and Technical Theater program. Additionally, in honor of the opening on the new Leonard & Claire Tow Performing Arts Center, there will be a third week of shows on the Brooklyn College campus at the Buchwald Theatre (August 29-September 1).
Smart, imaginative and eclectic, the festival will present four new works in two programs. 'Program A,' directed by Kate Dakota Kremer and Emily Edwards, will feature term of art by Kate Dakota Kremer and Woe is Me by Rachel Kauder Nalebuff. The Sandwich Program Play by April Ranger and Tongue Depressor written by Jerry Lieblich and directed by Tara Elliott will be featured in 'Program B.'
Partnership between The Public Theater and Brooklyn College is made possible by The Tow Foundation.
Kate Dakota Kremer is a playwright based in Brooklyn, NY and Wise, VA. She has developed work at The Public Theater, the Bushwick Starr, Dixon Place, SFX Fest, the Brick, the Motor Company, the Wild Project, StageFemmes, Three Cat Productions, New Ground Theatre, the Last Frontier Theatre Conference, and Firehouse Theatre, which awarded her 2nd place in their 2015 New American Play Competition. She was a finalist for the Princess Grace Award in 2018 and for the Dennis & Victoria Ross Foundation Play Competition in 2017. She received an honorable mention for the Leah Ryan FEWW New Play Award and was shortlisted for the Leslie Scalapino Award in 2018. Productions are upcoming at the Figge Art Museum (fall 2018), Kenyon College (fall 2018), and Brooklyn College (spring 2019). Kate is the managing editor of the experimental play publishing company 53rd State Press. katekremer.com
Rachel Kauder Nalnuff is a writer exploring new kinds of community. She is the editor of My Little Red Book (Twelve Books, 2009), co-editor of The Feminist Utopia Project (Feminist Press, 2015) and directs 3 Hole Press. She is currently working on a choral performance, commissioned by Reimagine End of Life, that will be performed at the Riverside Cathedral by the staff of a nursing home. Her work has recently been presented by NYU, PRELUDE, the BBC, the National Performance Network, the Skirball Cultural Center, and the Hammer Museum. Itsrachelkaudernalebuff.com
April Ranger is a Brooklyn-based poet and playwright from Maine. Her full-length plays include Must Wash Hands (produced by Brooklyn College Performing Arts Dept.) and Bathsheba's Psalms, Or A Woman of Unusual Beauty Taking A Bath, which has received workshops with Fault Line Theatre (NYC) and Pegasus Playlab (Orlando). She co-hosts a monthly poetry/comedy variety show called The Ranger Zone with her twin sister, comedian Aimee Rose Ranger. April received an MFA in Playwriting from Brooklyn College, where she currently teaches in the English Department.
Jerry Lieblich usually lives in New York. He writes, usually plays. Plays include D Deb Debbie Deborah (Clubbed Thumb - Critic's Pick: NY Times, TimeOut NY), Nostalgia is a Mild Form of Grief (Playwrights Horizons, The Vineyard Theater), Your Hair Looked Great (Abrons Arts Center), and The Barbarians (Dixon Place). Jerry has held residencies at The UCROSS Foundation, Blue Mountain Center, and the Edward F. Albee Foundation, received an EST/Sloan Foundation Commission and the Himan Brown Creative Writing Award (twice), and is an alum of the Soho Rep Writer/Director Lab and Page 73's I-73 Writer's Group. BA: Yale; MFA: Brooklyn College.
Tara Elliott (director) is the director of critically-acclaimed shows Burq Off! and Not the One, and producer of the Gotham Award-winning web series "Shugs & Fats" now in development with Amazon Studios. She translated and directed the English language workshop premiere of prize-winning Chilean play Las Analfabetas. Her work as been seen at Walkerspace, HERE Arts, The Cherry Lane, Dixon Place, Robert Moss Theater, and internationally in Chile, Costa Rica, London, Edinburgh, and Seoul. 2018 Drama League Directing Fellow. MFA Brooklyn College.
Emily Edwards (director) is a second year MFA directing student at Brooklyn College. Her next project will be kicking off the 2018-19 Brooklyn College theater season with Kate Benson's [PORTO]. She has worked as a director, choreographer, and performer in the NYC indie theater world for the past 15 years.
Since 1998, Brooklyn College's Playwriting Program has been directed by Obie Award-winning playwright Mac Wellman, whose own recent work includes Muazzez at The Chocolate Factory as part of the 2014 P.S. 122 COIL Festival and 3 2's; or AFAR at Dixon Place. His books of poetry include Miniature (2002), Strange Elegies (2006), Split the Stick (2012) from Roof Books, and Left Glove (2011) from Solid Objects Press. His novel Linda Perdido won the 2011 FC2 Catherine Doctorow Prize for Innovative Fiction. Obie winner and Guggenheim Fellow Erin Courtney (13P's A Map of Virtue; Kaspar Hauser: A Foundling's Opera) is a former graduate and now co-coordinator of Wellman's MFA program. Other celebrated alumni include Annie Baker, Clare Barron, Chad Beckim, Thomas Bradshaw, Kelly Copper, Sarah DeLappe, Sibyl Kempson, Young Jean Lee, Kate E. Ryan and Tina Slatter among many others.
Brooklyn College's Department of Theater-Kip Marsh, chair; -is one of New York City's leading institutions in the training of actors, directors, designers, dramaturgs, performing arts managers, and theater technicians. The Department offers undergraduate degree programs leading to the Bachelor of Arts in Theater, the Bachelor of Fine Arts in Acting, the Bachelor of Fine Arts in Design & Technical Theater, the Master of Arts in Theater History & Criticism, and the Master of Fine Arts with concentrations in Acting, Directing, Design & Technical Theater, and Performing Arts Management.
THE PUBLIC is theater of, by, and for all people. Artist-driven, radically inclusive, and fundamentally democratic, The Public continues the work of its visionary founder Joe Papp as a civic institution engaging, both on-stage and off, with some of the most important ideas and social issues of today. Conceived over 60 years ago as one of the nation's first nonprofit theaters, The Public has long operated on the principles that theater is an essential cultural force and that art and culture belong to everyone. Under the leadership of Artistic Director Oskar Eustis and Executive Director Patrick Willingham, The Public's wide breadth of programming includes an annual season of new work at its landmark home at Astor Place, Free Shakespeare in the Park at the Delacorte Theater in Central Park, The Mobile Unit touring throughout New York City's five boroughs, Public Forum, Under the Radar, Public Studio, Public Works, Public Shakespeare Initiative, and Joe's Pub. Since premiering HAIR in 1967, The Public continues to create the canon of American Theater and is currently represented on Broadway by the Tony Award-winning musical Hamilton by Lin-Manuel Miranda. Their programs and productions can also be seen regionally across the country and around the world. The Public has received 59 Tony Awards, 170 Obie Awards, 53 Drama Desk Awards, 54 Lortel Awards, 32 Outer Critic Circle Awards, 13 New York Drama Desk Awards, and 6 Pulitzer Prizes. publictheater.org
Tickets are $10.00. For reservations at The Public Theater call Taub Box Office at 212.967.7555 or online https://publictheater.org/brooklynfestival || For tickets at Brooklyn College call Brooklyn College Box Office at 718-951-450 or online tickets.brooklyncollegepresents.org/Weasel

Related Articles
More Hot Stories For You