Click Here for More Articles on Podcasts
The Broadwaysted Podcast Doesn't SWEAT the Small Stuff with Tony-Nominee Johanna Day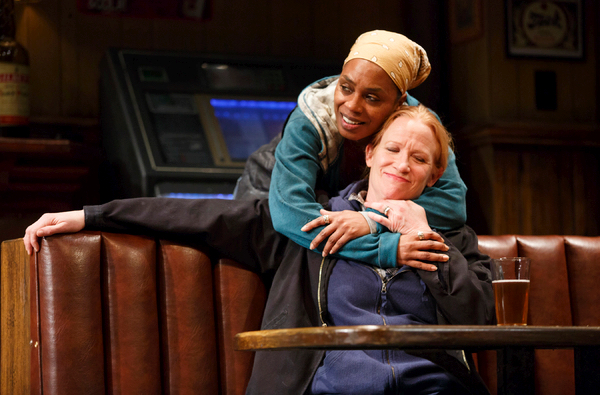 We're so excited to kick off our Tony week by getting Broadwaysted with Johanna Day, the Tony-nominated star of Sweat! We're all pouring out...water (pace yourselves for Tony week, kids!) while Johanna gushes about her experience in the Pulitzer Prize-winning play...and why she's a Pulitzer Prize Good Luck Charm!
We discuss seeing plays adapted into films, Johanna's incredible career (Tony nominee for PROOF, the all-star cast of YOU CAN'T TAKE IT WITH YOU, the game-changing AUGUST: OSAGE COUNTY...I mean, come on!), and how the acting process evolves over time.
Game Master Kimberly introduces the new game "Broadway Superlatives" with Lights of Broadway Show Cards and this week's edition of the new segment #StageDoorStories brings a great story from the Dark Side.
Johanna has some hilarious answers to our questions and Kevin tells a high school theater story about "The Stairs that Go Nowhere" so make sure to start your Tony week right--with a healthy dose of Broadwaysted!
Listen to the episode here:
---
Johanna's Bio: Johanna Day is currently appearing on Broadway in the Pulitzer Prize-winning play Sweat; she is nominated for a 2017 Tony Award for her performance. Johanna has also been seen on Broadway in You Can't Take It WIth You, August: Osage County, and Proof (Tony nomination). Ms. Day won the Helen Hayes Award for Leading Actress in a Resident Play for The Rainmaker at Arena Stage and was nominated for a Drama Desk Award for Edward Albee's Peter and Jerry at Second Stage Theatre. She has frequently been seen on television, including on shows like Madam Secretary, Elementary, Masters of Sex, The Americans, Royal Pains, Fringe, Judging Amy, All My Children, Law & Order, and Law & Order: Special Victims Unit.
---
About the Show:
Broadwaysted: Where we're drunk on Broadway! Literally. This isn't your typical theatre podcast. Come "take a glass together" with us every Tuesday!
Join our cocktail hour as we pour a few rounds, play some games, and chat all things theatre with your favorite members of the Broadway community. From current hits, to past flops, and future stars, Broadwaysted drinks to it all. It's a place to unwind, be yourself, and hang out among friends who love what you love. Feel like you're at the table with your host Bryan Plofsky, co-host Kevin Jaeger, game master Kimberly Cooper, and amazing guests! Let's all get Broadwaysted!
Twitter: @Broadwaysted
Instagram: @Broadwaysted
Bryan's Twitter: @nuttyplofessor
Kevin's Twitter: @JaegerKev
Kimberly's Twitter: @KimberCoops
Related Articles
Broadwaysted: Where we're drunk on Broadway! Literally. This isn't your typical theatre podcast. Come "take a glass together" with us every Tuesday! Join our cocktail (read more...)