Taylor Mac's 24-DECADE HISTORY: HOLIDAY SAUCE Coming to Town Hall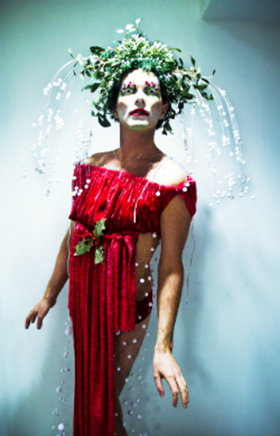 In 24-Decade History: Holiday Sauce, a concert at The Town Hall in New York City, on Tuesday, December 12th, Taylor Mac explores Christmas as calamity, celebrating the holiday season in all of its dysfunction.
This is Mac's first New York appearance since the dazzling October 2016 premiere of A 24-Decade History of Popular Music, a stamina-defying 24-hour performance art concert that re-examined the political and cultural history of the United States through an immense range of songs popular from 1776 to 2016.
Taylor Mac's latest focus? Christmas, the songs you know and love - and the holidays you hate.
Playwright, actor, singer-songwriter, performance artist, director and producer, Taylor Mac is a 2017 MacArthur Fellow and is the author of seventeen full-length works of theater. Mac's A 24-Decade History of Popular Musicwon the 2017 Edward M. Kennedy Award for Drama inspired by American History and was a 2017 Pulitzer Prize Finalist for Drama. The work was also made The New York Times "Best of 2016" lists in three categories: Performance, Theater and Classical Music.
In last year's complete performance of A 24-Decade History of Popular Music in Brooklyn [October 2016], Mac offered battle hymns, black spirituals, Tin Pan Alley songs, blues, Broadway musicals, reconstructions of "Yankee Doodle" and lesbian-feminist punk -- 246 songs in all, and all popular in one community or another in the United States over the last 240 years.
Still, "just because it premiered doesn't mean it's finished," Mac wrote. "Each time we do it, it is a workshop, premiere, and small part of a long run." For this special New York holiday installment, produced by Pomegranate Arts, Mac will be joined by longtime collaborators: costume designer Machine Dazzle, music director Matt Ray and a band of eight.
Taylor Mac's work has been described in Theater Journal as "a fight against conformity and categorization." Mac's sources are as disparate as The Theater of the Ridiculous and Greek drama, the late actor and playwright Charles Ludlam and drag performance. "I bring people together and give them some kind of shared experience, not a homogeneous one, but a shared one they can use to help as a foundation for further communing," states Mac.
---
IF YOU GO:
The Town Hall Presents: Taylor Mac's 24 Decade History: Holiday Sauce
Tuesday, December 12, 2017 at 8:00pm (doors 7:30pm)
At The Town Hall, 123 West 43rd Street (between 6th Avenue and Broadway), New York, NY 10036
Tickets: $45/60/70/80
Tickets are available at The Town Hall Box Office (212-997-6661) or via Ticketmaster.
---
Taylor Mac (who uses "judy," lowercase sic, not as a name but as a gender pronoun) is a playwright, actor, singer-songwriter, performance artist, director and producer. "A critical darling of the New York scene" (New York Magazine), judy's work has been performed at New York City's Lincoln Center, The Public Theatre and Playwrights Horizons, London's Hackney Empire, Los Angeles's Royce Hall, Minneapolis's Guthrie Theater, Chicago's Steppenwolf Theatre, the Sydney Opera House, Boston's American Repertory Theatre, Stockholm's Sodra Teatern, the Spoleto Festival, San Francisco's Curran Theater and MOMA, and literally hundreds of other theaters, museums, music halls, opera houses, cabarets, and festivals around the globe. Judy is the author of seventeen full-length plays and performance pieces including A 24-Decade History of Popular Music (2017 Pulitzer Prize Finalist for Drama, Kennedy Prize in Drama), Hir (placed on the top ten theater of 2015 lists of The New York Times, New York Magazine, and Time Out NY; published by North Western University Press and in American Theater Magazine), The Lily's Revenge (Obie Award), The Walk Across America for Mother Earth (named One of the Best Plays of 2011 by The New York Times), The Young Ladies Of (Chicago's Jeff Award nomination for best solo), Red Tide Blooming (Ethyl Eichelberger Award), and The Be(a)st of Taylor Mac (Edinburgh Festival's Herald Angel Award). Recent acting roles include Shen Teh/Shui Ta in The Foundry Theater's production of Good Person of Szechwan at La Mama and The Public Theater (for which judy received Lucille Lortel and Drama League Award nominations), Puck/Egeus in the Classic Stage Company's A Midsummer's Night Dream, the title role in various productions of judy's play, The Lily's Revenge, and opposite Mandy Patinkin in the two-man vaudeville, The Last Two People On Earth, directed by Susan Stroman. Mac is currently creating a Dionysia Festival of four original plays (to be premiered separately and eventually performed in repertory), which deal in some way with our cultural polarization and that include: an all-ages play called, The Fre (commissioned by the Children's Theater Company in Minneapolis, premiere date TBD); a kitchen-sink tragedy named, Hir (which received its world premiere at the Magic Theater in Feb 2014); a dance-theater play, The Bourgeois Oligarch, and a music theatre debate regarding small and large government, set inside an Ezra Pound poem, in the subconscious of Clarence Thomas, during a Supreme Court Hearing. Mac is the recipient of multiple awards including the Edward M. Kennedy Prize for Drama Inspired by American History, Doris Duke Performing Artist Award, a Guggenheim Award, the Herb Alpert Award in Theater, the Peter Zeisler Memorial Award, the Helen Merrill Playwriting Award and an Obie. An alumnus of New Dramatists, judy is currently a New York Theater Workshop Usual Suspect and the Resident playwright at the HERE Arts Center.
Inaugurated on January 12, 1921, The Town Hall has celebrated the diversity of New York with programs for all audiences through its own eclectic programming and by opening its doors to an unparalleled roster of independent producers. The 1,500 seat hall, with its grand feel and impeccable acoustics, has been a showcase for music from around the world and new artistic collaborations as well as a stage for public affairs and education, social progress and political discourse. Some of the figures that have appeared at Town Hall include Paul Robeson, Sergei Rachmaninov, Pablo Casals, Andres Segovia, Dizzy Gillespie, Charlie Parker, Nina Simone, Langston Hughes, Thelonious Monk, Igor Stravinsky and Bob Dylan. Town Hall is a cultural crossroads. It was built as a forum for the people-to educate, inspire and explore. For nearly a century, Town Hall Presents has celebrated the diversity of this great city with programs for all audiences-unique voices from around the world, new collaborations, public affairs and education, social progress and political discourse. The Town Hall presents an eclectic season of events and concerts for everyone. For more information, visit the Town Hall history page.
For the past twenty years, Pomegranate Arts has worked in close collaboration with a small group of contemporary artists and arts institutions to bring bold and ambitious artistic ideas to fruition. Founder and Director Linda Brumbach, along with managing director Alisa E. Regas, produced the Olivier Award-winning revival of Einstein on the Beach, the multi-award-winning production of Taylor Mac's 24-Decade History of Popular Music, the Drama Desk Award-winning production of Charlie Victor Romeo and Available Light by John Adams, Lucinda Childs and Frank Gehry among others. Since its inception, Pomegranate Arts has produced over 30 major new performing arts productions and tours for Philip Glass, Laurie Anderson, Lucinda Childs, Dan Zanes, London's Improbable, Sankai Juku, Batsheva, and Bassem Youssef and collaborated on new productions with the Kronos Quartet, Leonard Cohen, Robert Wilson, and Frank Gehry. Together with Taylor Mac/Nature's Darlings, Pomegranate Arts produced and developed A 24-Decade History of Popular Music.