Talent Manager Brad Lemack Tackles The Challenges For Career-Focused Actors In His Third Book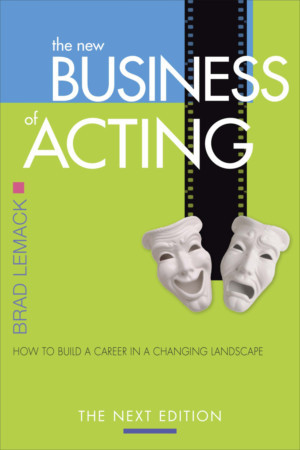 In the revised and expanded The New Business of Acting: How to Build a Career in a Changing Landscape - The Next Edition, talent manager, educator and author Brad Lemack tackles the tough challenges actors face in seeking, building and maintaining rewarding careers in an industry struggling to rebrand itself and how it does business. His advice and perspective are rooted in his nearly 35 years developing, coaching and managing talent - and from his nearly 25 years guiding his college and university students in their transitions from acting students to working, professional actors. Ingenuity Press USA will publish the title in both hard copy and in eBook format on October 1st, 2018.
Bookstore talks-and-signings have been scheduled in Los Angeles, New York and Chicago throughout the month and include Barnes & Noble/Burbank, California on 10/06, Barnes & Noble/Studio City, California on 10/13, Volumes Bookcafe/Chicago on 10/16, Drama Book Shop, New York City on 10/22, The Last Bookstore/Los Angeles on 10/30 and Samuel French Bookshop/Hollywood on 11/10. Brad will also teach a day-long, master class at Sol Acting Academy, in Albuquerque, NM on 11/17.
From the role of personal ethics and integrity to landing the role of a lifetime, The New Business of Acting: The Next Edition teaches readers how to navigate through and thrive in a continually changing landscape. Whether new to the business or in need of a professional career tune up, Lemack's guidance will empower the reader with a critical perspective on how to create, map out and embark on a strategic, life-long journey that will earn opportunities on which careers are built.
The Next Edition includes 20 new and revised chapters that address the impact of the #MeToo movement, the evolution and explosion of self-tape and live-by-new-media auditions, the "Hollywood Hyphenate," online career branding, the post-merger SAG-AFTRA, the union's $125-a-day dilemma for actors, the new tax plan's impact on actors and the overall impact of other industry challenges and changes across-the-board. Lemack also guides readers through the critical process of creating a career Action Plan designed to motivate, focus and empower actors in their steps forward.
Industry praise for the new book has been strong. Brianna Ancel, vice president of the talent agency Clear Talent Group, commented, "I'd love to make this required reading for any actor I sign." Casting director Jennifer Cooper wrote, "A must-read from a veteran in the business who genuinely cares about the growth of the next generation of talent in Hollywood." Actor, playwright, producer and director Gregory Crafts said, ""If you want to build a sustainable, professional performing career with integrity and longevity, Brad's new book is absolutely indispensable." Talent executive and casting director Amanda Richards added, ""This book makes this unpredictable and ever-changing business somewhat tangible. A must-read for anyone who is serious about making acting a career."
Lemack began his professional career in his hometown of Boston hosting radio and television talk and interview programs, and as a news director and broadcast anchor. He moved to Los Angeles in the early 1980s to work for noted TV pioneer Norman Lear as a publicity executive. He later established and continues to run his own agency, Lemack & Company Talent Management/Public Relations. He joined the faculty of the Emerson College Los Angeles Campus in 1985 and the Elon University in Los Angeles Program in 2010.
His popular books for actors, The Business of Acting: Learn the Skills You Need to Build the Career You Want (first published in 2002) and the first edition of The New Business of Acting: How to Build a Career in a Changing Landscape (first published in 2012), have become integral components and required reading in many college and university acting and performing arts programs. They have also served as the rebranding manual for working actors seeking to restart and refresh the page on a stalled or stale career.
The best actor never gets the role. But the right actor always gets hired - and if you want to be the right actor, you need to create a well-paved pathway through the traffic jam that can slow you down, divert your attention and create stress behind the wheel of the career you're committed to driving forward. It's your journey and it's time for a career tune up, even if you're just starting out.