THE TERRIBLE LEGEND OF VICTORIA WOODHULL Extends Run At United Solo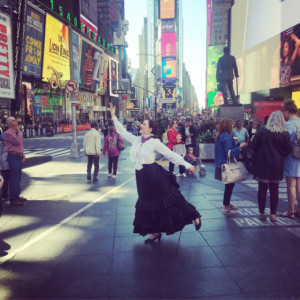 After a successful, sold out opening night performance, The Terrible Legend of Victoria Woodhull, extends its run at United Solo Theatre Festival, for an additional performance on Theatre Row - The Studio Theatre, 410 W 42nd St, New York, NY 10036 - Saturday, Oct 6th at 7:30pm.
Many terrible tales have been told about Victoria C. Woodhull, the first woman to run for President of the United States in 1872. A well-meaning Los Angeles actress (Ashley Ford) will summon the spirit of Victoria in a seance to tell her tale from beyond the grave, in the light of today's #metoo movement and set the record straight.
The solo show follows her rise from poverty to riches, as a traveling Clairvoyant who became the first female stockbroker on Wall Street, the first woman to formally address Congress, running her own progressive NY newspaper, her ultimate betrayal and demise. It also includes a Seance where the audience will be invited to chant and summon the spirit of Victoria Woodhull herself to tell her own tale!
The Terrible Legend of Victoria Woodhull received both a west coast premiere at the 2018 Hollywood Fringe Festival this past June and east coast premiere in New York City last evening, Thursday, Oct 4th. Written by Theo Salter, Directed by Karen Louisa Linton, Stage Managed by Aislinn Curry* and performed by Ashley Ford.
United Solo is the world's largest solo theatre festival staged at Theatre Row in the heart of the New York City's theatre district on 42nd Street. All tickets are $45 (plus a $2.25 theatre restoration charge), available in-person at the Theatre Row Box office, 410 W 42nd St New York, through Telecharge online at www.telecharge.com or by phone at 212-239-6200.
When placing your reservation over the phone be sure to provide the FESTIVAL NAME (United Solo), the THEATRE NAME (Theatre Row - Studio Theatre) and the specific DAY and TIME of the SHOW you would like to see (Saturday, Oct 6th @ 7:30pm) or select "Buy Tickets" at: http://unitedsolo.org/us/theterriblelegend-2018-2/
Audiences can learn more at www.VictoriaWoodhullPlay.com or follow on Instagram @tlo_victoriawoodhull
Audiences who attend may vote for their favorite production on Backstage at: https://hello.backstage.com/united-solo-partner/ through November 18th.
*appearing courtesy of AEA, an Equity approved showcase. Equity comps will he available at the door on a standby basis
Related Articles
More Hot Stories For You
VIDEO: James Corden, Patti LuPone, and More Celebrate 'One Day More' of the Trump Era with a LES MISERABLES Parody
James Corden is celebrating the imminent departure of the Trump administration with a Les Miserables parody! ...

VIDEO: Watch 30 Broadway Stars Make Music with Muppets!
Since Jim Henson first burst onto the scene over six decades ago, Muppets have taken center stage in pop culture, appearing on film, television, and b...

VIDEO: Broadway Celebrates Biden with A Moving Mashup of RENT and HAIR!
Tonight, many of Broadway's brightest stars united to celebrate the inauguration of President Joe Biden and Vice President Kamala Harris with a medley...

Javier Munoz, Leslie Uggams and More Stars Set to Perform 'Seasons of Love' as Part of Tonight's Inauguration Festivities
Javier Munoz and Leslie Uggams have shared via social media that they will be joining a group of Broadway talent to perform 'Seasons of Love' as part ...

VIDEO: Amanda Gorman References HAMILTON in Inaugural Poem 'The Hill We Climb'
Today at President Joe Biden's inauguration, 22 year old Amanda Gorman took to the stage to deliver the inaugural poem, entitled 'The Hill We Climb'. ...

Social Roundup: Theatre Fans Turn Bernie Sanders' Inauguration Look Into Hilarious Memes
Theater fans have turned Senator Bernie Sanders' appearance at President Joe Biden's inauguration into a meme today, juxtaposing him into iconic pictu...