THE JEWISH KING LEAR Comes to Metropolitan Playhouse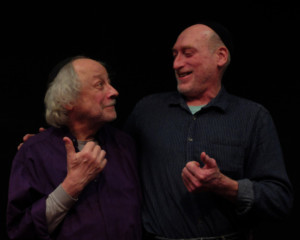 Obie Award winning Metropolitan Playhouse (220 E. 4th Street) presents Jacob Gordin's The Jewish King Lear, one of the foundational works of the "Golden Age" of American Yiddish theater, in a new English translation by Ruth Gay, from April 27 through May 27, 2018. The play, which had its Lower East Side debut in 1892 and was written as a star vehicle for Jacob Adler, one of the greatest actors of the New York's Yiddish stage. Metropolitan Playhouse welcomes back director Ed Chemaly (The Easiest Way, The Spirit House) to helm the production.
The Jewish King Lear is credited with establishing the popularity of "serious" Yiddish theater in America. Not a translation of Shakespeare's Lear, but a retelling of the story in 1892 that is farcical, introspective, and politically pointed all at once. Reb Dovidl Moysheles seeks to divide his estate among his three daughters before his move to Israel. The youngest, whose unflagging devotion to him is unrecognized, and her rabbinical student boyfriend doubt the wisdom of his plans, comparing him to that great writer Shakespeare's character, King Lear. The two eldest self-centeredly misuse his largess with their respective husbands--one a Hasid, the other a Misnagid--and ultimately turn him out of their house when he returns, disenchanted, from the promised land. For years he wanders alone but for his devoted, irreverent servant.
Previews begin Friday, April 27 at 7:30pm
Opening Thursday, May 3 at 7:30 pm
Closing Sunday, May 27 at 3pm
Tickets: $30 general; $25 seniors/seniors; $10 children, and may be purchased online at www.metropolitanplayhouse.org/tickets or by phone (800) 838-3006
Metropolitan's is the premier production of Ruth Gay's 2007 translation, which has previously received only a reading at Washington's Shakespeare Theatre Company in January.
The cast for The Jewish King Lear features Kelly D. Cooper, Katie Hahn, Deanna Henson, Tyler Kent, Olivia Killingsworth, Clara Kundin, Jeremy Lawrence, Joel G. Leffert, Amanda (Miryem-Khaye) Seigel, Tori Sicklick, Jack Sochet, and Diane Tyler.
The production team includes Traci Bargen, stage manager; Mario Alonso, set design; Sidney Fortner, costume design; Scott Andrew Cally, lighting design; Brianna Fernandez, assistant stage manager; and Max Frank, production apprentice.
"The Yiddish Theatre's commission of this adaptation of what is arguably Shakespeare's greatest tragedy emerged from a heartfelt need to have the themes of that monumental play speak to the immigrant population that was their loyal and eager audience," states director Ed Chemaly. "While Jacob Gordin's retelling of the story addresses issues of wealth, assimilation and the role of women in society, it is ultimately an impassioned plea for forgiveness. In a time when today's Americans of diverse backgrounds are realizing our own desperate need to find common ground, I am thrilled to join with The Metropolitan Playhouse in their mission to discover how these themes can speak just as passionately to today's audience."
According to Sophie Glazer, daughter of translator Ruth Gay, discovering Gordin's own manuscript YIVO Institute for Jewish Research, her mother was struck by the major differences between Jacob Adler's performance text and original, and was so inspired to create a new translation. The Metropolitan Playhouse production will feature Gordin's original ending, with its moving celebration of the transcendent power of scientific knowledge over superstition.
Joel Berkowitz, author of Shakespeare on the American Yiddish Stage, says "More than any other play in the history of the Yiddish theatre, Jacob Gordin's The Jewish King Lear ushered in a new epoch. Ruth Gay's translation has been rendered with care and intelligence."
METROPOLITAN PLAYHOUSE explores America's theatrical heritage through forgotten plays of the past and new plays of American historical and cultural moment. Now in its 26th season, the theater received a 2011 OBIE Grant from The Village Voice for its ongoing productions that illuminate who we are by revealing where we have come from. Called an "indispensable East Village institution" by nytheatre.com and "invaluable" by Back Stage, Metropolitan has earned accolades from The New York Times, The Village Voice, and The New Yorker. Other awards include Outstanding Performing Arts Group from the Victorian Society New York, and 18 nominations for NYIT Awards since 2010, with winners Lenore Wolf for short script, Sidney Fortner for costumes, Frank Anderson for lead actor. Recent productions include A MARRIAGE CONTRACT; ON STRIVERS ROW; LEAH, THE FORSAKEN; END OF SUMMER; O'NEILL (Unexpected); WALK HARD; ALISON'S HOUSE; INJUNCTION GRANTED; THE MAN OF THE HOUR; ICEBOUND; WITHIN THE LAW; THE HERO; A MAN'S WORLD; BOTH YOUR HOUSES; THE HOUSE OF MIRTH; DEEP ARE THE ROOTS; THE JAZZ SINGER; ONE-THIRD OF A NATION; UNCLE TOM'S CABIN; and DODSWORTH; as well as the Alphabet City and East Village Chronicles series.