Click Here for More Articles on 2021 AWARDS SEASON
Sara Krulwich, Bessie Nelson and Ernest Winzer Cleaners to Receive The 2018 Tony Honors for Excellence in the Theatre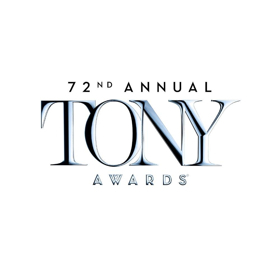 The Tony Awards Administration Committee has announced that they will present the 2018 Tony Honors for Excellence in the Theatre to three outstanding contributors to the Broadway industry - New York Times' culture photographer Sara Krulwich, costume beader, Bessie Nelson, and the Ernest Winzer Cleaners.
The Tony Honors for Excellence in the Theatre were established in 1990 and are awarded annually to institutions, individuals and/or organizations that have demonstrated extraordinary achievement in theatre, but are not eligible in any of the established Tony Award categories.
"This year's group of Tony Honors for Excellence in the Theatre award recipients perfectly exemplify the scope of work in our industry," said Heather Hitchens, President & CEO of the American Theatre Wing, and Charlotte St. Martin, President of The Broadway League. "Each one has left such a mark on the Broadway community in such different ways, and we're proud to be able to honor their contributions."
Raised in NYC, Sara Krulwich attended the University of Michigan where she became the first woman staff photographer for the school newspaper, The Michigan Daily. After graduation, Sara repeatedly broke new ground, becoming the first female staff photographer at The Providence Journal, The Journal Inquirer and The Philadelphia Inquirer. Sara joined the New York Times in 1979, where she covered sports, politics and general assignments, all of which required constant travel. In 1992 she became the mother of twins and realized that she could no longer jump on a plane anytime news happened. At the urging of some family friendly photo and culture editors, the New York Times created a position for her. She became the paper's first designated culture photographer, assigned to covered dance, opera and cultural news--but very little theater, since the paper traditionally ran photos supplied by producers. This was a major gap for Sara, a lifelong theater buff, whose mother sang her to sleep with ""I love you, a bushel and a peck," from "Guys and Dolls." She became determined to make the paper's theater photos more journalistic. But since the New York Times lets no one see stories or photos before they are published, it took her years to convince press agents and producers to let her shoot their shows. Eventually, they relented and began to welcome her into their theaters and she now photographs over 100 plays a year. Her signature and proudest achievement has been providing an authentic historical record of New York Theater. In Sara's words: "My feeling is: the picture in the paper should look pretty much like the performance you're seeing."
In a career spanning over 70 years, Bessie Nelson is regarded as one of the premier beading designers in the country. Born in1931, Bessie was 9 years old when her Aunt Jenny, a sample hand on Seventh Avenue in New York's garment district, became instrumental in peaking her interest in beadwork and teaching her the art. In 1972, Bessie moved to California. It was there that she worked in Hollywood on costumes for television's "Dynasty," "The Carol Burnett Show" and "The Sonny and Cher Show" in collaboration with Bob Mackie. She has created designs for Neil Diamond, Liberace, Lionel Richie and Diana Ross. Her former business partner, Stella Ruata, and she became well known for their work on Michael Jackson's famous white crystal glove, his socks and his beaded jackets. They were recognized as "the women behind the glove" and were featured in the media. Her artistry took her beyond the stage when Galanos asked her to bead First Lady Nancy Reagan's Inaugural Ball Gown and later was selected to bead Hillary Clinton's Inaugural Ball Gown. Bessie has collaborated with New York costume designers including William Ivey Long, Suzy Benzinger, Anthony Powell, Martin Pakledinaz, Greg Barnes, Ann Roth and Catherine Zuber. She worked closely with these famous designers and did the beadwork for shows on Broadway such as 'The Producers", "Sunset Boulevard", "Dreamgirls", "The Drowsy Chaperone", "Spamelot", "Miss Saigon", "Wicked", "The Boy From Oz", "Guys and Dolls", "Crazy For You", " A Chorus Line", "Beauty and the Beast", "Mama Mia", "The Lion King", "Macbeth", "Chicago", "The Color Purple", "Aladdin", "Frozen", "The King and I", "Hello Dolly", "The Donna Summer Musical" and many more. Bessie's beading appeared in motion pictures including "101 Dalmatians"for Glen Close, "My Best Friend's Wedding" for Julia Roberts, the remakes of "The Pink Panther" for Beyoncé, 'The Stepford Wives" for Bette Midler, Nicole Kidman and Glen Close, and "Sabrina" for Julia Ormon.. Don't mention retirement to Bessie Nelson, for this dynamo is still going strong today and possesses the same inner sparkle as the colorful beads she sews!
In 1908 Ernest Winzer was the Master Drycleaner and Dyer to the Broadway stage productions of the day. Family folklore has it that Winzer began by handling the costumes worn by Broadway greats like George M. Cohan, Helen Hayes, Laurette Taylor, the Barrymores and Billie Burke. This legacy of providing service worthy of the Great White Way's brightest and best continues to this day. Today, Bruce Barish, is the third generation of the Steinhorn family to preside over Ernest Winzer Cleaners. In keeping with his grandfather's service philosophy, Bruce takes personal responsibility for seeing to it that Winzer always satisfies demands of its most discriminating customer. He takes particular joy in indulging his personal passion for garment restoration work, an expertise he shared with his grandfather, Al. Ernest Winzer Cleaners offers a perfect blend of Old World knowledge, new millennium technology and turn of the century graciousness and service worthy of a star. Although Al Steinhorn did not live to see his grandson carry on his legacy, Bruce knows that Grandpa Al is shining over him and his work every day.
The American Theatre Wing's 72nd Annual Tony Awards, hosted by Sara Bareilles and Josh Groban, will air on the CBS Television Network on Sunday, June 10, 2018 (8:00-11:00 PM, ET/delayed PT) live from Radio City Music Hall in New York City. The Tony Awards, which honors theatre professionals for distinguished achievement on Broadway, has been broadcast on CBS since 1978. The Tony Awards are presented by The Broadway League and the American Theatre Wing.
The official eligibility cut-off date will be Thursday, April 26, 2018, for all Broadway productions opening in the 2017-2018 season. Productions which meet all other eligibility requirements and open on or before the eligibility date are considered eligible for 2018 Tony Award nominations.
The Nominations for the 2018 Tony Awards will be announced live, by Leslie Odom, Jr. and Katharine McPhee on Tuesday, May 1, 2018, from the New York City Public Library for the Performing Arts at Lincoln Center.
Follow the Tony Awards on Twitter and Instagram for real-time updates on the nominees as they are announced (@TheTonyAwards). The entire announcement will also be available on TonyAwards.com after the event.