San Francisco Theatre Under Fire for Willfully Producing Unsanctioned Adaptation of Play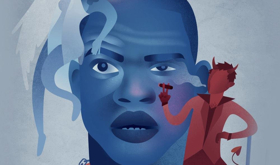 According to Arts Integrity Initiative, Shelton Theatre in San Francisco is currently running a production of THE LAST DAYS OF JUDAS ISCARIOT that openly violates the playwright's wishes and copyright law.
Director Richard Ciccarone claims he made extensive cuts to Stephen Adly Guirgis's THE LAST DAYS OF JUDAS ISCARIOT, trimming the two hour play down to 80 minutes and reshaping it to fit a smaller cast. Ciccarone says it was not his intention to damage the work, but that the Shelton Theatre did not have the budget or space within a performance schedule to take on the work in full.
Guirgis responded to the production saying he had no wish to shut them down and put the company of cast and crew out of a job, rather he made a compromise of sorts and insisted on a program insert that reads: "The play you are seeing tonight has been improperly and extensively cut & edited. These edits were made without permission, against the wishes of the playwright, and in violation of Federal Copyright Law."
Guirgis's request was heeded, but the playwright was further inflamed when Shelton put a kitschy red WARNING stamp across the insert, a move he claimed made it look "more like marketing (oh, warning! something "taboo") - rather than an admission of fault on their part." Guirgis said he would push to have the production closed if the insert was not fixed.
As of August 5th, Arts Integrity Initiative reports that the insert has been fixed and theatre founder Matt Shelton and director Richard Ciccarone are both apologetic about the handling of the play. Guirgis shared a letter written to him by Ciccarone which said, "The decisions that I made were not the result of artistic solipsism, but so that our theater could present a work of true genius within our limitations. I hope and beg that you let us present the balance of our run with the understanding that we will never do anything like this again."
For more on this story, visit Arts Integrity Initiative here.
Image via Shelton Theatre
Related Articles