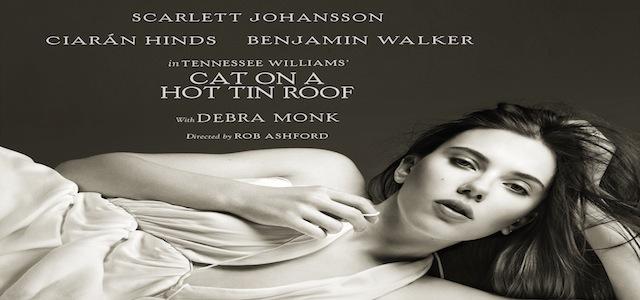 Click Here for More Articles on CAT ON A HOT TIN ROOF
STAGE TUBE: New Promo Released for CAT ON A HOT TIN ROOF!
The Richard Rodgers Theatre box office (226 West 46th Street) is now open for tickets to Tennessee Williams' Cat on a Hot Tin Roof starring Scarlett Johansson as Maggie, Ciarán Hinds as Big Daddy, Benjamin Walker as Brick and Debra Monk as Big Mama, directed by Rob Ashford. Cat on a Hot Tin Roof opens Thursday, January 17, 2013. Previews begin Tuesday, December 18. This limited engagement runs for 15 weeks only, through March 30, 2013. Check out a just-released television spot for the show below!
The cast also includes Emily Bergl (Mae), Michael Park (Gooper), Vin Knight (Reverend Tooker), Brian Reddy (Doctor Baugh). The cast also includes Will Cobbs, Tanya Birl, Jordan Dean, Lance Roberts and Cherene Snow. Playing the children are Laurel Griggs, Victoria Leigh, Charlotte Rose Masi, George Porteous and Noah Unger.
The design team is comprised of Christopher Oram (Scenic Design), Julie Weiss (Costume Design), Neil Austin (Lighting Design) and Adam Cork (Composer and Sound Design).
In Cat on a Hot Tin Roof, "Big Daddy" Pollitt, the richest cotton planter in the Mississippi Delta, is about to celebrate his 65th birthday. He is distressed by the rocky relationship between his beloved son Brick, an aging football hero who has turned to drink, and his beautiful and feisty wife Maggie. As the hot summer evening unfolds, the veneer of Southern gentility slips away as unpleasant truths emerge and greed, lies and suppressed sexuality reach a boiling point.
Related Articles

More Hot Stories For You