SISTER ACT 3 in the Works at Disney+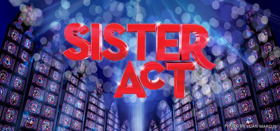 Disney's new streaming service Disney+, is developing "Sister Act 3," according to Variety. "Insecure" co-executive producer Regina Hicks and "Star" showrunner Karin Gist will write the script for the film.
Plot details of "Sister Act 3" have not been released, yet. The original film starred Whoopi Goldberg and centered on her Reno lounge singer, who goes into protective custody at a San Francisco convent and pretends to be a nun after a mob boss puts a hit on her.
Goldberg has said she would have a cameo in this film, but that a new cast would put a fresh spin on the original.
The 1992 film from Disney's Touchstone Pictures also starred Maggie Smith and Harvey Keitel and earned $232 million worldwide. The film inspired the musical adaptation that followed the fallen showgirl, Deloris Van Cartier, as she unexpectedly finds sisterhood and redemption when forced to take refuge in a convent. The musical was nominated for 5 TONY AWARDS and 5 Drama Desk Awards and starred Patina Miller.
Hicks and Gist have written together on a handful of films, including "Drumline" and the two "Camp Rock" movies. Hicks has co-exec produced "Insecure" for the last three seasons while also working on on "The Comedy," "Uncle Buck," and "Girlfriends." Gist co-exec produced "Grey's Anatomy," "Revenge," and "House of Lies."
Read the original article on Variety.
Related Articles