SCHOOL OF ROCK Alum Isabella Russo Tapped for New ABC Pilot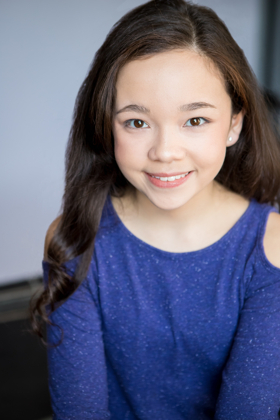 World, watch out... she's back to play!
According to an exclusive Deadline announcement, former SCHOOL OF ROCK standout Isabella Russo, praised for her performance as feisty Summer Hathaway, has been tapped to be a series regular in the new ABC pilot, FOR LOVE.
In the pilot, helmed by HOMELAND's John Dahl and written by Michael Cooney (Jack Frost, IDENTITY), Russo plays Alice, an innocent orphan girl taken in by the renowned Dumaine family, who, after being used in a strange ritual, finds herself possessed by the soul of its domineering matriarch Marie Jojo, a centuries-old magic user with a cruel, controlling agenda.
In addition to SCHOOL OF ROCK, which marked the young starlet's Broadway debut, Russo has previously been seen onstage as the bookish Ryder in Abingdon Theatre Company's THE MOTHER OF INVENTION and onscreen as Clara in Target's mini-musical spectacular, THE TOYCRACKER, in which she appeared alongside entertainment power duo John Legend and Chrissy Teigen.
With the pilot currently in the works, Russo's fast filling up her plate. She'll next appear as queen of mean Annabelle in LUCY IN THE SKY, a short coming-of-age film that delves into the turbulence of living with autism. The film, produced by Purple Glasses Productions and based off a full-length TV pilot script from its writer,
Jen Rudin
, is due out later this Spring.
Russo is represented by CESD and 3 Arts Entertainment. FOR LOVE is presented by Produced Bayou Inc.
Photo Credit: @thedrgimage
Matt Smith is a writer and theatre enthusiast based in New York. For more information or further inquiry, including additional writing samples, please visit mattsmiththeatre.com.