Review Roundup: What Did The Critics Think of LOVE NEVER DIES On Tour? - Updated!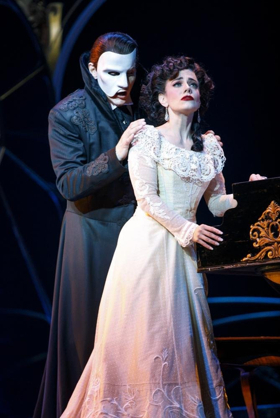 Andrew Lloyd Webber's Love Never Dies, the sequel to The Phantom of the Opera, has hit the road, making its North American premiere in Detroit, MI in October, following technical rehearsals and performances in Utica, NY in September. and a special preview engagement in Baltimore in October. Since then, the tour has stopped in Durham, NC Oct 31-Nov 5, Ft. Lauderdale, FL Nov 7-19, Orlando, FL Nov 21-26, Atlanta, GA Nov 28-Dec 3, Ft. Myers, FL Dec 5-10, Tampa, FL Dec 12-17, and is currently playing in Providence, RI Dec 26-31.
A full list of upcoming tour stops can be found here.
BroadwayWorld previously rounded up reviews for the first three stops, which you can check out here.
Gardar Thor Cortes stars 'The Phantom,' with Meghan Picerno as 'Christine Daaé,' Karen Mason as 'Madame Giry,' Sean Thompson as 'Raoul,' Mary Michael Patterson as 'Meg Giry,' and Casey Lyons and Jake Heston Miller sharing the role of 'Gustave.' The trio of Phantom's henchmen include Katrina Kemp as 'Fleck,' Richard Koons as 'Squelch,' and Stephen Petrovich as 'Gangle.'
The ensemble includes Chelsey Arce, Erin Chupinsky, Diana DiMarzio, Tyler Donahue, Yesy Garcia, Alyssa Giannetti, Michael Gillis, Tamar Greene, Natalia Lepore Hagan, Lauren Lukacek, Alyssa McAnany, Rachel Anne Moore, Bronson Norris Murphy, Dave Schoonover, Adam Soniak, John Swapshire IV, Kelly Swint, Lucas John Thompson, Correy West and Arthur Wise.
Let's see what the critics are saying!
---
Rod Stafford Hagwood, SouthFlorida.com: That's what the show gets right: It fills the stage with garish spectacle. Ah, but then it just doesn't seem to know what to do after that. Once the frequent production numbers stop spinning around on a rotating platform, things get tedious. The show runs two hours with a 15-minute intermission. Nothing much happens that you couldn't catch on the Lifetime cable network. Keep in mind that this is a show that never made it to Broadway.
Seth Kubersky, Orlando Weekly: The cast and creative team do their level best to polish this Thanksgiving turkey, but even Gabriela Tylesova's sumptuous cirque-influenced costumes and sets are too little, too late. Director Simon Phillips mostly has his actors "park and bark" in static old-school opera style, sorely underutilizing choreographer Graeme Murphy. And for a show about a master illusionist there's a distinct absence of stage effects, with no "wow" moments to approach Phantom's floating candles or crashing chandelier. The leads' powerful classically-cultivated singing voices are the production's saving grace, but while I'd pay to hear Picerno sing her role in the original, Murphy undermines his musicality with distractingly overwrought contortions that resemble Lon Chaney performing Kabuki (and not in a good way).
Deborah Wilker, The Hollywood Reporter: What's also still missing, despite the rewrites and the four librettists now listed in the show's credits, is a gripping narrative, notably at the start. Act 2 picks up considerably, particularly the moments between father and son. And true to form, Lloyd Webber - ever the talent scout - has made another brilliant discovery, this time in Casey Lyons as the boy, whose angelic vocals and subdued acting are a marvel. (Jake Heston Miller alternates in the role at some performances.)
Charles Runnells, The News-Press: For Tuesday's show, The Phantom was played by understudy Bronson Norris Murphy instead of the usual Gardar Thor Cortes. And while I had some issues with Murphy's acting - I wanted him to be scarier, more passionate and generally have a bigger stage presence - he rallied in Act 2 with a touching, nuanced performance that brought tears to my eyes. The rest of the cast is rock-solid with chill-worthy singing and emotional performances. Meghan Picerno has the necessary beauty and pipes for Christine, but her character is stronger and more world-wise now. Sean Thompson plays Raoul, the hero from "The Phantom of the Opera," now kind of a jerk whose gambling has left his family in debt. And then there's Jake Heston Miller as their son Gustave, a talented pianist and composer with an angelic singing voice (Hmmm, I wonder where that might lead... ).
Christine Struble, Fansided: This Andrew Lloyd Webber musical is a little rougher around the edges. It is almost as if the Phantom has mellowed a little. Bronson Norris Murphy does a commendable job in this highly demanding role. His falsetto voice is strong and his emotion is raw. However, this Phantom seems to have lost a little of his vulnerability. Maybe being removed from his muse has hardened his demeanor. Overall, Love Never Dies provides several dramatic moments. The opening sequence, "'Til I Hear You Sing" draws the audience into the eerie world. The creepy organ music alerts the audience of the mysteries, dangers and disappointments that lay ahead. True, people want to root for the unrequited love and wish that the "Angel of Music" soars again. But that angel isn't necessarily the character from the previous story.
Jalessa Castillo, The Orlando Times: In addition to the actors, those behind the scenes shined as well. Gabriela Tykesova's magnificently immersive set designs and the orchestra's outstanding melodic talents brought the show to the next level. Whether on Christine's balcony while the Phantom serenaded her or in the middle of the busy Coney Island, you felt as though you were there. Graeme Murphey Ao's choreography was amazing as well, especially during the performance of "The Beauty Underneath" when the Phantom takes Gustave to see the horrors that lie beneath Coney Island and his infamous mask.
Manning Harris, Atlanta In Town: "Love Never Dies" asks an awful lot of its incredible singers; there are no underground lakes, no falling chandeliers, no spooky walking through mirrors (wait; there's a little bit of that). It simply doesn't have the dramatic tension and "thrill" factor of "Phantom," despite a lovely orchestra, and charming score. By the way, Mr. Webber of course wrote the music; Glenn Slater wrote the lyrics; direction is by Simon Phillips. It is only when we come to the second half of Act II that suddenly real drama takes over; and those disposed to tear up at powerful scenes (count me in) may have a field day. By the end of the show, the huge audience at the Fox was emotionally cheering at the curtain call. You know the Biblical quote "A little child shall lead them"? Just bear that in mind.
Channing Gray, Providence Journal: It takes forever for the plot to thicken. It's not until the second act, when the rivalry between Phantom, played by Gardar Thor Cortes, and husband Raoul, comes into focus. Then we are assaulted by more circus antics, and the momentum dies. But Meghan Picerno's Christine finally gets her moment in the spotlight, when she sings her signature aria "Love Never Dies," which would have made Puccini blush. She's flanked by the Phantom and her husband, who does his best to make amends for being a cad. But somehow Christine can't break the spell she has with the Phantom, and the show completely unravels into a contemporary remake of every sentimental 19th-century opera that ends with tears and cheap histrionics.
Anton Andersson, BroadwayWorld (Detroit): The costumes and lighting out-perform the original Phantom. This stage rotates and is a circus compared to the original. I was expecting a lot of mysterious murders and treachery, but that doesn't come up. The two sides of the same coin were as different as anyone could imagine. People love the original Phantom for its beautiful tunes. Patrons can leave Phantom with songs stuck in their heads. This does not apply to LOVE NEVER DIES. The music in the sequel is incredibly sophisticated. I could not follow it, and I was a piano accompanist at the Indiana University department of Music. I did not hear patrons humming any tune whatsoever from the show when leaving. At the same time, it was impressive in an over the top quality.
John Lariviere, BroadwayWorld (Fort Lauderdale): The live, fifteen-piece orchestra plays the score for Love Never Dies with passion; and one can see and feel the unswerving hand of the conductor shaping the music. The style of the composition varies from Webber's The Phantom of the Opera. There are lovely musical interludes that sound reminiscent of Sigmund Romberg and/or Georges Bizet. Those are the best musical moments of the show. Sometimes when Webber tries to write more dramatically rather than lyrically, he becomes sloppy. Like The Phantom of the Opera, it is written like an opera or operetta, and definitely requires classically trained voices singing the leading roles of Christine and The Phantom. Fortunately, in this production, both the actor playing The Phantom, Gardar Thor Cortes, and the actress playing Christine, Meghan Picerno, are clearly very experienced, trained singers who know their craft and their instrument quite well.
Kimberly Moy, BroadwayWorld (Orlando): I love the music, the score harkens back to classic Andrew Lloyd Webber with big orchestrations and sweeping high notes, thrown in with unexpected rock. LOVE NEVER DIES opens with "Til I Hear You Sing," a totally Phantom ballad, which sets the show for the slow 2.5 hour burn. Some of my other favorites "Beneath a Moonlit Sky," "Devil Take the Hindmost," and of course, "Love Never Dies." So you have the music, you have the characters, you have their backstories and you have this beautiful set and costume design by Gabriella Tylesova. Where does it go wrong? It was like watching a telenovela with the extreme over acting and totally unnecessary characters. All of the charm from the original has been wiped clean. Where is the mystery? Where is the tension? The humor? What we're left with is a drama filled fan fiction of a musical.
Sarah Fitts, BroadwayWorld (Atlanta): If the plot of LOVE NEVER DIES sounds convoluted, it's because it is. Though it's not based on original canon material, the plot is based loosely on the book The Phantom of Manhattan by Frederick Forsyth. And while Webber claims that this piece is a stand-alone work, the nuance of the score would not be fully appreciated by someone completely unfamiliar with its predecessor. In all of the rewriting that was done, Webber still failed to tap into the more interesting characters and chose to focus on a struggling Christine and demented Phantom. But despite their minimal stage time, Gustave (Casey Lyons and Jake Heston Miller) and Meg Giry (Mary Michael Patterson) remain the stars of LOVE NEVER DIES.
Veronica Bruscini, BroadwayWorld (Rhode Island): The book really is this show's problem issue. This isn't a simple matter of expanding on the Phantom's story; instead, Love Never Dies largely ignores crucial facets of its source material. One might argue that inconsistencies between the two productions wouldn't concern the casual theatergoer, yet Love Never Dies is marketed as a direct continuation of Phantom at every possible turn. From television and radio advertising to Playbill blurbs to PPAC's very ticket stubs, audiences are reminded again and again "The Phantom Returns." Key scenes are even sprinkled with note-perfect musical phrases from Phantom, so Love Never Dies cannot indulge in the luxury of dismissing problems with its storytelling by delivering it in an elaborately wrapped package.
Photo Credit: Joan Marcus