BWW Review: LOVE NEVER DIES, Except When it Does
Broadway's longest running musical, THE PHANTOM OF THE OPERA has a sequel and this week it is in Orlando. With music written by Andrew Lloyd Webber, one would hope that the mysteries from the original finally resolve themselves. With every fiber of my being, I wanted to like this show; however, this production left me shaking my head.
Ten years after the Phantom disappeared from the Paris Opera house, he has reappeared in New York living among the freak shows and carnival rides of Coney Island. Christine Daae has become one of the world's finest sopranos and travels to New York to perform at a renowned opera house - not knowing that the Phantom lives. Without fail, their paths cross and all the drama that comes along with long lost loves bubbles to surface.
I love the music, the score harkens back to classic Andrew Lloyd Webber with big orchestrations and sweeping high notes, thrown in with unexpected rock. LOVE NEVER DIES opens with "Til I Hear You Sing," a totally Phantom ballad, which sets the show for the slow 2.5 hour burn. Some of my other favorites "Beneath a Moonlit Sky," "Devil Take the Hindmost," and of course, "Love Never Dies."
So you have the music, you have the characters, you have their backstories and you have this beautiful set and costume design by Gabriella Tylesova. Where does it go wrong? It was like watching a telenovela with the extreme over acting and totally unnecessary characters. All of the charm from the original has been wiped clean. Where is the mystery? Where is the tension? The humor? What we're left with is a drama filled fan fiction of a musical.
In the PHANTOM universe, this musical is based partly off a novel called "The Phantom of Manhattan" by Frederick Forsyth. I was at the height of my Phantom obsession when I read this novel along with all the other versions outside of Gaston Leroux's original. That was 1999-ish and rumors of this sequel musical have circled around since then.
LOVE NEVER DIES had its first iteration on the West End in 2010 and starred Sierra Boggess and Ramin Karimloo. It wasn't perfect. We got a cast album out of it and moved on. In 2011, there was a reboot out of Melbourne, Australia starring Anna O'Bryne and Ben Lewis. We got a filmed DVD version out of this. I found this version charming and it fueled my excitement to see this U.S. debut. I hate myself for disliking this show, because I wanted to like it so much. Afterall, it's part of "the canon" now.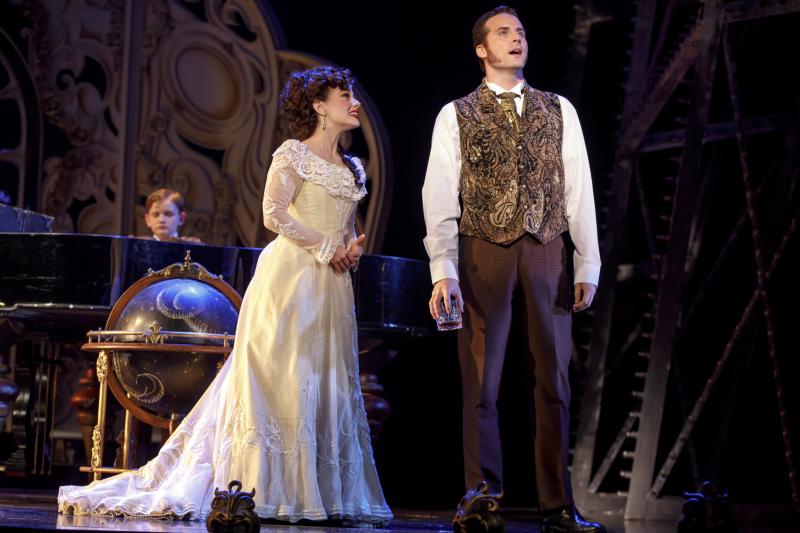 There are some difference between all the versions and what is currently touring. A lot of great changes were made, but I also feel like the plot has been dumbed down to it's most basic "easy to follow" form. So that IF you have never seen the original, you can still follow along - and rightly so. While you can see the train coming from miles away, the production bashes the major plot points over your head. SPOILER ALERT: Towards the end, I half expected Maury Povich to walk on stage and scream "You are the father!" Just in case there was anyone left in the audience who did not realize it.
Out of all the characters, Meg has the best character arc. She goes from sweet ballerina to crazy lunatic and it is totally understandable. As Meg, Mary Michael Patterson has a different characterization than previous LND Megs. She performs these cute numbers, but can also effectively relay all the feelings and disappointments that motivate her character to the audience. During my interview with Patterson, she discusses this moment at the end of Act I that motivates her character's intentions in Act II. It is quite interesting to hear about it then see it.
ICYMI: Be sure to check out my interview with Mary Michael Patterson here.
As Phantom, Bronson Norris Murphy has all the mannerisms down. Vocally he soars when he needs to and maintains the disturbingly obsessed Phantom mentality. This version of The Phantom appears to be more physically aggressive. Given that the love has progressed into a more mature and darker stage, it makes sense. I love Murphy in the dressing room scene in Act II. There is an aura of magic in him that harkens back to the original. It's the melody combined with the staging here that gives you to those same chills you get during Music of the Night.
Opposite Murphy is Meghan Picerno. Vocally Picerno is a strong Christine. Though she looks younger, she portrays herself as the well-established soprano that she needs to be. Picerno displays vulnerability and anger in the dramatic fashion needed for this plot. The character of Christine really has not changed much. She is still deer-in-the-headlights when it comes to the world around her. Not that Picerno portrays her as totally innocent. Here, Christine knows the gravity of her choices.
Karen Mason as mean Madame Giry is oh so good. You may think, "Madame Giry is so nice in the first one." To which I'll ask, "Was she?" The ultimate "dance mom" comes out in Mason's performance. She is dark and foreboding as she plants the seeds of jealousy in various character's minds.
Other notable performances include the trio of circus performers: Fleck, Gangle, and Squelch played by Katrina Kemp, Stephen Petrovich, and Richard Koons respectively. This trio is very entertaining and help move us from scene to scene. They are fun to watch. At this performance, Gustave was played by Jake Heston Miller. This kid can sing some really high notes. The character of Gustave is interesting. He appears to be the most mature character in the entire show.
As a stand alone piece, LOVE NEVER DIES is not a sit back and relax production. If you are not paying attention during "Beneath a Moonlit Sky," then you will miss the whole reason why we are here. You may wonder, why are all these people upset with each other? But if you pay attention and chat with your fellow audience-members during intermission, you'll understand the drama. This story proves how far people will go for what they perceive as love. The themes are universal regardless of the characters. At its core LOVE NEVER DIES is a dark love story that is certainly visually appealing. At the very least, you can appreciate the set and incredible costumes.
The peacock dress is stunning and equally iconic as the Wishing dress. The set seems to constantly be moving in order to emphasize the Coney Island ride feeling. Turntable stages seems to be a trend, but in this case it works well to show passage and connection. I also loved the absurd mask proscenium that engulfs Mr. Y's theater.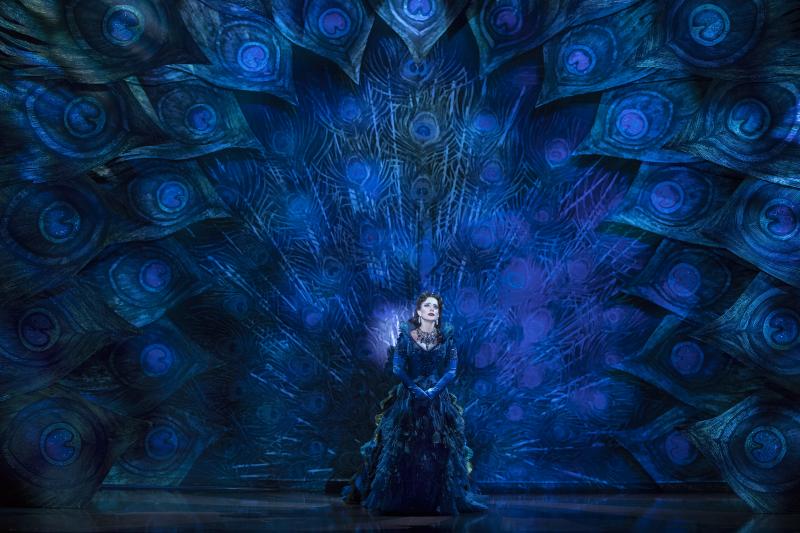 ---
This was my perspective as a Phantom "Phanatic." Some of you may recall that when the last Phantom tour rolled through Orlando, BroadwayWorld's Advertising Manager, Matt Tamanini and I had a lively discussion about the new tour.
Well, I sat next to Matt again and he watched my hopes and dreams get crushed. Here is his perspective of LOVE NEVER DIES from a non-fan:
Matt: As someone who would never be classified as a "Phan," I went into LOVE NEVER DIES with fairly low expectations. In some cases, those expectations were met and even surpassed, and in others, unfortunately, they were not.
In general, I loved everything about the PHANTOM sequel except anything that had to do with the Phantom, Christine, and Raoul. Unfortunately, nearly everything in the show is about the Phantom, Christine, and Raoul. Mary Michael Patterson and Karen Mason as Meg and Madame Giry respectively were wonderful, as were the band of Coney Island performers and freaks.
Kim: I have to agree with you. Our Phantom was Bronson Norris Murphy and he was a good Phantom. He has the voice and the hand motions down pat. But I felt that there was little chemistry between him and Meghan Picerno as Christine. They appeared to be two people singing at each other and who maybe hooked up once or twice. Then she literally got 'ghosted.' HA! Get it?
Matt: Not funny. Likewise, the set and staging by Gabriela Tylesova and Simon Phillips is never not visually stunning. However, the broad strokes of revisionist history that Andrew Lloyd Webber, Ben Elton, Glenn Slater, and Frederick Forsyth add to the PHANTOM mythos is confusing and convoluted at best, and the insistence that (31 years after the original and 108 years after the novel's initial publication) the lead female character is still nothing more than a possession to won by two narcissistic, infantile men is disappointing.
One would have hoped that with the relative progress of the past three decades, and the benefit of a "wholly" original story, that Christine would have been given at least the slightest sliver of agency. However, she is presented with essentially the same manufactured choice that ends the original.
Kim: Matt it's 2017 and women are still treated that way. Another topic for another time. I agree with you on the costumes and sets. All of the Coney Island and freak show scenes were great. It was very immersive. There were a lot of simple white lights, but it all worked well to show the progressive feeling of the era. Long gone are the candles, although I did see one candelabra. The Act II costumes especially were my favorite. So what is your overall thought?
Matt: I am glad that I saw the show, because there is much to admire in its stagecraft and design, but ultimately it is bogged down by yet another problematic story, and a score that relies far too much on recitative in place of melody. Also, can we talk about how the title song is pretty much the same as "You Must Love Me" from the EVITA film?
Kim: That's what composers do. I liked how they weaved in the old melodies from the original at key moments. That's how you know it's "serious" time. After seeing this feel like I have to go fly to New York and see the original again as a Phantom soul cleansing. I am glad I saw it, but would I see it 67 times? No, definitely not.
---
So there you have it, two different perspectives ultimately coming to the same conclusion. This is a U.S. national tour debut, so you have to see it. If you love the original PHANTOM - you also have to see it. Just be sure to distance yourself from the original story and your expectations. These are just people named: Phantom, Christine, Raoul, Meg, Madame Giry, Gustave, etc. and they live in this crazy electrifying world.
LOVE NEVER DIES runs at the Dr. Phillips Center for the Performing Arts November 21 to November 26th. There will be a performance on Thanksgiving, so be sure to have your meal early. For tickets and more information, visit www.drphillipscenter.org.
---
Photo Credit: All photos by Joan Marcus
Header: The Coney Island Waltz" featuring Richard Koons ("Squelch"), Katrina Kemp ("Fleck"), Stephen Petrovich ("Gangle") and the Ensemble of Love Never Dies.
Top Mid: Jake Heston Miller ("Gustave"), Meghan Picerno ("Christine Daaé") and Sean Thompson ("Raoul, Vicomte de Chagny") star in Love Never Dies.
Middle: Karen Mason ("Madame Giry") stars in Love Never Dies.
Bottom: Meghan Picerno ("Christine Daaé") stars in Love Never Dies.