Review: Despite Outstanding Talent, LOVE NEVER DIES Proves Merely a Ghost of Lloyd Webber's PHANTOM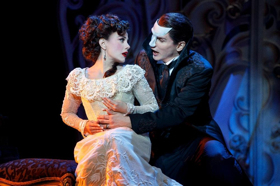 PLEASE NOTE: THIS REVIEW CONTAINS SPOILERS
Love Never Dies, the much-heralded sequel to Andrew Lloyd Webber's beloved The Phantom of the Opera, arrives in the United States after bowing in London's West End, Australia, Denmark, Japan, and Germany. The show has been reworked and restaged since its UK premiere in 2010, and on paper, Love Never Dies should have everything going for it. With Phantom's bedrock story and unforgettable music as its foundation, this North American tour adds to its credit a truly phenomenal cast, top-notch stagecraft and costuming, and Lloyd Webber's fine new score. Yet even these strengths fail to keep Love Never Dies from buckling under the weight of a deeply flawed narrative structure.
The book really is this show's problem issue. This isn't a simple matter of expanding on the Phantom's story; instead, Love Never Dies largely ignores crucial facets of its source material. One might argue that inconsistencies between the two productions wouldn't concern the casual theatergoer, yet Love Never Dies is marketed as a direct continuation of Phantom at every possible turn. From television and radio advertising to Playbill blurbs to PPAC's very ticket stubs, audiences are reminded again and again "The Phantom Returns." Key scenes are even sprinkled with note-perfect musical phrases from Phantom, so Love Never Dies cannot indulge in the luxury of dismissing problems with its storytelling by delivering it in an elaborately wrapped package.
(Reminder: spoilers ahead!)
Love Never Dies opens a decade after the events of the original story. The Phantom now resides in Coney Island, where the carnival atmosphere and myriad side-show inhabitants offer the disfigured composer a modicum of protection and the freedom to focus on his music. Though his "Phantasma" dominates Coney's famed boardwalk entertainment, the Phantom suffers from a broken heart, remaining as besotted with soprano Christine Daaé as he was ten years before. Desperate to hear her sing again, even just once, he hatches an elaborate scheme to lure Christine to Phantasma for a command performance.
Christine, long assuming the Phantom dead, readily accepts the contract in New York. Her family is sorely in need of money as her husband Raoul, Vicomte de Chagny (who has become a brandy-soaked alcoholic and compulsive gambler since Phantom days), wagered away his fortune and their funds are dangerously low. But word of Christine's pending arrival doesn't sit well with Madame Giry. She and her daughter Meg aided the Phantom's escape from Paris and traveled to New York with him. In fact, we learn Madame Giry allowed - it is implied, even encouraged - Meg to trade sexual favors in order to secure funding to purchase the Phantom's first side show.
Yes, you read that correctly. Madame Giry, the poised and dignified ballet mistress of the Paris Opera, here transforms into an embittered and possibly senile harridan. In addition to all but prostituting her own child, she spends much of Love Never Dies accusing Christine of heartlessly abandoning the Phantom in order to live a comfortable life with the rich and handsome Raoul. Has Madame Giry forgotten that she personally led Raoul to the underground lair after the Phantom murdered Piangi and kidnapped Christine? Or that she forbade her daughter's involvement in Christine's rescue, fearing Meg could be harmed in pursuing the Phantom? Now, at any rate, Madame frets that Christine's coming to New York will cause the Phantom to forget all he "owes" to the Girys.
The de Chagny family duly arrives in the States, and soon enough, the Phantom and Christine reunite. This is act one's most crucial scene, its presentation offering a reminiscent nod both to Phantom's title song and "Music of the Night," yet it suffers from unfortunate pacing. The back-to-back duets "Beneath a Moonless Sky" and "Once Upon Another Time" are packed full of exposition and drag the show's momentum to a crawl. Later comes the shocking revelation that the Phantom and Christine have a son together, ten-year-old Gustave. At some point during the events of the original story, we are told, the Phantom and Christine shared one night of passion. Afterwards, Christine was ready to commit her life and love to the Phantom, but he, ever plagued by insecurity over his deformity, left Christine to wake up alone and confused.
And pregnant.
Which, naturally, is why she so hastily married the Vicomte.
This supposed romantic interlude makes absolutely no sense in context of the original stage play, neither in terms of timeline nor narrative structure. Christine's initial visit to the Phantom's lair takes place more than six months prior to the grand masked ball that opens act two, and she spends most of Phantom's second act in terror of her former tutor. If this amorous meeting fell sometime between the crashing chandelier and "Masquerade," are we to assume Christine returned to the Phantom after she acknowledged he was deadly dangerous and pledged her truest love to Raoul? Phantom is a deeply romantic production, but it doesn't romanticize its title character. Yes, the Opera Ghost should be pitied and viewed with compassion, but that does not negate the fact that he murdered two men and stalked and kidnapped Christine. And yes, the Phantom is reclaimed in the show's final moments, but the suggestion of a post-curtain tryst stretches credulity.
Hand waving these - and a number of other - plot points aside, Love Never Dies further fails to present its love story in a healthy, positive light. The Phantom has clearly reverted back to all his old manipulative ways. In fact, when Christine initially refuses the Phantom's demands to perform at Phantasma, he goes so far as to threaten her son's life in order to ensure her cooperation (granted, he does not yet know the lad's paternity). This is a pity because Phantom concluded with such an exquisite moment of growth for its title character. There, Christine's selfless kiss goes straight to the Phantom's heart and awakens in him an understanding of what it means to love - truly love - another person. Her simple act of kindness and compassion strips away the Phantom's bitterness and opens his eyes, creating one of the most enduring and tender moments in musical theater history. Love Never Dies sadly abandons this development and returns the Phantom to square one, once again fixed in a pattern of obsession and control.
In spite of these concerns, Love Never Dies underscores the romantic connection between the Phantom and Christine again and again as each new plot twist builds to the show's highly (melo)dramatic finale. Phantom's bittersweet ending offers a resounding, heartrending impact and Love Never Dies attempts to recapture that same note at its conclusion, but the sequel's tangled plot lines and mangled characterizations greatly diminish the intended emotional effect as the curtain falls.
All of which is unfortunate, because so many aspects of this production are of outstanding quality and value. As mentioned earlier, Love Never Dies boasts an extraordinarily talented cast. Gardar Thor Cortes is an ideal Phantom in every way. He moves across the stage with an effortless elegance, styling the Phantom as both powerful and vulnerable by turns, and his utterly luminous vocal performance truly befits Christine's "Angel of Music."
As Christine, Meghan Picerno shows playfulness in her relationship with Gustave, real affection during her conversations with Raoul, and authenticity in her abiding love for the Phantom. Picerno's breathtaking delivery of the show's title song absolutely brings down the house in the second act.
Mary Michael Patterson takes on the most emotionally complicated (and compromised) character as "Ooh-La-La Girl" Meg Giry. Patterson allows Meg to twinkle brightly in her frothy boardwalk performances, but her backstage persona reflects the trauma and enduring sorrow she tries to keep hidden away. Jake Heston Miller proves a rising star with an already remarkable vocal talent; as Gustave, he displays a lovely, warm rapport with Picerno's Christine.
And though the Vicomte spends most of the first act stomping about angrily, Sean Thompson provides small glimpses of the old familiar Raoul in his act two characterization. Particularly during "Why Does She Love Me?" his regrets sound less sodden and more sincere with each note. Raoul stands in the wings to watch Christine during the title song and his heartbreak and resignation are palpable. "Devil Take the Hindmost," a high-tension moment of confrontation between Raoul and the Phantom, is the best duet in the show and a standout scene for Thompson and Cortes.
In addition, Lloyd Webber crafted a lovely score for Love Never Dies. "'Til I Hear You Sing" and "Love Never Dies" are certain to become signature numbers in the composer's songbook. Gabriela Tylesova's stagecraft and costumes are ideal complements to the whimsical environment of Phantasma, from the twirling carousel and glittering midway lights of Coney Island to the majestic mirrored balcony in the de Chagny hotel room, and from Christine's sweeping, iconic peacock gown to the grotesque getups adorning the side-show denizens.
In essence, Love Never Dies feels like an opportunity missed. The production has some genuinely strong points and deserves commendation for them, but in terms of storytelling, it lacks Phantom's heart. With a slapdash plot and a dearth of coherent ties to its predecessor, Love Never Dies ultimately results in a case of style over substance.
---
Love Never Dies plays the Providence Performing Arts Center through Sunday, December 31, 2017. Tickets can be purchased online at www.ppacri.org, by phone (401) 421-ARTS (2787), or by visiting the box office at 220 Weybosset Street, Providence, RI. Individual ticket prices start at $42 and group orders (15 or more) may be placed by calling (401) 574-3162.
Pictured: Meghan Picerno and Gardar Thor Cortes
Photos by Joan Marcus