Review Roundup: What Did The Critics Think of LCT3's MARYS SEACOLE?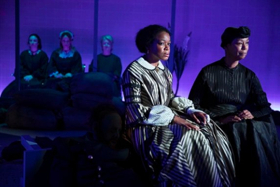 LCT3's Marys Seacole, by Jackie Sibblies Drury, and directed by Lileana Blain-Cruz, officially opened on February 25, at the Claire Tow Theater (150 West 65 Street).
In Marys Seacole, Mary (played by Quincy Tyler Bernstine) is an ambitious Jamaican woman determined to live a grand life; her adventures take her across oceans and eras, from a battlefield of the Crimean War to a contemporary nursing home, and many times and places in between. Marys Seacole is an exploration of what it means to be a woman who is paid to care.
Let's see what the critics are saying...
Photo Credit: Julieta Cervantes
---
Ben Brantley, The New York Times: Critic's Pick! In the unsettled landscape of "Marys Seacole," individual ego doesn't stand a chance against the crushing flux of history. And Ms. Drury gloriously confirms her status as a playwright for whom the long view is disturbingly, divertingly and endlessly kaleidoscopic.
Sara Holdren, Vulture: The six women of Marys Seacole are all delivering fierce, finely calibrated performances, from Bernstine's wry, commanding, charismatic Mary - the show's steel-cored anchor - to Taylor's fierce and agile expressions of May's many forms, all of them acidic and exacting, a Proteus of high-achieving condescension. Beans is especially wonderful as Mamie, who's got the muscular hopefulness of youth and the inevitable frustration of intelligence burning in her eyes and body.
Frank Scheck, The Hollywood Reporter: The play is never boring, however, with director Lileana Blain-Cruz (Pipeline) delivering an extremely lively production, working with obviously limited means. The technical elements are first-rate, especially Kaye Voyce's mixture of period and contemporary costume designs that are so crucial to the time-fractured narrative. And the performances by the six-woman ensemble, almost all of them playing multiple roles, could not be bettered, with Bernstine outstanding in the central role. There's no shortage of ambition or talent on display in Marys Seacole. What's missing is coherence.
Robert Hofler, The Wrap: The Jamaican accents here are very pronounced, and not everything was unintelligible to these ears. Suffice to say, the ensuing spectacle of two titanic actors ripping into each other makes riveting theater, like hearing a great opera duet even when you don't know the language being sung.
Naveen Kumar, Towleroad: Audiences will know a great deal more about [Mary] by the end of these electrifying 90 minutes. They'll also be compelled to reckon, in ways both thrilling and primal, with mortality, motherhood, ancestral and colonial legacies, and no less than what it means to be any kind of woman.
To read more reviews, click
here
!