Click Here for More Articles on The Rocky Horror Picture Show Event
UPDATING: Review Roundup: FOX's ROCKY HORROR - Are Critics 'Regular Frankie Fans'?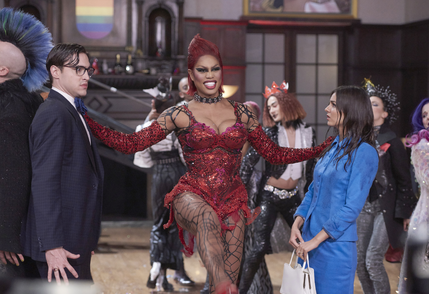 THE ROCKY HORROR PICTURE SHOW debuts on FOX this Thursday, October 20th. The star-studded cast includes Laverne Cox (Dr. Frank-N-Furter, "Orange is the New Black"), Victoria Justice (Janet, "Victorious"), Adam Lambert (Eddie, "American Idol) Ryan McCartan (Brad, "Liv & Maddie," "Heathers the Musical"), Reeve Carney (Riff Raff, "Penny Dreadful," "Spider-Man Turn Off the Dark"), Tony Award winner Annaleigh Ashford (Columbia, Kinky Boots, You Can't Take It with You) and Staz Nair (Rocky, "Game of Thrones").
Based on the 1975 musical comedy horror film, THE ROCKY HORROR PICTURE SHOW follows sweethearts Janet (Justice) and Brad (McCartan), who stumble upon Dr. Frank-N-Furter's (Cox) bizarre abode. Frank-N-Furter, a sexually ambiguous, flirtatious alien mad-scientist - with the help of his faithful servants, Riff Raff (Carney) and Magenta - is holding an annual, Transylvanian
Science
convention to showcase the birth of "Rocky Horror" (Nair) - a fit, attractive man created solely to fulfill Frank's desires. Reviews are coming in and BWW will be updating this story as more critics weigh in and reveal whether they are 'regular Frankie fans'!
Matt Tamanini, BroadwayWorld: So, again I ask, why do THE ROCKY HORROR PICTURE SHOW, if you aren't going to do THE ROCKY HORROR PICTURE SHOW? After the success of the network's GREASE LIVE earlier this year, this filmed production is a strikingly disappointing missed opportunity.
Kevin Fallon, The Daily Beast: Rocky Horror is a time relic, which Cox has been dutiful to point out in defending the dated "transvestite" language, which was acceptable at the significantly less "woke" (though remarkably progressive) time. But "Let's Do the Time Warp Again" won't satisfy the purists who are devoted to that relic, who will be miffed by the broadcast TV sanitation and shine of it.
Neil Genzlinger, The New York Times: The old saw about imitation being the sincerest form of flattery isn't really true for remakes - find something fresh, or go home - yet imitation is what mostly comes to mind here. If there were something revelatory to be gleaned by having Ms. Cox, a well-known transgender performer, rather than a man play the role, she and her director, Kenny Ortega, didn't find it. Only in the show's outlandishly maudlin finale does she really put her stamp on things.
Robert Bianco, USA Today: Rocky is neither a travesty nor a disaster. Even miscast, Cox is engaging, as are most of her co-stars - and they do a fine job with the numbers you remember best. It's hard to imagine anyone forming a cult around this version, but then, that's what critics said about the first one.
Dave Netmetz, TV Line: As a Rocky Horror fan, I have to say I enjoyed much of Fox's remake: The songs are still toe-tappingly catchy; the story is still delightfully subversive. (Like pizza, even a mediocre Rocky Horror is still pretty good.) But the Cox casting was an epic miscalculation that the production can't fully recover from. Which is a shame, because this really could've been a home run - a new Halloween classic, even. As is, it's simply a missed opportunity.
Brian Lowry, CNN: What this "Rocky" ultimately lacks is a requisite spark. The act breaks feel awkward and clunky -- a built-in challenge when migrating movies to TV -- and the dual seduction scene is disappointing. Some of the cinematic references are also understandably dated for target demographics that probably aren't well versed in Steve Reeves movies, or even Anne Francis. Still, even if the movie doesn't live up to the anticipation, there's a kick in reentering this time warp. And while it's not a fresh take, as Frank-N-Furter might say, that isn't all bad.
Daniel Fienberg, Hollywood Reporter: That's a grading curve that benefited Grease Live! and one that's slightly unfair to Fox's The Rocky Horror Picture Show: Let's Do the Time Warp Again. But it's hard not to be struck by how comparatively little inspiration helmer Kenny Ortega was able to get from this canned and slightly mummified remake of the cult musical and film. Not airing live and never intended to air live, Let's Do the Time Warp Again suffers from suffocating staging and an utter lack of reflection on the source material - but also from the source material itself, as what little energy it possesses is gone by a second half that turns into a real slog.

Alyse Wax, Comingsoon.net: The Rocky Horror Picture Show: Let's Do the Time Warp Again is a solid effort. Taken on its own, it is an enjoyable two hours of television. Rocky Horror wasn't something that needed a remake; the original still holds up well. If you have never seen Rocky Horror, there is nothing wrong with FOX's adaptation - but please, do yourself a favor and watch the original first.
Sonia Saraiya,
Variety
: Unfortunately, Fox's production of "Rocky Horror," despite a few solid performances, appears to entirely misapprehend the appeal of the original film. Where the original is smutty, the re-imagining is slick; where the community around the original had created snappy, smart commentary to get through the story's slow scenes, the community in the
FOX
production is piped-in, packaged, and penned into a corner of the viewing experience.
Hal Boedeker, Orlando Sentinel: Tim Curry, who played the role brilliantly in the 1975 original, takes the narrator's role in the remake, and his presence has a nostalgic kick. The other standouts are Broadway veterans Annaleigh Ashford as Columbia and Reeve Carney as Riff-Raff. But the remake is too blah, stilted and reverential to duplicate the original's jaw-dropping charm. Still, Cox is worth a look.
Mark Dawidziak,
Cleveland.com
: The producers also insisted on a subtitle, "Let's Do the Time Warp Again," which embraces not only one of the musical's most cherished numbers but also the entire group-joke heritage. There's a strong and impish sense of fun operating here, and fun is the operative word. Although this reimagining of the offbeat film is not the stuff of instant classics, it is never less than great fun.
Debra Yeo, Toronto Star: Let's Do the Time Warp Again is clearly meant as a tribute to the original, occasionally pulling back from the action to show a theatre full of people yelling back at the screen or pulling out props, part of the ritual of Rocky Horror screenings still, all these years later. But it shouldn't be a surprise that the original's sexual content has been sanitized. No broadcast network is going to show simulated male on male oral sex in prime time. And that raises the question of what purpose is served by the remake.
Bruce R. Miller, Sioux City Journal: Part Cirque du Soleil, part Broadway revival, this "Rocky Horror Picture Show" won't erase the memory of the original but it could spark greater attendance at those midnight showings. It's like a "Glee" episode that featured a very special cast, not a star who could make you question everything you believed before you entered in.
Photo: Steve Wilkie/FOX
Related Articles
Caryn Robbins is a Senior Editor and daily contributor to BroadwayWorld, Follow her daily podcast "The Broadway Scoop" at http://www.buzzsprout.com/541726. Caryn's original musical comedy DEAR (read more...)