Click Here for More Articles on Spoiler Alert! w/ @BWWMatt
BWW Review: FOX's THE ROCKY HORROR PICTURE SHOW is an Underwhelming, Sanitized Disappointment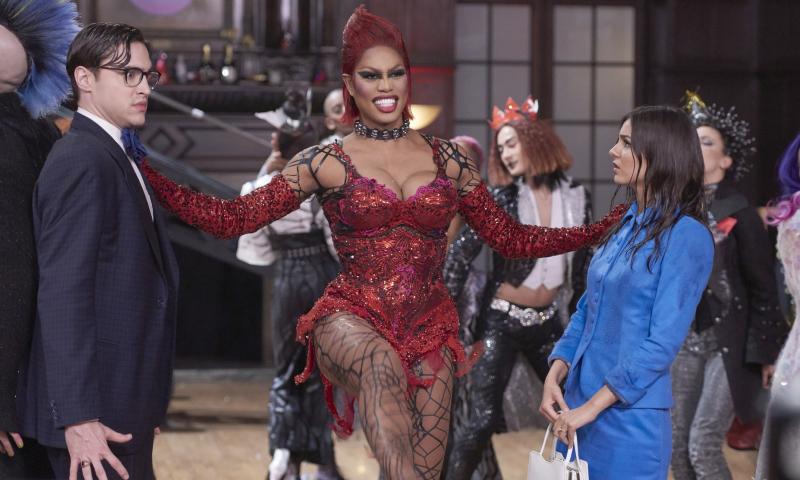 I am aware that what I am about to write is likely going to be a critical outlier, but I didn't hate FOX's television adaptation of THE ROCKY HORROR PICTURE SHOW, which they clumsily subtitled LET'S DO THE TIME WARP AGAIN. Now, I didn't particularly like it either, but to be frank (pun intended), I was expecting it to be far, far worse. While I am not a ROCKY HORROR expert, there didn't appear to be any horrendous missteps in the broadcast, in fact there were moments, even entire scenes, that were passably entertaining. However, on the whole, the endeavor just kept bringing to mind one simple question; "Why?"
FOX's version of this naughty cult classic felt far more like a production on GLEE than the actual production of ROCKY HORROR on GLEE did. This televised take on Richard O'Brien's subversively sexy musical was bland and safe, and lacked any discernable edge. Other than Victoria Justice's Janet walking around in a bra and Staz Nair without a shirt as Rocky, there was very little in the broadcast that titillated. In fact, Rocky's signature gold briefs were sacrilegiously replaced by knee-high gym shorts.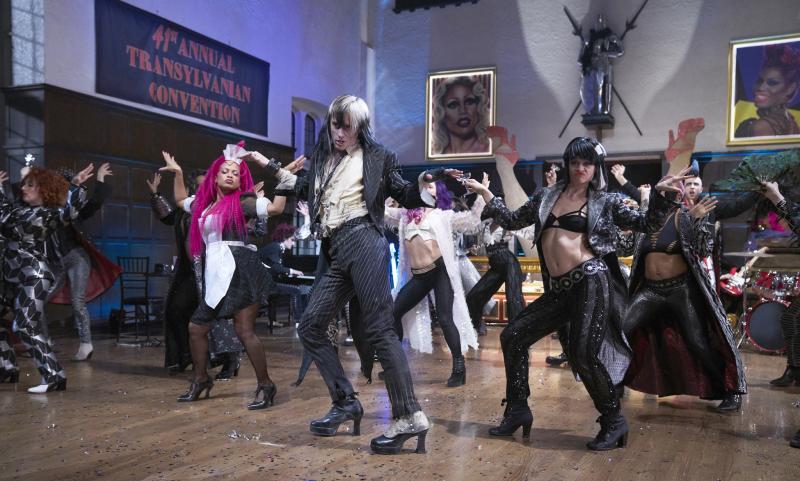 So, again I ask, why do THE ROCKY HORROR PICTURE SHOW, if you aren't going to do THE ROCKY HORROR PICTURE SHOW? After the success of the network's GREASE LIVE earlier this year, this filmed production is a strikingly disappointing missed opportunity.
To his credit, director Kenny Ortega did assemble an interesting cast of stage and screen stars for the project, which, like GREASE LIVE, pulled from a number of different key demographics. He also employed a handful of really fun concepts in the project, but whether it was actor or idea, Ortega couldn't figure out what was working, and all too often jumped to the left when he should have stepped to the right.
For an early example, after Ivy Levan put the entire audience to sleep with a terribly long and boring version of "Science Fiction/Double Feature" that threatened to stop the broadcast before it even got started, we saw that there was going to be an audience "watching" ROCKY HORROR on a screen in a movie theatre. This was a delightful little touch to pay homage to how important participatory screenings of the original film have been to the property for the past 41 years. However, as with most things good in the broadcast, it felt underused. While I generally despise audience participation in the theatre, from the comfort of home, Ortega could have found a way to subtly use the concept far more than the small handful of times that he did.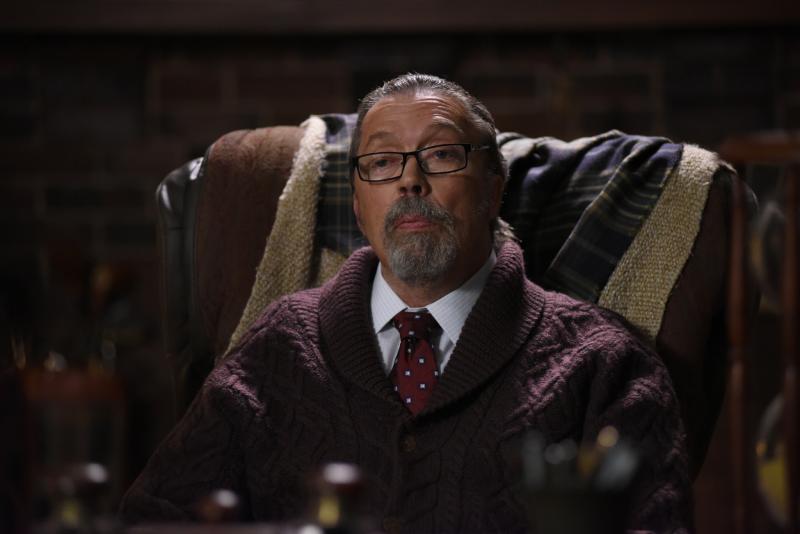 However, if nothing else, the audience construct gave everyone, on and off screen, the opportunity to give the great Tim Curry, who is still recovering from a debilitating stroke, a heartfelt ovation. The original Dr. Frank-n-Furter took on the role of the Narrator and Criminologist, and though his speech was deliberate, it was still electric when he sang the odd line here or there.
Like the "cinema" audience, and a number of really funny sight gags, Ortega missed the mark in underutilizing the production's most potent weapon, Tony-winner Annaleigh Ashford. As herself, Ashford is a joyful bundle of quirky charisma, but as the decidedly Jersey, butch, blue-tongued, pink-bobbed Columbia, she stood out amongst a cast of characters that seemed incapable of making anything original out of their cartoonishly broad characters. I wish that Ortega had learned from Jerry Mitchell and the producers of Showtime's MASTERS OF SEX; when you have the opportunity to take advantage of Ashford's unique, kooky talents, make the most of it.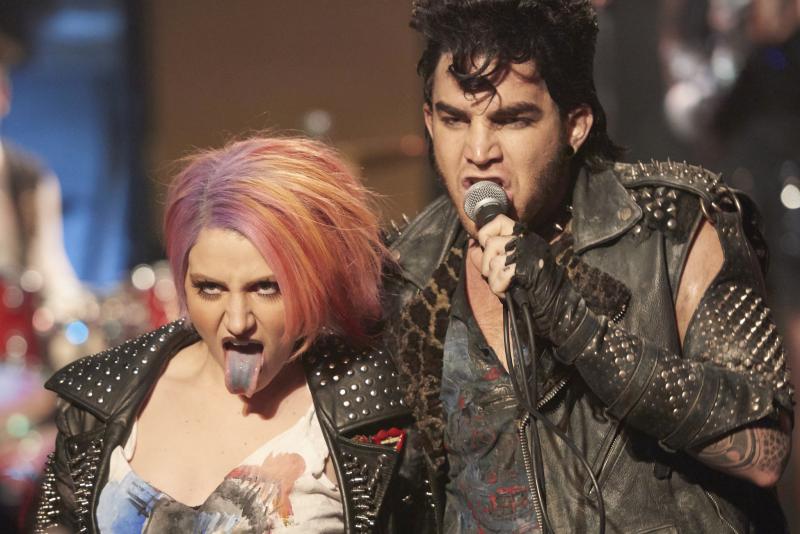 Ashford and the always wonderfully-voiced Adam Lambert made for one rough, but mesmerizing, couple; even though Lambert's Eddie wasn't long for this, or any, world. I am hopeful that some enterprising producer saw the broadcast and is currently loading up an armored truck with cash in order to entice the pair to do a musical together on Broadway.
For many, this ROCKY HORROR went from interesting to important when it was announced that transgender ORANGE IS THE NEW BLACK actress Laverne Cox would be playing Dr. Frank-N-Furter. In the long history on THE ROCKY HORROR SHOW, the musical has broKen Down doors and helped pave the way for an era of LGBT acceptance. So for Cox to step into Curry's iconic fishnets is a victory in its own right, I just wish that it had been accompanied by a more memorable performance.
Hampered by a roving, indistinguishable accent, it was clear that Cox is not the singer that many of her castmates are, although her 11 o'clock-ish number "I'm Going Home" was pretty good. While her adequate vocals can be excused, Cox's performance just felt underwhelming; lacking both the threatening presence and sexual charisma that is necessary for Frank to draw in everyone in which she comes in contact. While Cox does make a particularly stunning Frank-N-Furter, everything else about the performance just felt either odd or ordinary.
The rest of the show's ensemble ranged from appropriately professional to bafflingly bad. Erstwhile Spider-Man, Reeve Carney, was a standout as the creepy handyman Riff Raff. Though his lone Broadway appearance is the thing of nightmares, Carney has proven himself to be an accomplished actor on screen in a variety of roles from THE TEMPEST to PENNY DREADFUL and now to ROCKY HORROR.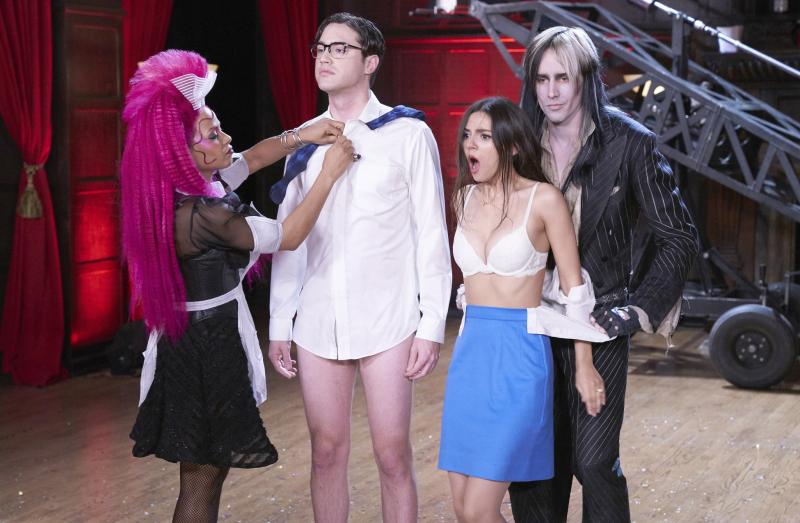 As the virginal lovers Brad (Asshole!) and Janet (Slut!), Ryan McCartan and Justice get the action moving with a conventional, but well-sung rendition of "Damnit Janet." McCartan, who seems like a natural for this type of project after originating the role of J.D. in the Off-Broadway production of HEATHERS, equates himself well. Though the part is little more than a wet blanket, he provides a sturdy tent pole for the craziness to happen around.
Like McCartan with Brad, Justice felt like an adequate stand-in for Janet. The pair didn't seem to be channeling Barry Bostwick and Susan Sarandon, but rather sanitized caricatures of the already satirical couple. While McCartan proved able to handle his role's limited vocal demands, when the gorgeous Justice had to sing above her chest voice, like early on in "There's a Light (Over at the Frankenstein Place)," she didn't fair nearly as well.
As mentioned before, for many, Nair will be remembered as an impressive piece of eye-candy, but in reality, he was much more than that. He showed an impressive voice, and his portrayal of Rocky as a primitive animal (or monster) stepping out into the world for the first time provided a regular succession of chuckles.
As Dr. Everett Scott, Tony-winner Ben Vereen was serviceable. Though his voice is not what it once was, his innate charisma still shines through; not to mention the fact that he still has killer legs.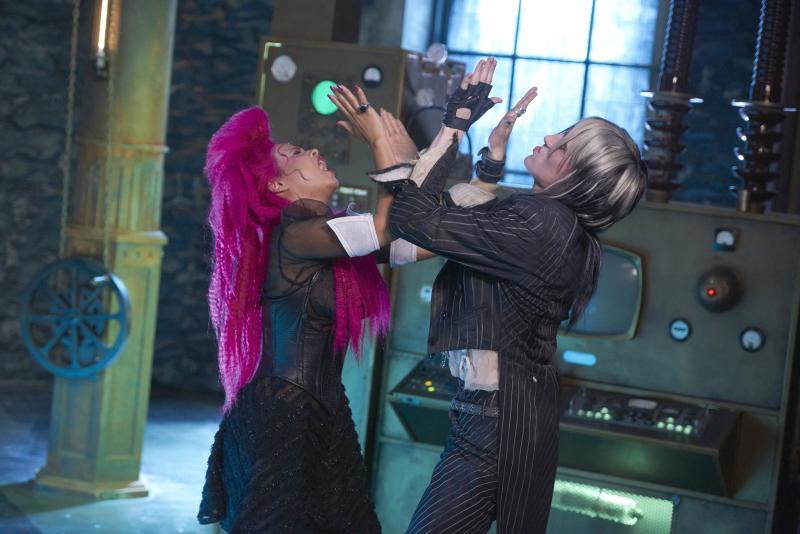 Unfortunately, the same cannot be said for the production's Magenta. Like her disastrous turn as the social media correspondent on THE VOICE, Christina Milian seemed incredibly out of her depth in all aspects of performance.
Ortega has made a career of directing and/or choreographing progressively campy movie musicals. He choreographed XANADU; DIRTY DANCING; TO Wong Foo, THANKS FOR EVERYTHING! Julie Newmar, and more, and wore both hats for the original film version of NEWSIES, the HIGH SCHOOL MUSICAL franchise, and the Disney Channel's DESCENDANTS.
In ROCKY HORROR, his limited choreography was fun, but chaotic, but his biggest success came in the film's last 30 minutes. Even diehard ROCKY HORROR fans can admit that it's narrative has always been a thinly guised excuse to sing some fun, throwback rock 'n' roll songs. However, magically, Ortega's interpretation actually did a pretty decent job of making sense of the ridiculously sloppy final act.
However, that fact is not enough to save the entire production from its disappointing fate. The two words that best describe FOX's adaptation are two that should never be associated with THE ROCKY HORROR PICTURE SHOW, "safe" and "sanitized."
---
Did FOX's ROCKY HORROR do more for you than it did for me? Let me know on Twitter @BWWMatt. You can listen to me on BroadwayRadio or on BroadwayWorld's pop culture podcast Some Like it Pop.
Banner Credit: Ryan McCartan, Laverne Cox, and Victoria Justice. Photo Credit: Steve Wilkie | FOX