Click Here for More Articles on NEW YORK CITY
Regeneration to Present the First NYC Revival of JIMMY DEAN Next Month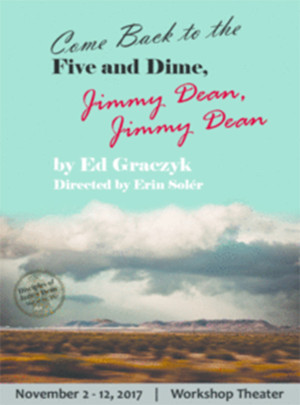 It's the 20-year reunion of the James Dean fan club, and the filming of the film, Giant. Mona brings everyone home, including an unexpected visitor, to the Five & Dime and together these women face their demons ... and some truths ... in the hot Texas sun.
Ed Gracyzk's play, set in a West Texas town in the mid-1970s, celebrates the power of friendship and acceptance to overcome even the darkest moments in our lives. Never revived on Broadway after a short-lived run, directed by Robert Altman, Regeneration is excited to bring this ground-breaking work back to New York City.
Featured in the cast are Nicole Greevy,* Ariana Figueroa, Chris Clark, Monica Rey, Lynnsey A. Lewis, Sonja Gabrielsen, Elliot Frances Flynn, Kristin Sgarro, Rebeca Miller* (Ms. Greevy and Ms. Miller appear courtesy of Actor's Equity)
Come Back to the Five and Dime, Jimmy Dean, Jimmy Dean
The Workshop Theatre 312 W 36th St
November 2, 3, 4 @ 7:30 p.m.
November 5 @ 2:30 p.m. (Talkback with the company following the performance)
November 6, 9, 10, 11 @ 7:30 p.m.
November 11, 12 @ 2:30 p.m.
Creative Team
Director: Erin Solér
Assistant Director: Matt ZanFagna
Set Design: Kiah Kayser
Lighting Design: Ali Hall
Stage Manager: Allison Hohman

Related Articles
More Hot Stories For You
QUIZ: Which Broadway Song Matches Your Personality?
Are you more of a 'My Shot' or 'Don't Rain On My Parade'? Take our personality quiz to find out!... (read more)

VIDEO: Watch HAIRSPRAY LIVE!, Starring Ariana Grande, Jennifer Hudson, Kristin Chenoweth, and More- Live Now!
Hairspray Live! will be broadcast online as part of The Shows Must Go On! The show will launch today at 2:00pm EST and be available for 48 hours. The ... (read more)

Governor Cuomo Announces New York City Will Begin First Phase of Reopening
New York Governor Andrew Cuomo announced in today's press conference that New York City will begin its first phase of reopening on June 8. This means ... (read more)

HADESTOWN Tour Postpones Hartford Performances
Hadestown, which had previously announced a tour beginning this fall has delayed the launch of the tour. The previously scheduled official tour openin... (read more)

Josh Groban To Present Virtual Livestream Concert, June 27
Renowned singer Josh Groban has announced that he will host a special livestream concert June 27 on his website!... (read more)

GYPSY, NINE, HELLO AGAIN and More Featured in BroadwayHD June Lineup
BroadwayHD today announced its upcoming June titles, which feature an exciting lineup and star studded casts, including hit comedies, original musical... (read more)