Randall Edwards Returns to NY in LEGS DIAMOND 30th Anniversary Reunion Concert at Feinstein's/54 Below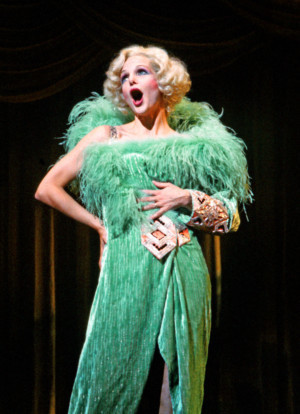 FEINSTEIN'S/54 BELOW, Broadway's Supper Club, presents the Original Broadway cast in Legs Diamond 30th Anniversary Reunion Concert on Sunday, December 3 at 7:00 pm and 9:30 pm. The concert is being produced and directed by original cast member Jonathan Cerullo and associate producer Carol Baxter.
Randall Edwards, who starred opposite Peter Allen as Club Tropicabana's "very lovely, very own, very very, Kiki Roberts!" is set to perform "I Was Made for Champagne" as well as the scintillating trio, "The Man Nobody Could Love" with Ruth Gottschall and Brenda Braxton in the upcoming Legs Diamond Reunion Concert.
This will be Ms. Edwards return to New York City since she moved to Los Angeles. Randall starred as Delia Reid Ryan Ryan on Ryan's Hope, which earned her a Daytime Emmy Nomination for Outstanding Supporting Actress in a Drama Series, as well as television appearances on "Spenser For Hire," "As the World Turns," "The Mary Tyler Moore Show," "Newhart," "Tales of the Unexpected," and the films "Smokey and the Judge," "Just Not the Same Without You," and "The Pope Of Greenwich Village." Regional theatre credits include L'Opera Comique at the Kennedy Center with Anne Jackson and Eli Wallach, Lend Me a Tenor at La Mirada with John Aston and Gary Beach, and Private Lives at Geva Theatre Center.
On Broadway, beside her winning performance in Legs Diamond, she played Rowena in the Neil Simon comedy, Biloxi Blues, which was also filmed in 1988. Randall lives in Southern California where she works as a school social worker with the Los Angeles Unified School District. Her work includes assisting families in need, counseling children, and improving student attendance. She has kept her pipes in working order singing with her Unitarian Universalist choir where she also directed the children's choir.
Also, scheduled to perform are Christine Andreas (Theatre World Award winner, Tony nominee), Adrian Bailey, Brenda Braxton (Tony nominee), Jim Fyfe, Ruth Gottschall, Norman Kauahi, Jennifer Paulson Lee, Mark Manley, Bob Stillman (Two-time Tony Nominee, Drama Desk Award winner), and Kevin Weldon. With Musical Direction by Phil Hall (Phantom of the Opera, Cats, 42nd Street)
For the first time in NYC since its opening in 1989, come experience one of Broadway's biggest and brightest flops, Legs Diamond! With original cast members, their stories, and the beautiful score conceived and written by Grammy and Academy Award winner Peter Allen, the evening is sure to delight!
After a 6-week workshop, Legs Diamond went straight to Broadway. The show had a record-breaking 72 previews in which critics relentlessly reported the endless production problems. Without reserve, these reviewers plunged their knives deep, killing the show well before it opened at the Mark Hellinger Theater on December 26, 1988. After another 62 performances, Legs Diamond closed on February 19, 1989. This would mark not only the end of the show but the end of the beautiful Mark Hellinger as a theater. The theater became the Times Square Church.
Despite its short run, Legs Diamond was highly acclaimed, garnishing three Tony Award nominations, including Costuming by the legendary Willa Kim for her glorious 20's designs, Choreography by the brilliant Alan Johnson, and a nomination for the divine Julie Wilson for her show-stopping number "The Music Went Out of My Life
Please join us at Feinstein's/54 Below for this once in a lifetime celebration. The 30th Anniversary of Grammy and Academy Award-winning Peter Allen's Legs Diamond, conceived with music and lyrics by Peter Allen and book by Harvey Fierstein and Charles Suppon and spend an evening with the original cast members who will perform numbers from the show, such as "When I Get My Name in Lights," "The Man Nobody Could Love," "All I Wanted Was the Dream," and "Say it Isn't So;" and will also share backstage anecdotes and their personal memories of working with the incomparable and charming Peter Allen.
Peter Allen worked for years writing his Broadway musical Legs Diamond, inspired by the 1960's movie that he loved as a teen, "The Rise and Fall of Legs Diamond." After the unsuccessful run of his Broadway "Legs Diamond" and shortly before his death, he went on the road with Bernadette Peters on a successful concert run. His death in 1992, left a hole in the entertainment world, both as a unique and exciting performer and as a songwriter. His life was the inspiration for the musical The Boy from Oz starring Hugh Jackman, who won a Tony Award for Best Actor in a Musical in 2004.
Original Broadway cast in Legs Diamond 30th Anniversary Reunion Concert plays Feinstein's/54 Below (254 West 54th Street) on Sunday, December 3 at 7:00 pm and 9:30 pm. There is a $35.00 - $45.00, as well as a $75.00 Premium ticket, and $25.00 food and beverage minimum. Tickets and information are available at www.54Below.com. Tickets on the day of performance after 4:00 are only available by calling (646) 476-3551.
MORE ABOUT FEINSTEIN'S/54 BELOW
Feinstein's/54 Below, Broadway's Supper Club & Private Event Destination, is a performance venue in the grand tradition of New York City nightlife. A few blocks from the heart of Times Square and just below the legendary Studio 54, Feinstein's/54 Below is a classically designed state-of-the art nightclub in the theatre district that hosts audiences with warmth and style. Feinstein's/54 Below presents iconic and rising stars from the worlds of Broadway and popular music and has set a new standard for culinary excellence worthy of the world-class entertainment on the stage.
In their description of the venue, The New York Times writes, "Feinstein's/54 Below has the intimacy of a large living room with unimpeded views and impeccable sound; there is not a bad seat in the house. Its sultry after-hours ambiance is enhanced by brocade-patterned wall panels planted with orange-shaded lanterns. And the atmosphere is warmer and sexier than in Manhattan's other major supper clubs."
Located at 254 West 54th Street, Feinstein's/54 Below features up to three shows nightly with cover charges ranging from $5-$105. 54Below.com/Feinstein's