Click Here for More Articles on Stars in the House
RECAP: Rosie Perez Talked About Experiencing Racism Early in Her Career on STARS IN THE HOUSE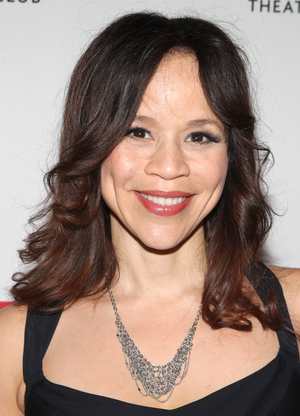 Stars in the House continued Thursday night (8pm) Rosie Perez. This episode was in support of The Actor's Fund.
Brian Stokes Mitchell joined on behalf of the Black Theatre United to discuss the 2020 Census. "The Census is done every ten years and it will help this time allocate over a trillion dollars in fund...Those are your tax dollars and that's to help secure access to justice, healthcare, education, for everyone in our communities for the next ten years."
Rosie Perez talked about the year she was nominated for an Oscar for FEARLESS "That was surreal and I wasn't ready for it. I don't know if you can ever be ready for it but I definitely wasn't ready for it and I was so happy that I made the smart decision of bringing my father as my date and my sister Carmen as my co-date and we were seated in the front because everybody was telling me they were expecting me to win. When they announced the category and the other nominees, my father turned to me and grabbed my hand and said 'You're gonna lose...' my eyes started flooding with tears and he goes 'I love you, it doesn't matter.'"
Rosie later talked about the racism she experiences when auditioning for FEARLESS "They called my agents and said the studio is worried about the interracial aspect of it. I said 'what do you mean?' they said 'you and Jeff Bridges' and they said 'so the studio wants to pass on you because you're Puerto Rican.' And so I had a fit and I said really? I said 'if they pass on me I'm telling everybody.' I get a call and they said 'they want to see you again...'
"When people ask me what advice I have for them, I say have some guts and stand up for yourself because otherwise you're not gonna get what you deserve. Not what you want, what you deserve and you're gonna ruffle some feathers and people will be angry at you but they're gonna know who you are and know what you demand and in the long run they will respect you."
Brian Stokes Mitchell sang "Make Them Hear You" from RAGTIME
Click HERE to watch the full episode.
Click HERE to learn more about Black Theatre United
Current and past episodes can be found on the website starsinthehouse.com, as well as a donate button linking viewers to The Actors Fund.
Related Articles

More Hot Stories For You
Ben Vereen's Son, Ben Vereen Jr., Has Died
BroadwayWorld is saddened to hear of the passing of Benjamin Vereen Jr., the son of Tony-winning actor Ben Vereen....

Lin-Manuel Miranda, Leslie Odom Jr., Renée Elise Goldsberry and More to Take Part in Upcoming HAM4CHANGE Fundraiser
On Saturday, August 15th, at 4pm PT/7pm ET, members of the original cast of the Tony Award-Winning Broadway Musical Hamilton will come together for th...

VIDEO: Olivia Newton-John Talks Memories of XANADU for the Film's 40th Anniversary
In honor of the 40th anniversary of the musical film Xanadu, star Olivia Newton-John shared what it was like working on the film, what it was like to ...

Award-Winning Director and Choreographer Tony Charmoli Dies at Age 99
Tony Charmoli died peacefully on the evening of August 7th at his home in the Hollywood Hills. He was 99. Tony had a decades long, award-winning caree...

Audra McDonald, George Salazar, and Joshua Colley Will Headline STICKS & STONES Benefit
Grammy & Emmy-winning composer & conductor John McDaniel and lyricist/librettist Scott Logsdon will present an online highlights concert of their new ...

Winners Announced For The 2020 BroadwayWorld Album Awards; BEETLEJUICE Wins Best New Broadway Cast Recording!
The people have spoken and the results are in for the 2020 BWW Albums/CDs Awards, recognizing the best releases from 2019 & 2020. ...