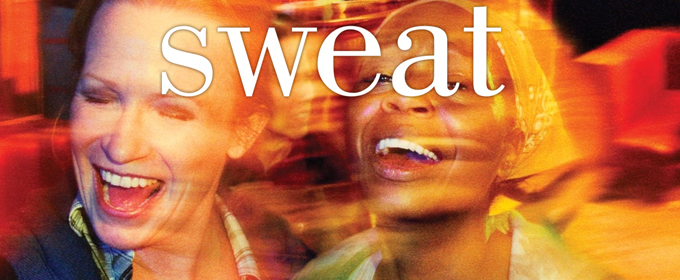 Click Here for More Articles on SWEAT
Pulitzer Prize-Winning SWEAT To Play Final Broadway Performance, 6/25
It has just been reported that Sweat, the Pulitzer Prize-winning play by Lynn Nottage, directed by Kate Whoriskey, will close on Sunday, June 25.
At the time of closing it will have played 24 previews and 105 regular performances. The production began previews began Saturday, March 4 and opened Sunday, March 26 at Studio 54 (254 West 54th Street).
Producers Stuart Thompson and Louise Gund said today, "Although Sweat is closing on Sunday, June 25 on Broadway, it will have very long life in regional theaters across the country. Lynn Nottage's play is an electrifying look at our country told with passion and humor, and we are so very proud to have given Lynn her much-deserved Broadway debut. We thank our brilliant director Kate Whoriskey and our incredible cast for bringing Lynn's prescient play so vividly to life at Studio 54."
The story of Sweat and the people of Reading, PA will continue this summer with This Is Reading, an ambitious site-specific multimedia installation blending live performance and visual media which will occupy the historic Franklin Street Railroad Station in Downtown Reading from July 14-16 and July 21-23.
Re-animating the long vacant building, This Is Reading approaches the historic station as a collaborator, placing its unique history and architecture in dialogue with stories of hardships, challenges, and triumphs of people living in and around Reading, PA. The project will weave their individual stories into one cohesive and compelling tale of the city.
The cast of Sweat includes Carlo Albán (Oscar), James Colby (Stan), Khris Davis (Chris), Johanna Day (Tracey), John Earl Jelks (Brucie), Will Pullen (Jason), Lance Coadie Williams (Evan), Michelle Wilson (Cynthia), and Alison Wright (Jessie).
Sweat received the 2017 Pulitzer Prize for Drama. Lynn Nottage is the first woman to win two Pulitzers for Drama and the first ever woman of color to win two Pulitzer Prizes in any category. She joins an esteemed group of playwrights who have won multiple Pulitzers that includes theatre titans Edward Albee, Eugene O'Neill, Robert E. Sherwood, Thornton Wilder, Tennessee Williams, and August Wilson.
In addition, Sweat was the recipient of an Obie Award for playwriting and was nominated for three Tony Awards including Best Play, two nominations for Best Featured Actress in a Play (Johanna Day and Michelle Wilson); three Drama League Awards: Distinguished Production of a Play and Distinguished Performance (Johanna Day and Michelle Wilson); three Outer Critics Circle Awards: Outstanding Broadway Play, Outstanding Director of a Play (Kate Whoriskey), and Outstanding Featured Actress in a Play (Johanna Day); and two Drama Desk Awards including Outstanding Play. In addition, cast members Carlo Alban received a Theatre World Award and Will Pullen was honored with a 2017 Clarence Derwent Award.
It was named as one of the Best Plays of 2016 by The New York Times, Wall Street Journal, Los Angeles Times, Time Out New York, The Star-Ledger, The Bergen Record, Deadline, The Wrap, The Huffington Post, New York Amsterdam News, Theatermania, and Broadway World.
Sweat was co-commissioned by the Oregon Shakespeare Festival and D.C.'s Arena Stage. The play received its world premiere at OSF in July 2015, in a sold-out run. The production subsequently played an acclaimed run at Arena Stage in January 2016. Sweat played an acclaimed engagement at New York's Public Theater in November 2016, where it was extended three times, with critics writing about the play's breathtaking timeliness, compassion, and power.
With warm humor and tremendous heart, Lynn Nottage's Sweat tells the story of a group of friends who have spent their lives sharing drinks, secrets and laughs while working together on the line of a factory floor. But when layoffs and picket lines begin to chip away at their trust, the friends find themselves pitted against each other in the hard fight to stay afloat. Kate Whoriskey directs this stunning new play.
Sweat is produced on Broadway by Stuart Thompson, Louise L. Gund, Tulchin Bartner Productions, Jon B. Platt, Roy Furman, Len Blavatnik, Shelly Mitchell, Scott Rudin, Ted Snowdon, Kevin Emrick, True Love Productions, John Gore, Deborah Taylor/Richard Winkler, and The Public Theater.
The creative team for Sweat features John Lee Beatty (scenic design), Jennifer Moeller (costume design), Peter Kaczorowski (lighting design), Rob Milburn and Michael Bodeen (sound design), and Jeff Sugg (projection design).
Tickets are available via Telecharge.com, by calling 212-239-6200, or the Studio 54 Box Office (254 West 54th Street). Box office hours are Monday 10AM-6PM; Tuesday - Saturday 10AM-8PM; Sunday 12-6PM. Ticket prices range from $59 - $149.
From July 14th-16th and July 21st-23rd This Is Reading, an ambitious site-specific multimedia installation blending live performance and visual media, will occupy the historic Franklin Street Railroad Station in Downtown Reading, re-animating the long vacant building. Using as its foundation the hardships, challenges, and triumphs of people living in and around Reading, Pa., This is Reading will weave their individual stories into one cohesive and compelling tale of the city. The project is inspired by the relationship Pulitzer Prize-winning playwright Lynn Nottage forged with the people of Reading while researching her critically-acclaimed play Sweat with director Kate Whoriskey.
"This is Reading will provide the opportunity to bring the restored, but vacant, Reading Railroad Station back to life, by filling it with creative arts that will help illuminate the lives of people living in the Greater Reading area. But more importantly it will set the stage for the community to hold new and meaningful conversations with each other about our community's future."
- Pat Giles, former Executive Vice President, United Way of Berks County and current Foundation Associate, The Wyomissing Foundation
"We know that the arts are powerfully effective as a social intervention for understanding and addressing community issues. And, we know that struggling cities, not unlike individuals, often find it difficult to connect with a more balanced perspective so collaborative and meaningful solutions may elude them. THIS IS READING is so exciting because it does both - it offers the awesome prospect of healing and moving a 'stuck,' but resilient, city forward."
- Santo D. Marabella, Film Commissioner , ReadingFilm/Pennsylvania's Americana Region and Producer, This Is Reading
This Is Reading is created by Pulitzer prize winning playwright Lynn Nottage, filmmaker Tony Gerber, director Kate Whoriskey, choreographer Rennie Harris, DJ Eli Evnen, Designer Deb O, Projection designer Jeff Sugg, lighting designer Smith Chandrashaker, Sound Designer Nick Kourtides, producers Santo D. Marabella and Blake Ashman Kipervaser. Actors include Russell G. Jones, Michael Puzzo and Vanessa Aspillaga and many local dancers and performers.
This project's partners include the award winning Labyrinth Theater, Project&, Market Road Films, Goggleworks Center for Arts reading, Pa, ReadingFilm/Pennsylvania's Americana Region, The Sketchbook Project, The officers of the Mayor and Managing Director, City of Reading, South Central Transit Authority, Commissioners Office- County of Berks, Reading Company Technical & Historical Society and The Civilians Theater Company.
Project supporters include Pam and Peter Barbey, Columbia University, Lawrence Cowart, Teresa Tsai, Jeanne Donovan Fisher, Howard Gilman Foundation, Ford Foundation, National Endowment for the Arts, Oregon Shakespeare Festival, Venturous Theater Fund, Wyomissing Foundation.
Related Articles
More Hot Stories For You
MATILDA Film Adds Emma Thompson As 'Miss Trunchbull' and Alisha Weir in the Title Role
The upcoming film adaptation of the acclaimed musical Matilda has found its title star! ...

DVR Alert: Hollywood Bowl Concert Series Kicks Off Tonight With MUSICALS AND MOVIES, With Audra McDonald, Kristin Chenoweth, and Sutton Foster
As BroadwayWorld previously reported a new weekly concert series, IN CONCERT AT THE HOLLYWOOD BOWL, will air on PBS. The series kicks off today with t...

Songwriter Abigail Barlow is Turning Netflix Hit BRIDGERTON Into a TikTok Musical
'Heartbreak Hotel' singer and TikTok creator Abigail Barlow is going viral again with her new Bridgerton musical numbers!...

VIDEO: On This Day, January 16 - Happy Birthday, Lin-Manuel Miranda!
On this day we're celebrating the birthday of the great Lin-Manuel Miranda! ...

Renée Elise Goldsberry, Susan Lucci, Cameron Mathison and More to Take Part in ABC DAYTIME: BACK ON BROADWAY
Your favorite stars from the celebrated ABC Daytime dramas "All My Children," "One Life to Live" and "General Hospital" will reunite Thursday, Februar...

THE DEVIL WEARS PRADA Pre-Broadway Run in Chicago Pushed to 2022
Miranda Priestly stans will have to wait a bit longer to catch her on stage. Broadway In Chicago just announced today that the upcoming pre-Broadway W...