Click Here for More Articles on NEIL PATRICK HARRIS
Photos from Wall to Wall Stephen Sondheim
The Wall to Wall Stephen Sondheim marathon took place at Symphony Space on Manhattan's Upper West Side from 11 a.m. to 11 p.m. on Saturday, three days before the composer's 75th birthday. These photos are from the evening's activities. Among those who performed earlier in the day—sorry, no pics—were Melissa Errico, Emily Skinner, Liz Callaway, Phyllis Newman, Karen Akers, Fiddler lyricist Sheldon Harnick and Elaine Stritch (doing "The Ladies Who Lunch," natch). A chunk of the afternoon's program was simulcast on New York public radio, while the full day's events were simulcast on XM Satellite Radio. They were also broadcast through a speaker on the sidewalk outside the theater—until noise regulations forced Symphony Space to silence its speaker about 9 p.m. Symphony Space hosts a Wall to Wall celebration every year, although this was one of the few times in its 35-year history that the honoree was a living composer. Admission was free and the turnout was much more enormous than usual, and pleas were made repeatedly from the stage for those who had been there a while to depart so others could come in. Around 6 p.m., right before he sang, Michael Cerveris told the crowd: "If you saw me perform earlier in a different shirt, it's time for you to leave." Host Isaiah Sheffer (Symphony Space's artistic director) introduced a performance of "Move On" with "It expresses an urgent need—what you should do immediately after the song." For their devotion, those stuck outside in the cold did receive posters with an Al Hirschfeld sketch of Sondheim and stickers bearing the composer's likeness. And those who did get in received the memory of a Sondheimaholic's lifetime. Click here to read more about the evening's entertainment.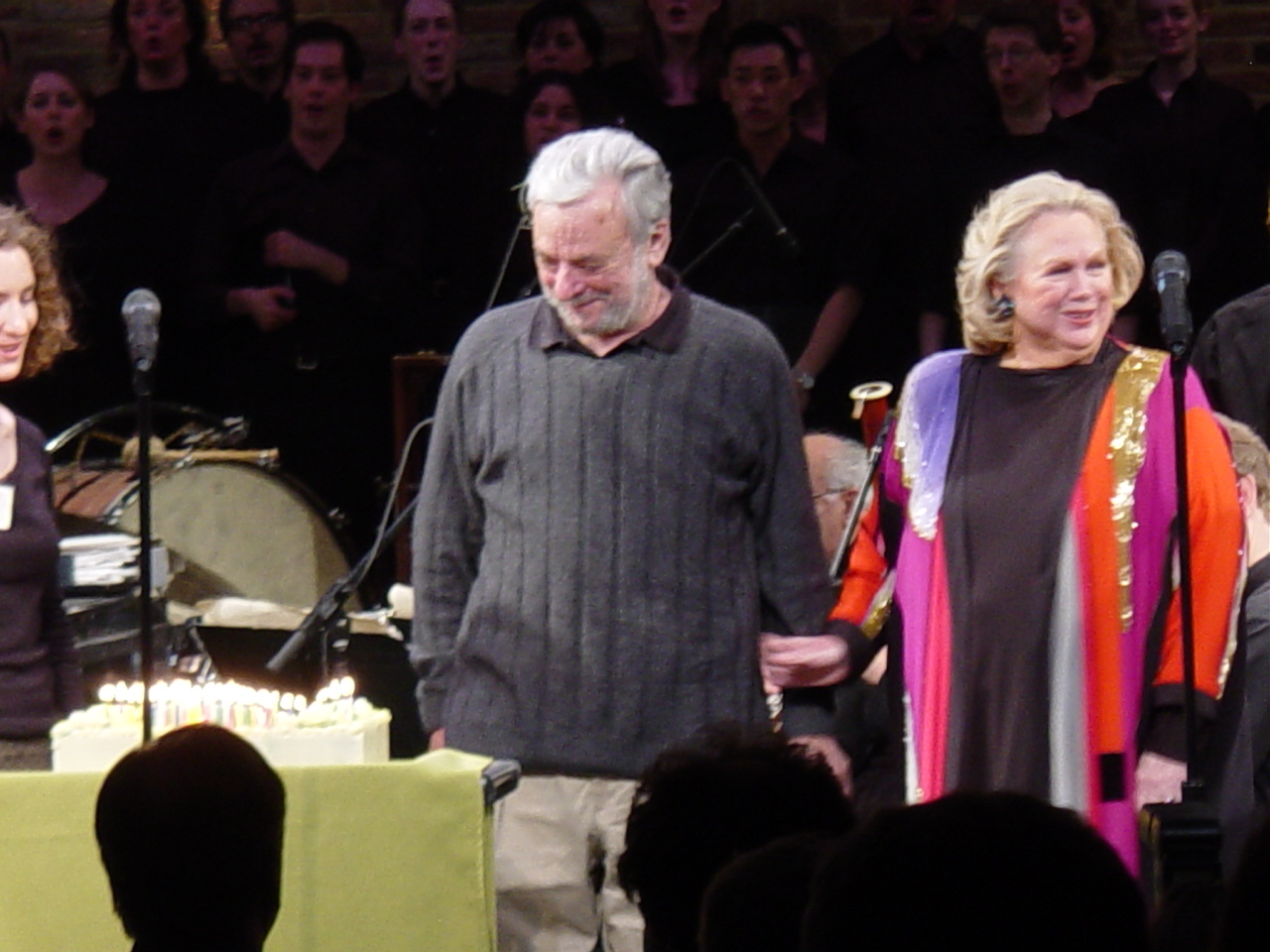 Barbara Cook supports her friend and song provider as he gets teary during his birthday party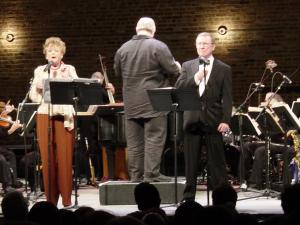 The highlight of an evening of highlights: Angela Lansbury and George Hearn re-create their Sweeney Todd roles (Paul Gemignani conducts the orchestra behind them)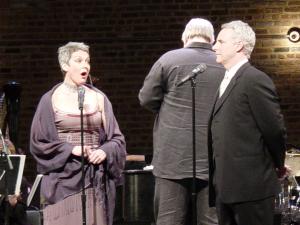 Michele Pawk sings "Send in the Clowns" to real-life hubby John Dossett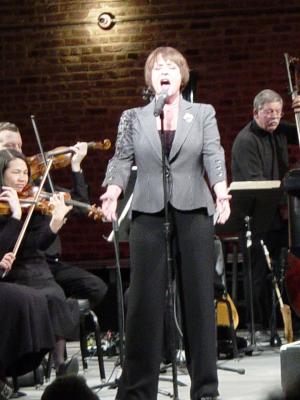 A signature Patti LuPone belt on "Being Alive"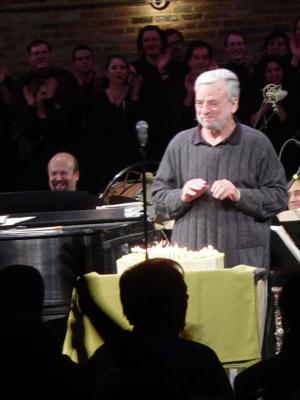 All of New York City wishes Sondheim a happy birthday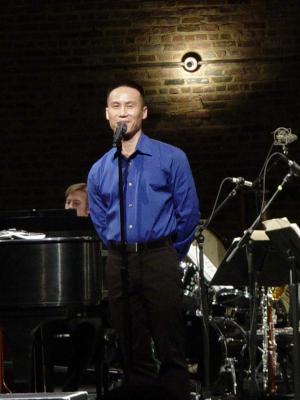 From Pacific to the Woods: B.D. Wong sings "Children Will Listen"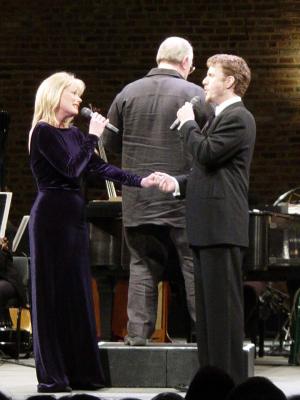 So in love: Marin Mazzie and Jason Danieley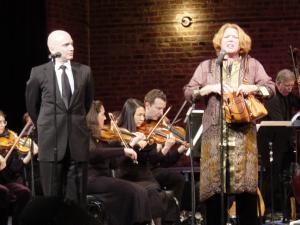 Michael Cerveris and Becky Ann Becker are Assassins again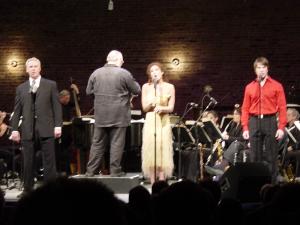 John Dossett, Laura Benanti and Danny Gurwin sing from Night Music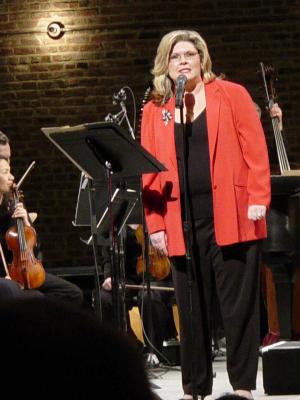 Debra Monk takes her turn with "I'm Still Here"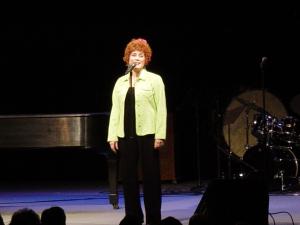 Judy Kaye came to sing between performances of Candide but didn't have time to remove her wig and makeup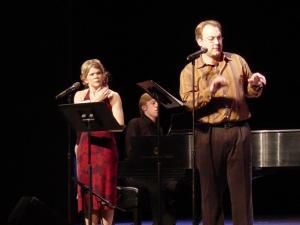 Danielle Ferland and Alexander Gemignani merrily roll along (with Chris Fenwick on piano)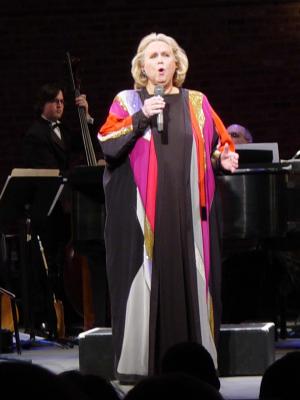 Barbara Cook was one of the final performers of the evening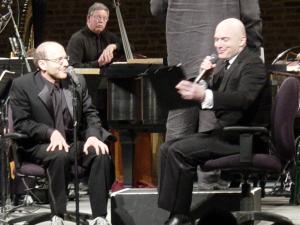 Lonny Price tells Michael Cerveris about "Franklin Shepard, Inc."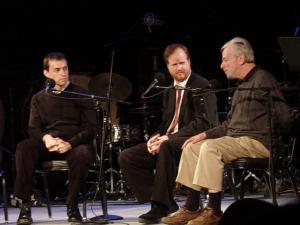 Andrew Lippa (left) and Joss Whedon discuss Sondheim's impact on American culture with him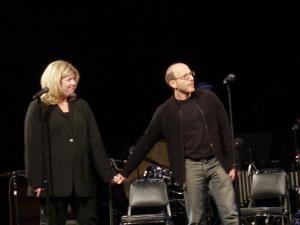 Daisy Prince and Lonny Price reminisce about Merrily We Roll Along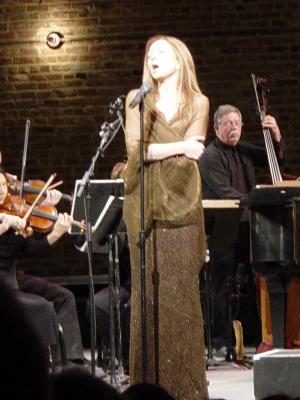 Sorry the picture's not perfect, but we knew BWW readers would want to see Donna Murphy interpreting "Losing My Mind"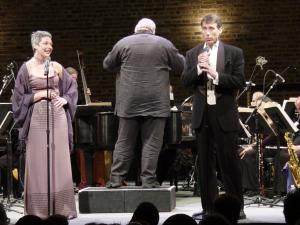 A little Bounce from Michele Pawk and Gregg Edelman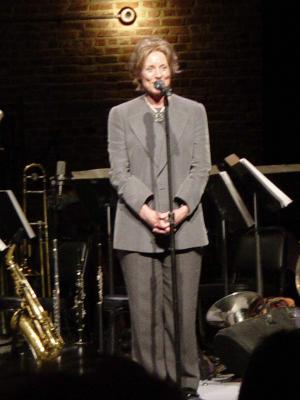 Charmian Carr introduces a song from Evening Primrose, in which she starred in 1966 (you may remember her as The Sound of Music's Liesl)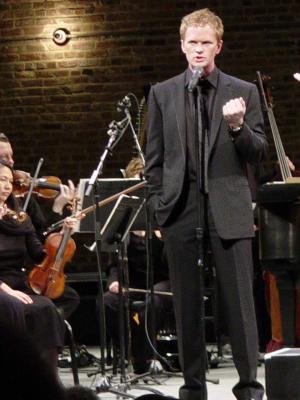 Neil Patrick Harris finishes the hat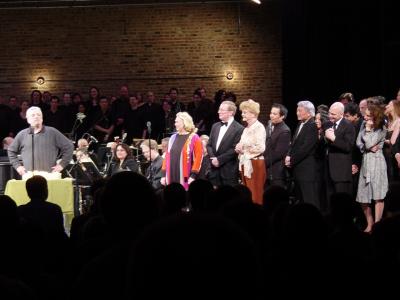 All performers on stage and all audience members on their feet as Sondheim takes a bow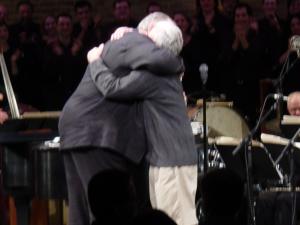 The honoree embraces Paul Gemignani, musical director for many Sondheim shows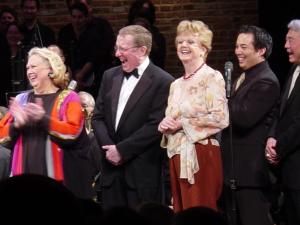 Barbara Cook, George Hearn, Angela Lansbury and a theater full of fans and other performers sang "Happy Birthday" to Sondheim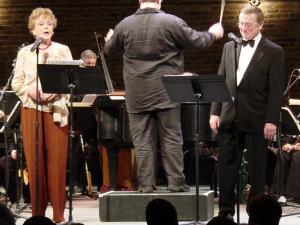 Mrs. Lovett and Sweeney Todd never looked this good before!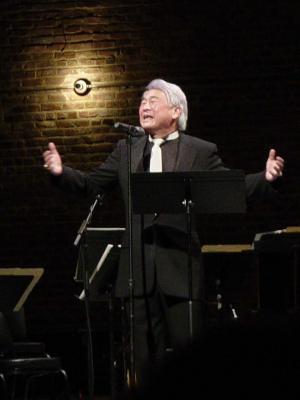 Alvin Ing, who's been in both Broadway productions of Pacific Overtures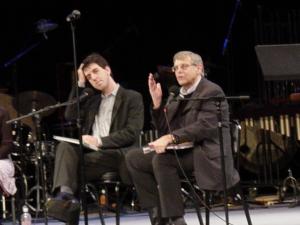 Jason Robert Brown (left) and Richard Maltby, both lyricists themselves, discuss their favorite Sondheim lyrics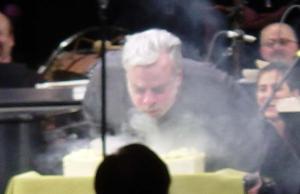 Blowing out the candles as the evening draws to a close

Click here for BWW's report from Wall to Wall Sondheim.