Click Here for More Articles on NEW YORK CITY
Photo Flash: Tovah Feldshuh, Sheldon Harnick, Jessica Hecht, David Hyde Pierce and More Take Part in Reading of Elie Wiesel's NIGHT
Prominent figures from the arts, politics, human rights, social justice, the media, and academia gathered for a continuous reading of Nobel Peace laureate Elie Wiesel's seismic Holocaust memoir, "Night," at the Museum of Jewish Heritage, 36 Battery Place, on Sunday, January 29, 2017. The all-day "Night" event took place in front of an overflow audience at the Museum. BroadwayWorld has photos from the reading below, plus footage from the event!
The community reading drew more than 1,000 on-site attendees and close to 8,000 webcast viewers internationally. Produced by the Museum of Jewish Heritage and the National Yiddish Theatre Folksbiene, the event featured an impressive array of readers -- 70 in all. Broadway's Ellen Burstyn, Jessica Hecht, Tovah Feldshuh, Joel Grey, Sheldon Harnick, Maryanne Plunkett, Ron Rifkin, Daryl Roth and Jay O. Sanders took part.
The event was scheduled to mark Holocaust Remembrance Day on Friday January 27, which, jarringly, was the day that President Donald J. Trump issued his anti-immigrant executive order. The reading, which drew participants such as the NYPD Commissioner James P. O'Neill, Schools Chancellor Carmen Fariña and former NY State governor Eliot Spitzer, took place as a large protest at Battery Park's Castle Clinton drew an large, vocal and peaceful crowd less than a half-mile away.
Elisha Wiesel, Wiesel's son, who ended the program with a reading of his father's Nobel Peace Prize acceptance speech, in which he warned of the dangers of inaction when despotic rulers fan the flames of racial hatred to set peoples and nations against one another, stated: "Today many friends in the NYC community came together to read 'Night' in Battery Park City's Museum of Jewish Heritage, while outside its walls, other friends went past in protest, rejecting this hijacking of our national character."
Among the participants were violinist Itzhak Perlman; choreographer Bill T. Jones; Rwandan anti-genocide activists Jean-Baptiste Rudatsikira, Jacqueline Murekatete, and Consolee Nishimwe; Folksbiene's artistic director Zalmen Mlotek; Women's Lib pioneer Letty Cotton Pogrebin; the media's Pia Lindstrom, Geraldo Rivera, Ann Curry, andStephanie Simon; HBO's Sheila Nevins; Dr. Ruth Westheimer; 9/11 Memorial Museum director Alice Greenwald; Israel's Consul General in NY Dani Dayan; France's Ambassador to the UN Francois Delattre, and the architect Daniel Libeskind.
Photo Credit: John Halpern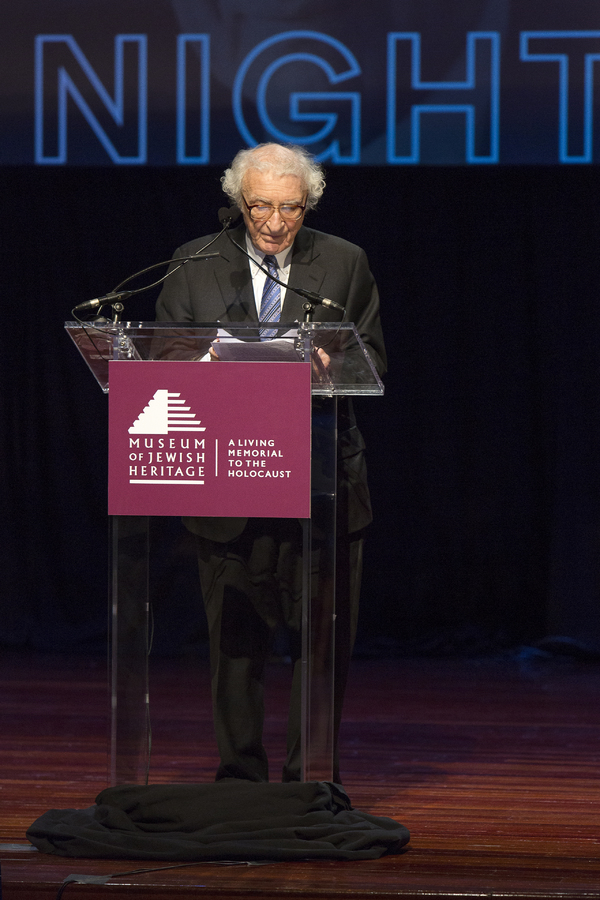 Sheldon Harnick
Maryanne Plunkett and
Jay O. Sanders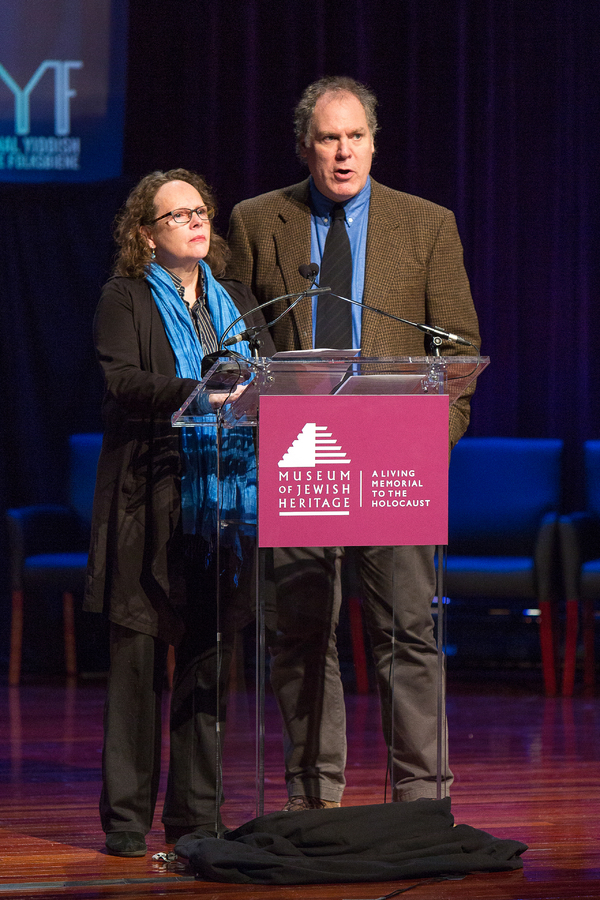 Maryanne Plunkett and
Jay O. Sanders
Jessica Hecht
Jessica Hecht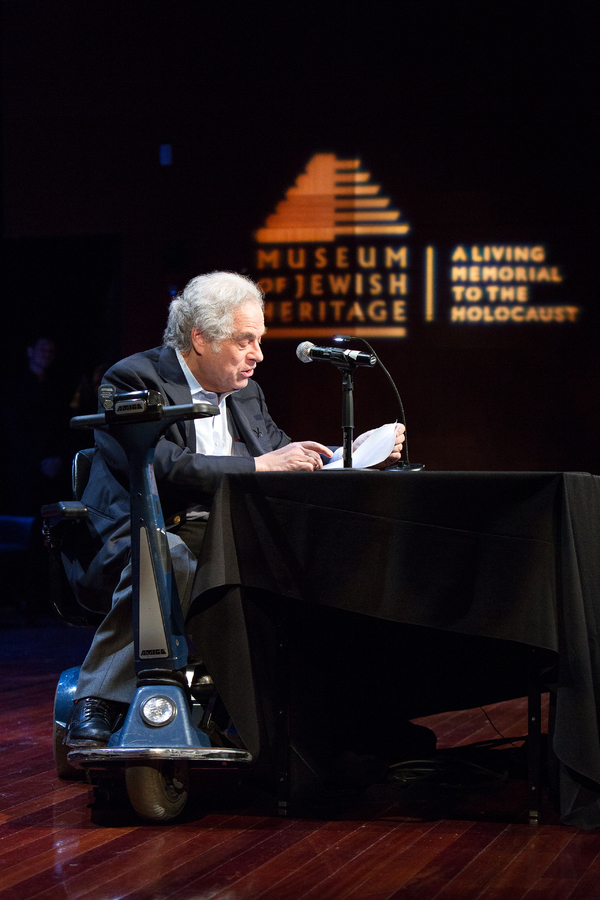 Itzhak Perlman
Itzhak Perlman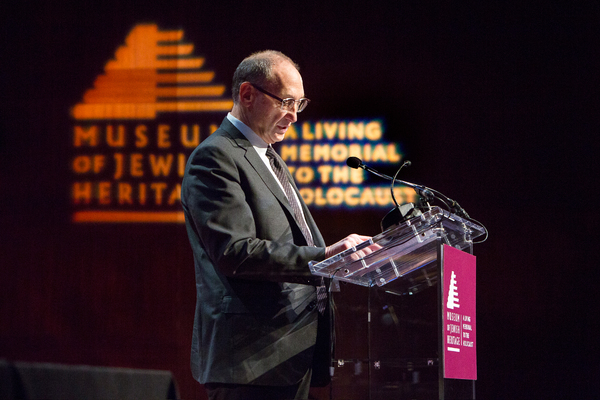 Bruce Ratner
Bruce Ratner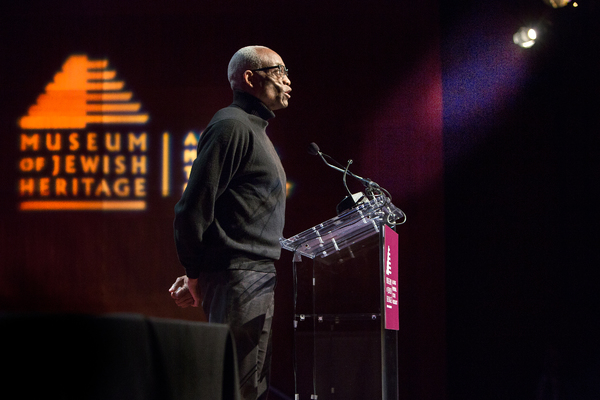 Bill T. Jones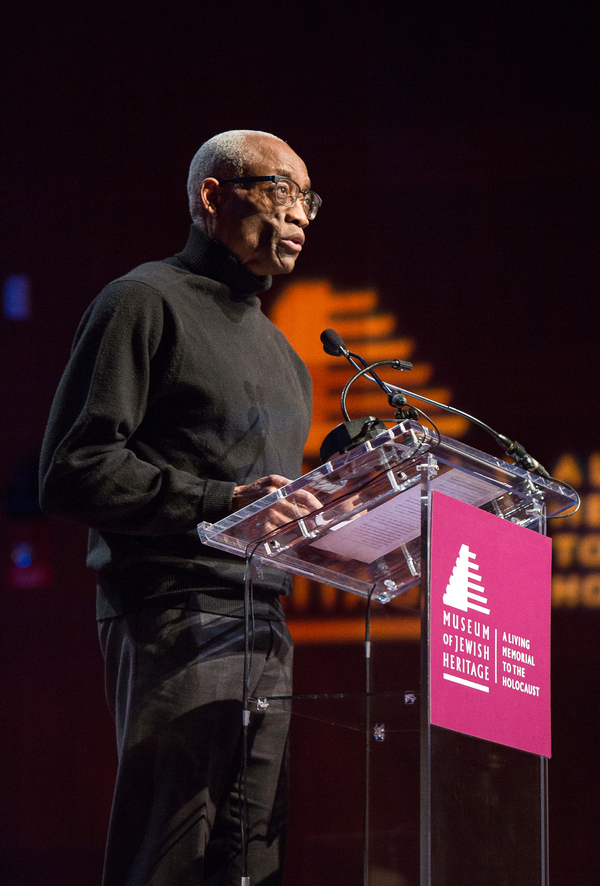 Bill T. Jones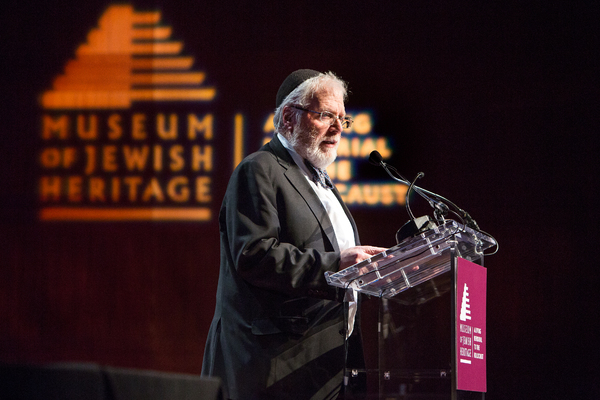 Zalmen Mlotek
Zalmen Mlotek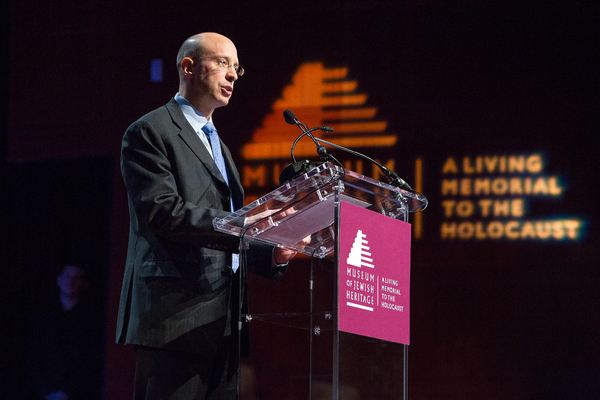 Elisha Wiesel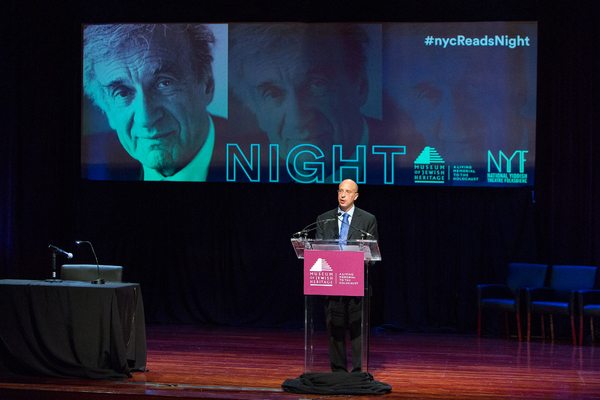 Elisha Wiesel
Abraham H. Foxman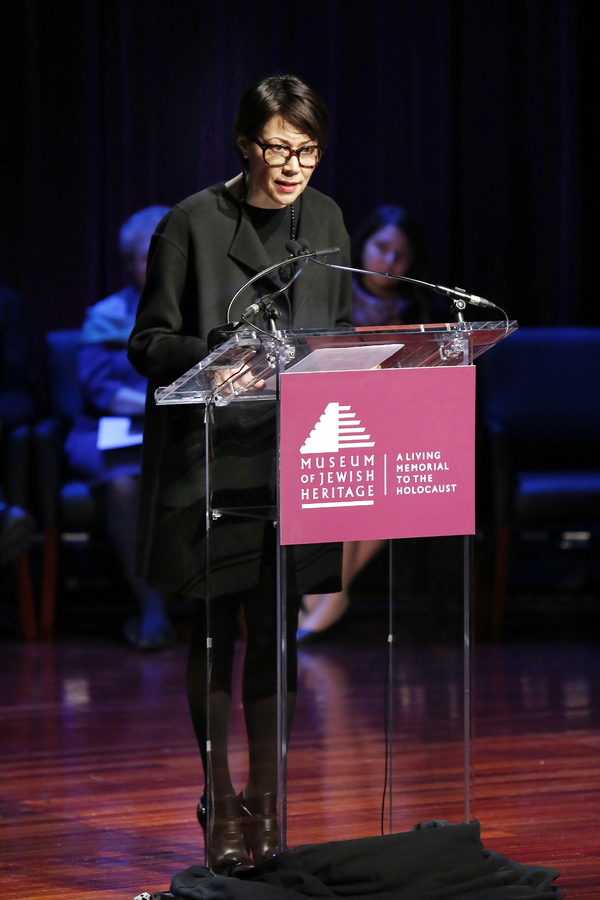 Ann Curry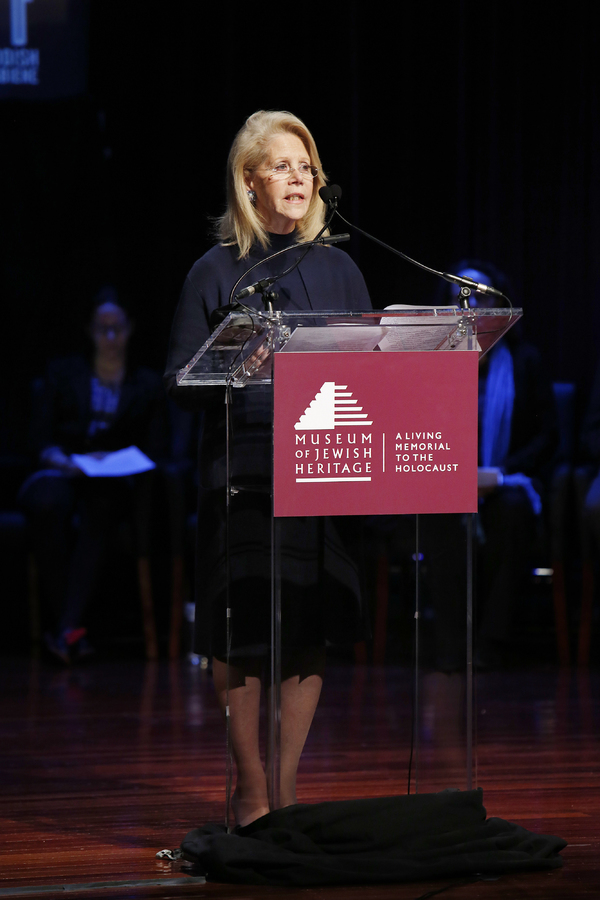 Daryl Roth
David Hyde Pierce
Dr. Ruth
Westheimer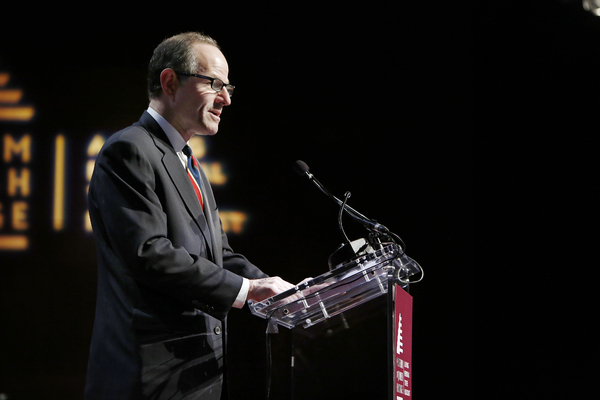 Eliot Spitzer
Ellen Burstyn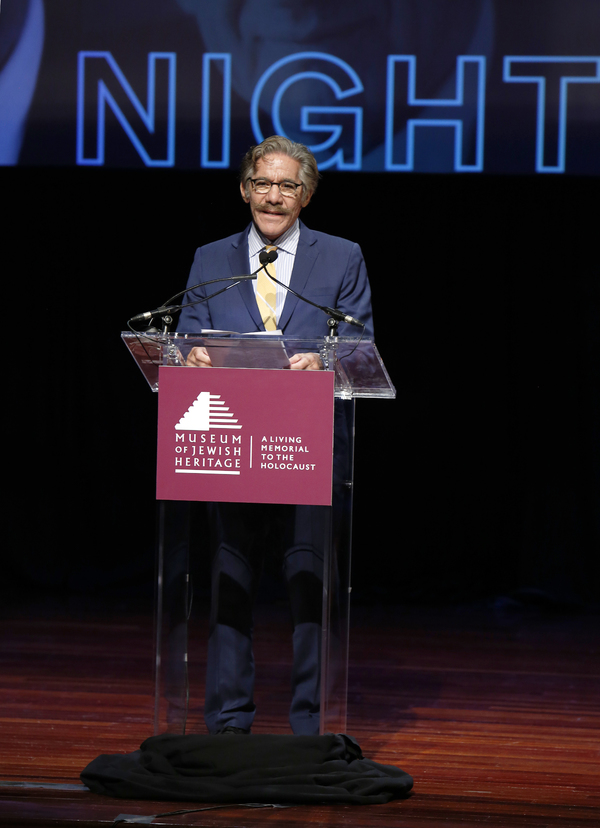 Geraldo Rivera
Joel Grey
Ron Rifkin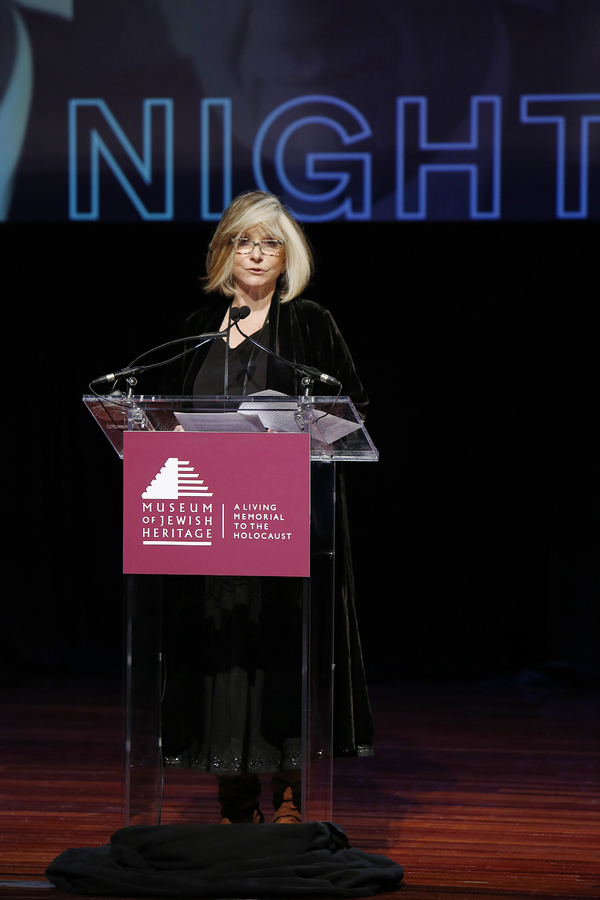 Sheila Nevins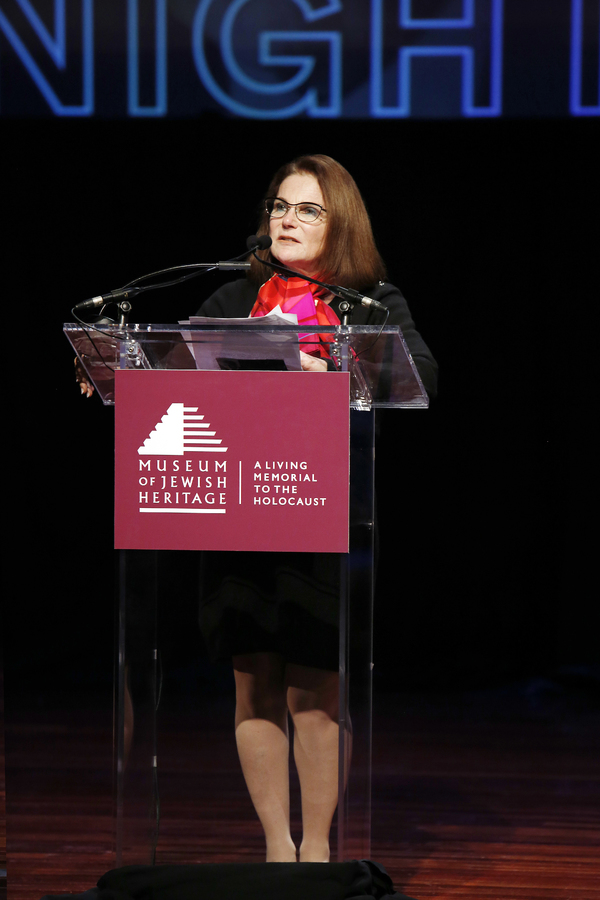 Tovah Feldshuh