Photo Flash: Tony Sheldon Returns to His Tony Nominated Roots in PRISCILLA, QUEEN OF THE DESERT
Australia's most successful homegrown musical, Priscilla Queen of the Desert, is previewing to packed houses at Melbourne's Regent Theatre ahead of its official " pink carpet " gala opening this Tuesday 30 January. The gala marks the 175 opening night for the iconic hit show, which has travelled to 135 cities in 29 countries around the world since it premiered in Australia a decade ago.
Following the Melbourne season th the show will hit the road for Sydney, Adelaide and Brisbane as part of the 10 anniversary celebration tour. Australian theatre royalty Tony Sheldon has returned to reprise the role of " Bernadette ". He has frocked up more than 1750 times across the globe as the sassy desert queen, earning Tony and Olivier nominations for the role. Joining him on the bus is accomplished leading man David Harris as " Tick " and Kinky Boots and Les Misérables alumni Euan Doidge as " Felicia ".
Featuring a dazzling array of more than 500 costumes, 200 headdresses and a non - stop hit parade of dance - floor classics including IT'S RAINING MEN, I WILL SURVIVE, I LOVE THE NIGHTLIFE and FINALLY, the fabulously camp musical has more glitter than ever. " THAT'S JUST WHAT THIS COUNTRY NEEDS ; ACOCK IN A FROCK ON A ROCK. " " I HEREBY CHRISTEN THIS BUDGET BARBIE CAMPER, PRISCILLA QUEEN OF THE DESERT "
Based on the Oscar - winning Australian film, Priscilla Queen of the Desert is the hilarious story of three friends who hop aboard a battered old bus bound for Alice Springs to put on the show of a lifetime. The 1994 film starring Terence Stamp, Hugo Weaving and Guy Pearce remains one of Australia's most successful films and soundtracks of all - time with a swag of awards in the trophy cabinet, including an Oscar for Best Costume Design.
The quintessentially Aussie story about mateship, self - discovery and acceptance was translated from screen to stage by Stephan Elliott and Allan Scott, directed by Simon Phillips, with the film's acclaimed costume designers Tim Chappel and Lizzy Gardineronboard, alongside stage designer Brian Thomson and co - choreographers Ross Coleman and Andrew Hallsworth. Media Release : Priscilla Queen of the Desert Thursday 25 January 2018 Page 2 It's been a rollicking ten - year around - the - world extravaganza for Priscilla.
Since the musical last left Australia it has played award - winning stints on Broadway and in the West End, toured Argentina, Brazil, Canada, England, France, Germany, Greece, Hong Kong, Ireland, Italy, Israel, Japan, Korea, New Zealand, Northern Ireland, Philippines, Scotland, Singapore, South Africa, Spain, Sweden, The Netherlands, Wales and hit the high seas with Norwegian Cruise Lines. Future international productions will include seasons in Bangkok, Copenhagen, Mexico City, and return tours to France, Italy, Japan, Korea, and the United Kingdom for the third time.
The fabulous all - Australian cast includes Robert Grubb as outback mechanic " Bob " ; Kinky Boots alumni Emma Powell as burly bartender " Shirl " and Blake Appelqvist as " Miss Understanding " ; Adele Parkinson as hotel entertainment manager " Marion " ; Angelique Cassimatis, Samm Hagen and Cle Morgan as sassy disco singers " The Divas " ; and reprising her role from the original Australian production, Lena Cruz as Bob's wife " Cynthia ". Jakob Ambrose, Michelle Barr, Xander Ellis, Mitchell Fistrovic, Tom Handley, Haydan Hawkins, Luke Jarvis, Joe Kosky, Leonard Mickelo, Adam Noviello, Shannen Quan, Glaston Toft and Patrick Whitbread also feature. Priscilla Queen of the Desert is presented by Michael Cassel Group and Nullarbor Productions in association with MGM On Stage.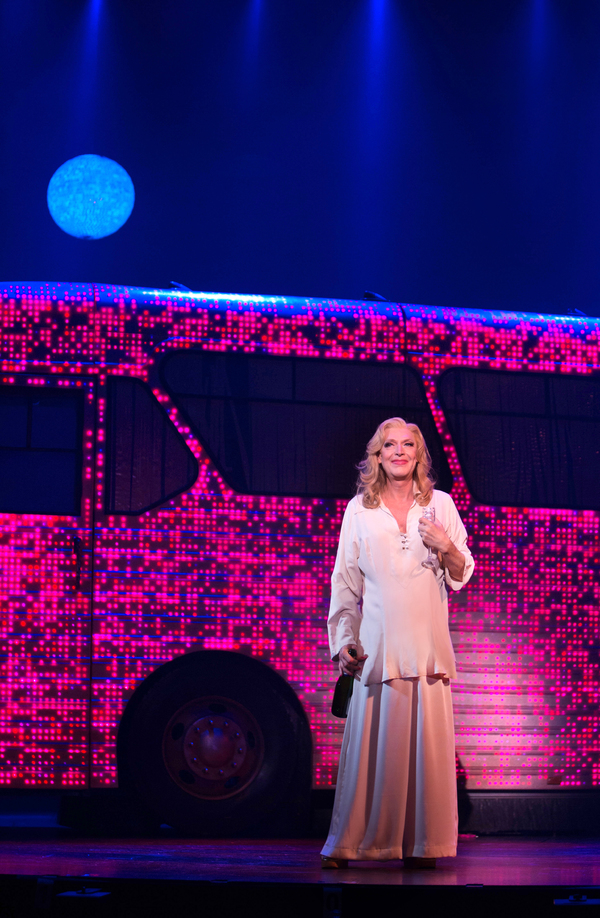 Tony Sheldon

David Harris

David Harris, Tony Sheldon and Euan Doidge

Tony Sheldon

Euan Doidge

David Harris, Tony Sheldon and Euan Doidge

Lena Cruz, Robert Grubb, Adam Noviello, Tony Sheldon

Tony Sheldon