Photo Flash: The Times They Are A-Changin'
This morning it was announced that The Times They Are A-Changin,' the new musical collaboration between Twyla Tharp and Bob Dylan, is set for its Broadway run. The dance musical will open on October 26th at the Brooks Atkinson Theatre.The show was previously seen in its premiere at San Diego's Old Globe Theatre, where it opened on February 9th and ran through March 19th (after being extended twice, due to high demand for tickets). The Broadway run will retain the services of Michael Arden (Bare, Big River) and Thom Sesma (Man of La Mancha revival, La Cage aux Folles), but Jenn Collela (Urban Cowboy) has been replaced by Caren Lyn Manuel (Brooklyn, Rent). In addition, Tony Award-nominee John Selya (Movin' Out) will be seen in the show's ensemble. Lisa Gadga, Charlie Hodges, Luke Longacre, Jason McDole, Jonathan Nosan and Ron Todorowski will be among the show's other performers.
As with Movin' Out, in which she directed and choreographed a narrative dance piece set to the songs of Billy Joel, Tharp has envisioned a theatrical world based on the songs of legendary folk-rock singer/songwriter Dylan. The Times They Are A-Changin' is "set within a low-rent traveling circus run by Capt. Arab, whose wagon hasn't moved from its location in some time, though not by lack of effort from his ragtag band of clowns and performers. One such performer is the animal trainer Cleo, a young woman exploited by Capt. Arab and loved by his son, Coyote. Coyote longs for a world outside the confines of the family business, and as the circus show plays out, he must decide whether to flee or stay, and if he does stay, how to inspire change within the troupe," according to press notes. Sesma plays Capt. Arab, while Manuel and Arden will be featured as Cleo and Coyote, respectively.

For tickets and more information, visit www.timestheyareachangin.com.
Photos by Craig Schwartz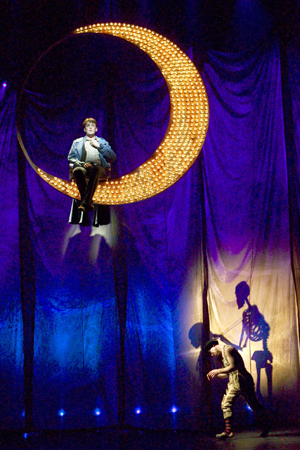 Michael Arden and Charlie Hodges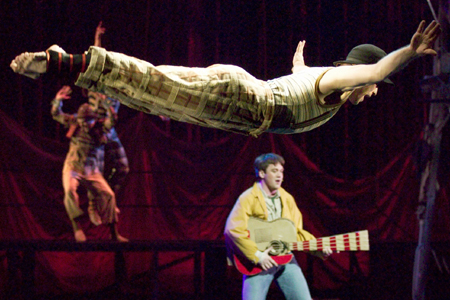 Charlie Hodges (above) and Michael Arden
Related Articles
More Hot Stories For You
Voting Now Open For The 2019 BroadwayWorld Los Angeles Awards, Presented by TodayTix!
Voting is NOW OPEN for the 2019 BroadwayWorld Los Angeles Awards, brought to you by TodayTix! The nominees are set, and now you can vote to make sure ... (read more)

Voting Now Open For The 2019 BroadwayWorld Chicago Awards, Presented by TodayTix!
Voting is NOW OPEN for the 2019 BroadwayWorld Chicago Awards, brought to you by TodayTix! The nominees are set, and now you can vote to make sure your... (read more)

Lin-Manuel Miranda on tick, tick... BOOM- 'It Was the First Musical I Saw That Felt Truly Contemporary'
Miranda recently chatted with Page Six about the project. 'I was a kid who wanted to be a filmmaker all my life,' Miranda explained. 'I was the kid wh... (read more)

THE SPONGEBOB MUSICAL: LIVE ON STAGE to Air on Nickelodeon Dec 7
Nickelodeon today announced that following a critically lauded run on Broadway, The SpongeBob Musical: Live On Stage!, which reunites members of the o... (read more)

AIDA Revival Will Get Developmental Lab in Spring 2020, with Schele Williams and Camille A. Brown at the Helm
As BroadwayWorld previously reported, rumors have been circulating around a revival of Elton John and Tim Rice's Aida, which might result in a nationa... (read more)

Eileen Atkins and Timothée Chalamet Will Lead 4000 MILES at The Old Vic
This spring The Old Vic will present Amy Herzog's Pulitzer Prize for Drama nominated play 4000 Miles, directed by Matthew Warchus with Eileen Atkins a... (read more)