Click Here for More Articles on THE NEW GROUP
Photos: The New Group Presents BURNING
Off-Broadway's The New Group presents Burning, written by Thomas Bradshaw and directed by Scott Elliott, kicking off the company's 2011-12 Season.  The production officially opens on Monday, November 14 at 7:00 PM. Burning plays a limited engagement through December 17 at The New Group @ Theatre Row (The Acorn Theatre, 410 West 42nd Street).

In emotionally charged intersecting stories spanning two eras, a contemporary black painter, who depicts shocking racial violence in his art but hides his race from the press, goes to Berlin for a gallery show only to find that his work has been misinterpreted. And in the mid-'80s an ambitious teenage boy, recently orphaned, comes to New York to become an actor and is taken in by a gay couple in the industry as they are preparing the debut of a new Broadway play. In searing and graphic tales of self-invention and sexual identity, Burning attacks the pretenses of the worlds of art and theatre.
Burning features
Jeff Biehl
(Off-B'way: The Master Builder, Women Beware Women, The Polish Play, Hellhouse, Civilization,
Thomas Bradshaw
's Southern Promises), Reyna DeCourcy (Dreams of the Washer King - Cherry Lane
Studio Theatre
, Civilization - Clubbed Thumb's Summerworks 2011),
Barrett Doss
(
Thomas Bradshaw
's Cleansed - Brick Theater, Orestes 2.0 - HERE),
Hunter Foster
(B'way: Million Dollar Quartet, Little Shop of Horrors - Tony®, Drama Desk, Outer Critics Circle noms., Urinetown, The Producers; Off-B'way: Happiness - Drama Desk nom., Modern Orthodox; also: Little Miss Sunshine -
La Jolla Playhouse
),
Andrew Garman
(Partial Comfort Productions' After and A Bright New Boise; Off-B'way: Uncle Vanya - CSC),
Drew Hildebrand
(The Flea:
Thomas Bradshaw
's Dawn, also Offending the Audience and Oh, the Humanity and other exclamations), E
Van Johnson
(Off-B'way debut),
Danny Mastrogiorgio
(B'way: Wait Until Dark, Contact; Off-B'way: Stunning - LCT3, Sailor's Song - LAByrinth, Wintertime -
Second Stage
, The Resistible Rise of Arturo Ui and Two Gentlemen of Verona - NYSF),
Andrew Polk
(Off-B'way: The Accomplices -
The
New Group
, Drama Desk nom., Flight -
Lucille Lortel
, The Odysseys, Vick's Boy, The Truth Teller),
Larisa Polonsk
y (Off-B'way at
The
New Group
: One Arm; TV: "Eden," "Lights Out," "The Good Wife"),
Adam Tres
e (B'way: 12 Angry Men, A View From The Bridge; Off-B'way at
The
New Group
: Marie and Bruce, The Women of Lockerbie),
Vladimir Versailles
(Off-B'way: The Wood; Film: Moozlum, How to Score Your Life; TV: "The Philanthropist") and
Stephen Tyrone William
s (Off-B'way:
Adam Rapp
's The Hallway Trilogy - Nursing, Paraffin; Film: HBO's Stag & Doe and
Phil Spector
-upcoming, Showtime's Children of God). Guggenheim Award-winner
Thomas Bradshaw
's recent plays include Mary (The Goodman Theater); The Bereaved (Partial Comfort Productions, and subsequently produced at The State Theater of Bielefeld in Germany); Southern Promises (P.S. 122); Dawn (
The
Flea Theater
); Job (The Wilma). He is the recipient of a 2009 Guggenheim Fellowship, the 2010 Prince Charitable Trust Prize, and a 2011 New Voices New York Fellowship from the Lark Play Development Center. Prophet, Strom Thurmond Is Not A Racist, Cleansed, Purity, Dawn, and Southern Promises are all published by Samuel French, Inc. A German translation of Dawn was presented at Theater Bielefeld and
The
National Theatre
of Mannheim in Germany. Bradshaw is an Assistant Professor in the MFA program at
Northwestern University
. He has been featured as one of Time Out New York's ten playwrights to watch and Best Provocative Playwright by The Village Voice. He was the Playwright in Residence at The Soho Theatre in London.Director
Scott Elliot
t is the founding Artistic Director of
The
New Group
, a place for artists to experiment, take risks and collaborate in an artist-driven environment. With the company, he has produced over 47 plays, 22 of which he directed, including last season's revival of
Wallace Shawn
's Marie and Bruce and the world premiere of
Tommy Nohilly
's Blood From A Stone (Outer Critics Circle Award nomination for Outstanding New Off-Broadway Play). He also directed The Kid, the musical based on the book by
Dan Savage
(Outer Critics Circle Award for Outstanding New Off-Broadway Musical; Drama Desk and
Lucille Lortel
Award nominations for Outstanding Musical), Groundswell, Rafta, Rafta..., The Prime of Miss Jean Brodie, Hurlyburly, Aunt Dan and Lemon, The Fever, Two Thousand Years, Abigail's Party, Smelling a Rat, Goose-Pimples and the company's first production in 1995, Ecstasy. He also directs Broadway shows and writes and directs for film and television. Burning features Set Design by
Derek McLane
(B'way: How to Succeed..., Bengal Tiger at the Baghdad Zoo, Anything Goes, Million Dollar Quartet and many more; Off-B'way at
The
New Group
: Marie and Bruce, Blood From A Stone, A Lie of the Mind, The Starry Messenger, others), Lighting Design by
Peter Kaczorowski
(B'way: Born Yesterday, Anything Goes, That Championship Season, Driving Miss Daisy, Time Stands Still, others; Off-B'way: The School for Lies, Venus in Fur, more), Costume Design by
Clint Ramos
(The Intelligent Homosexual's Guide... - Public, After The Revolution -
Playwrights Horizons
, Angels in America - Signature), Sound Design by
Bart Fasbender
(B'way: Bloody Bloody Andrew Jackson; Off-B'way: Terrorism -
The
New Group
, Edgewise, Bad Jazz, A View from 151st Street, Hellhouse) and Video Design by
Wendall Harrington
(B'way: The Who's Tommy, Driving Miss Daisy, Grey Gardens, Putting it Together, Freak, Ragtime, The Capeman, Company, Having Our Say, The Heidi Chronicles, more; Off-B'way: Angels in America, Rap Guide to Evolution, others). The Dialect Coach is
Doug Paulson
(at
The
New Group
: Blood From A Stone, One Arm). Burning plays at
The
New Group
@ Theatre Row (The Acorn Theatre / 410 West 42nd Street, between 9th & 10th Aves) as follows: Monday, Tuesday, Wednesday at 7:00 PM and Thursday, Friday, Saturday at 8:00 PM. Matinees Saturday at 2:00 PM. Tickets may be arranged through
www.telecharge.com
or (212) 239-6200, or at the Theatre Row Box Office (12-8 PM daily). Tickets are $60.00 plus $1.25 restoration fee. For more info, visit
www.thenewgroup.org
.
Photo Credit:  Monique Carbon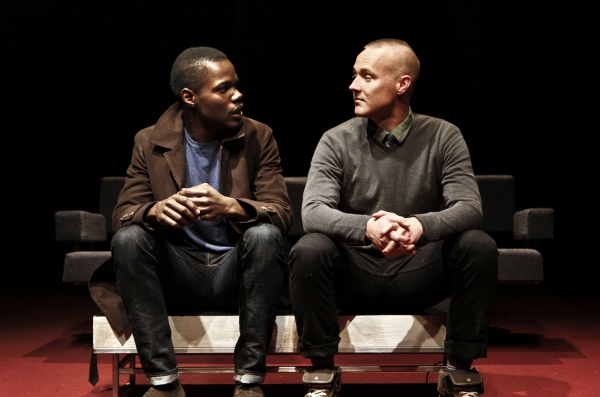 Stephen Tyrone Williams, Drew Hildebrand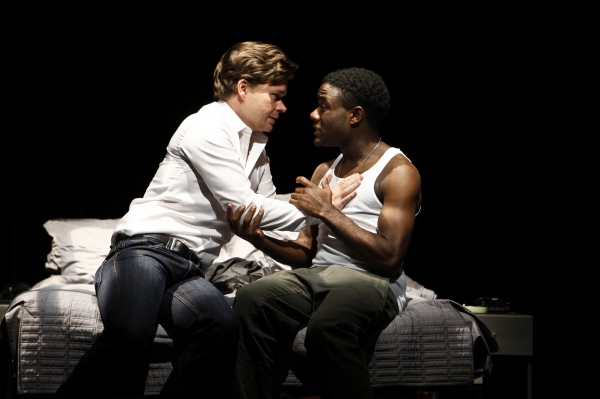 Hunter Foster, Vladimir Versailles

Hunter Foster, Vladimir Versailles

Drew Hildebrand, Reyna de Courcy, Jeff Biehl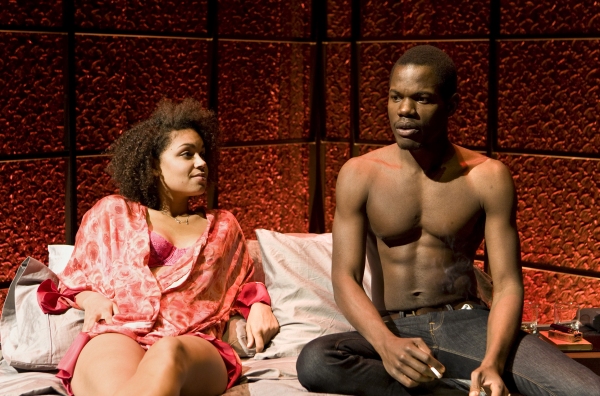 Barrett Doss, Stephen Tyrone William

Barrett Doss, Stephen Tyrone William

Hunter Foster, Vladimir Versailles

Vladimir Versailles, Hunter Foster, Larisa Polonsky, Stephen Tyrone Williams

Stephen Tyrone Williams, Larisa Polonsk

Stephen Tyrone Williams, Larisa Polonsky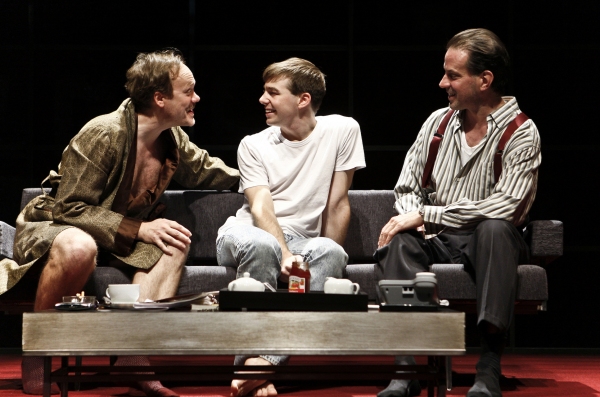 Andrew Garman, EVan Johnson, Danny Mastrogiorgio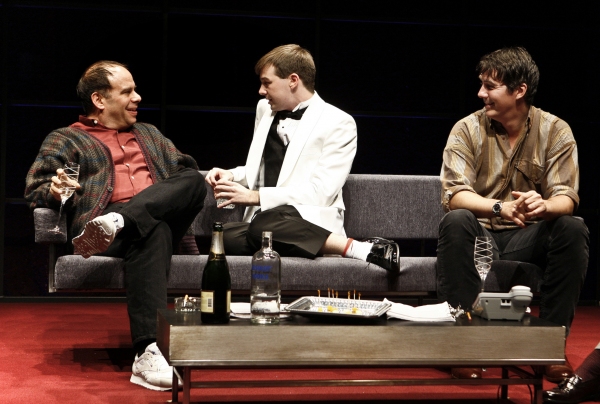 Andrew Polk, EVan Johnson, Adam Trese

Stephen Tyrone Williams, Vladimir Versailles