Photo Flash: Nuance Brings PROOF to the Stage
With each production, Nuance Theatre Co. is gaining a reputation of presenting incredible theatrical performances - whether compelling ensemble acting, atmospheric lighting and sound that enrich ghostly projections, innovations creating actual rain on stage (Condemned), or ambitious and immersive set designs (as in a depression-era union warehouse (Waiting for Lefty), a 1930's-style tenement apartment (Awake and Sing!), and the stone walls of Elsinore Castle complete with a draw bridge and ghost (Hamlet) to name just a few.

Come and see what is uniquely "Nuance" in this production - set against the backdrop of theoretical axioms and the discovery of a potentially historic mathematical Proof, is an extraordinary story of familial devotion and discord, identity, sacrifice, trust and the precarious pathway linKing Brilliance and mental instability.
Catherine has spent years caring for her brilliant but unstable father, Robert, a famous mathematician. Now, following his death, she must deal with her own volatile emotions; the arrival of her estranged sister, Claire; and the attentions of Hal, a former student of her father's who hopes to find valuable work in 103 notebooks her father left behind. Over the long weekend that follows, a burgeoning romance and the discovery of a mysterious notebook draw Catherine into the most difficult problem of all: How much of her father's madness--or genius--has she inherited?
John DeSotelle directs a strong ensemble cast that features Judith Feingold, Gene Pope, Whitney St. Ours and Kyle Begley in this beautiful and intimate production. Returning to Nuance Theatre Co. Scenic Designer, Matt Imhoff (Hamlet) and Sound Designer Megan Culley (Hamlet) have joined with director John DeSotelle to create the site and sounds of a typical suburban back porch setting along with distinct visual elements that skirt the lines between genius and madness.
PROOF plays at John DeSotelle Studio located at 300 W. 43rd St., 3rd Flr, in the Times Square Art Center (corner of 43rd and 8th Ave.). The ACE subway line is right near the entrance of the Art Center building.
Remaining Performances through Sunday, August 20th.
Fridays and Saturdays (August 18, 19) at 8PM
Sunday matinee (August 20) at 3pm and
Thursday, August 17 at 7pm.
For tickets go to www.NuanceTheatre.com.
For further information call 212.581.0188 or go to www.DesotelleStudio.com.
Photos courtesy of Deborah DeSotelle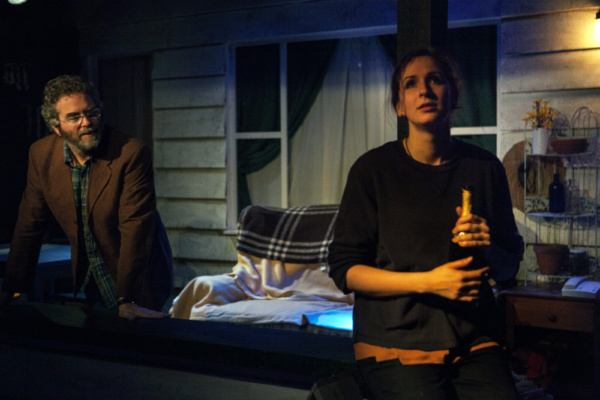 Gene Pope (Robert) and Judith Feingold (Catherine)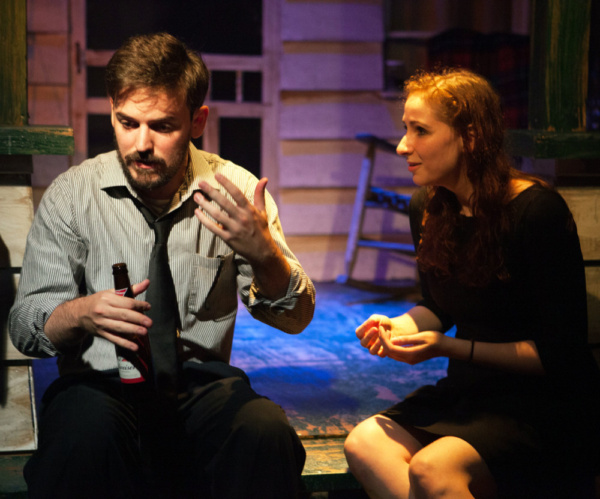 Kyle Begley (Hal) and Judith Feingold (Catherine)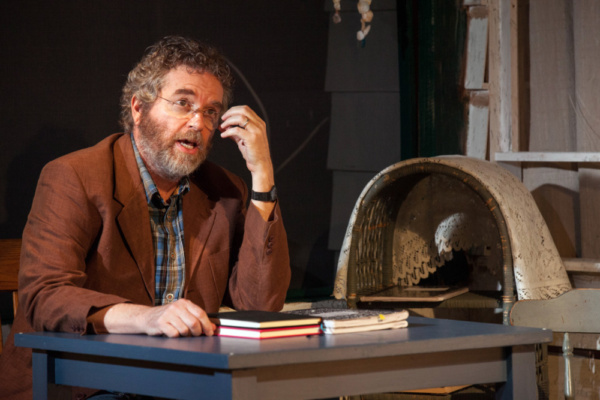 Gene Pope (Robert) in PROOF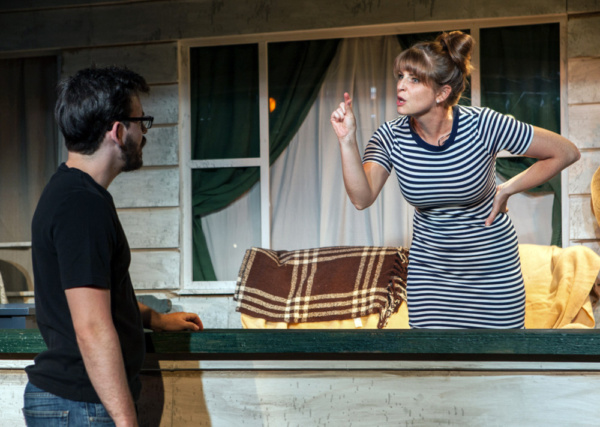 Claire (Whitney St. Ours) gives Hal (Kyle Begley) a piece of her mind during PROOF.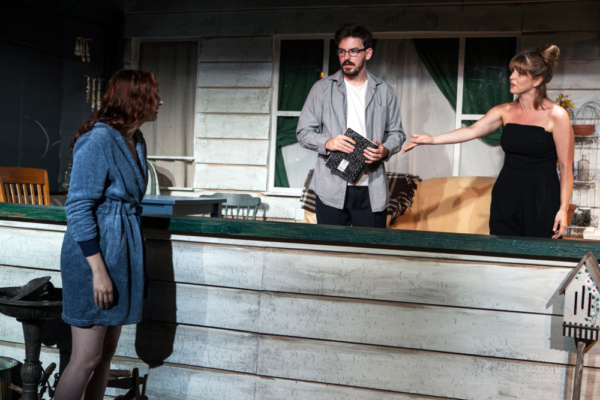 Who's Proof is it?