Photo Flash: New MERCHANT OF VENICE Production Shots!
THE MERCHANT OF VENICE, directed by Daniel Sullivan, will begin performances for Shakespeare in the Park on Saturday, June 12. The Public Theater begins Shakespeare in the Park performances tonight, June 9, with the first preview of THE WINTER'S TALE, directed by Michael Greif (yesterday's scheduled opening was cancelled due to the rain). Both shows will play in repertory through Sunday, August 1 at the Delacorte Theater in Central Park. BroadwayWorld brings you the latest batch of MERCHANT production shots below!
THE MERCHANT OF VENICE features Happy Anderson, Gerry Bamman, Francois Battiste, Liza J. Bennett, Tyler Caffall, Cary Donaldson, Jesse Tyler Ferguson, Luke Forbes, Bryce Gill, Shalita Grant, Jade Hawk, Bill Heck, Tia James, Marianne Jean-Baptiste, Byron Jennings, Kelsey Kurz, Heather Lind, Hamish Linklater, BrIan MacDonald, Dorien Makhloghi, Jesse L. Martin, Nyambi Nyambi, Al Pacino, Lily Rabe, Matthew Rauch, Joe Short, Richard Topol and Max Wright.
Tickets to Shakespeare in the Park are free and are distributed, two per person, at the Delacorte Theater in Central Park at 1 p.m. the day of the show. This summer,
The
Public Theater
will again offer free tickets through our Virtual Ticketing, available at
www.shakespeareinthepark.org
.
Virtual Ticketing will be the same as last year where on the day of a show, users can log on to our website anytime between midnight and 1 p.m. to register for that evening's performance. After 1 p.m. that same day, users can log on to see if they have received tickets through Virtual Ticketing; Recipients will also be sent a confirmation email by 5 p.m. if they have received tickets for that evening's performance. Virtual Ticketing recipients are chosen at random to receive tickets, not in the order requests are received.
In the tradition of Joe Papp, Summer Supporter tickets for THE WINTER'S TALE and THE MERCHANT OF VENICE are available in packages of two tickets for a tax-deductible contribution of $350. The two tickets can be used in any combination for this summer's Shakespeare in the Park productions. These reserved seats are only available for a limited time to ensure that the highest number of free seats will be available to distribute to the general public on the day of the show. Summer Supporter tickets help to underwrite free Shakespeare in the Park.
Summer Supporter donations can be made at The Public Theater Box Office at 425 Lafayette Street or online at www.publictheater.org. Beginning this summer, seating locations for Summer Supporters and Public Theater Partners will be allocated strictly by giving level.
In the event of rain, the start of the performance may be delayed. However, the production will be performed if and when it is possible to do so. Please be aware that rain at 7:30 PM may clear by the start of the show, and no performance will be cancelled before 8 :00 PM. If a performance is canceled due to rain or any other reason, tickets obtained via the line at the Delacorte Theater or through Virtual Ticketing are not valid for re-issue or exchange.
For additional information about Shakespeare in the Park, visit www.shakespeareinthepark.org or call (212) 539-8750.
Photo Credit: Joan Marcus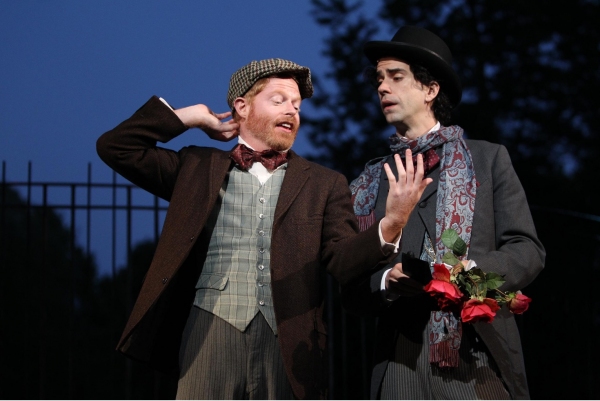 Jesse Tyler Ferguson and Hamish Linklater

Jesse L. Martin, Byron Jennings, and Gerry Bamman

Marianne Jean-Baptiste and Jesse L. Martin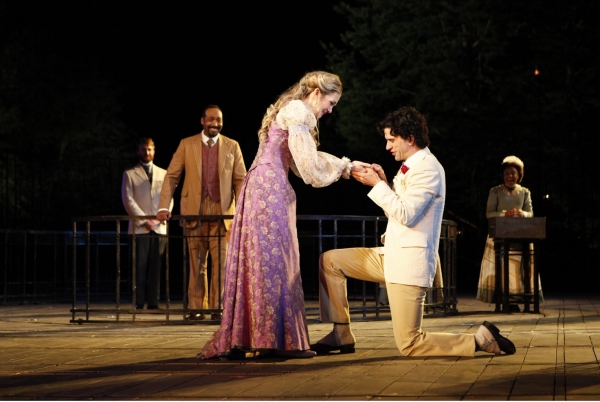 Lily Rabe and Hamish Linklater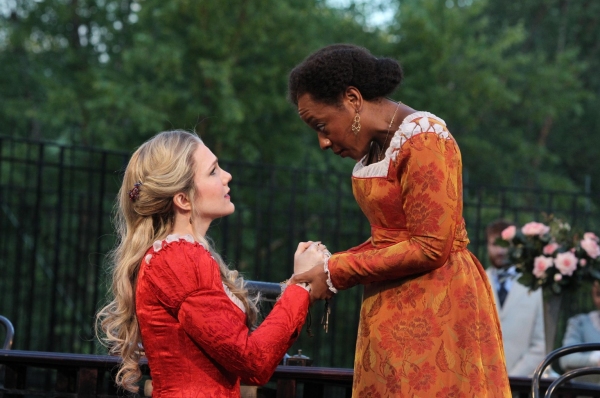 Lily Rabe and Marianne Jean-Baptiste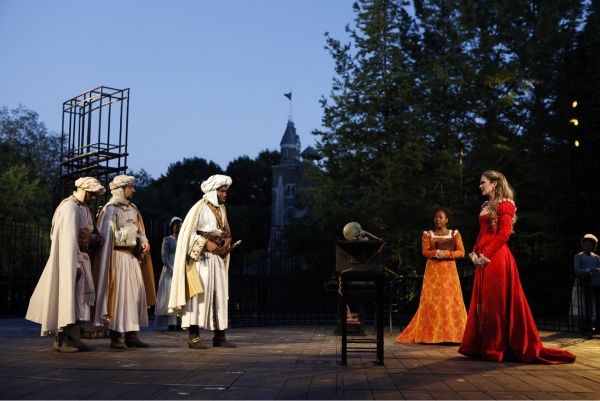 Luke Forbes, Dorien Makhloghi, Nyambi Nyambi, Marianne Jean-Baptiste, and Lily Rabe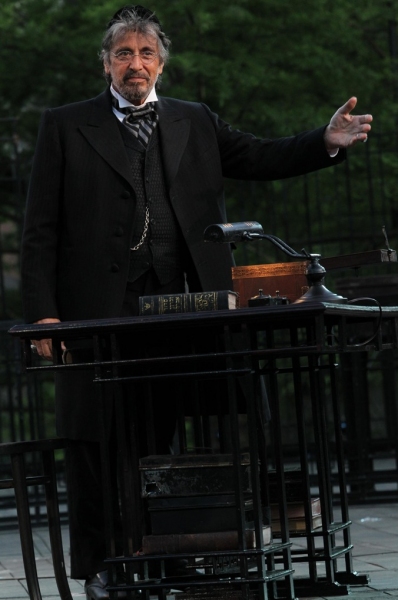 Al Pacino

Hamish Linklater and Jesse L. Martin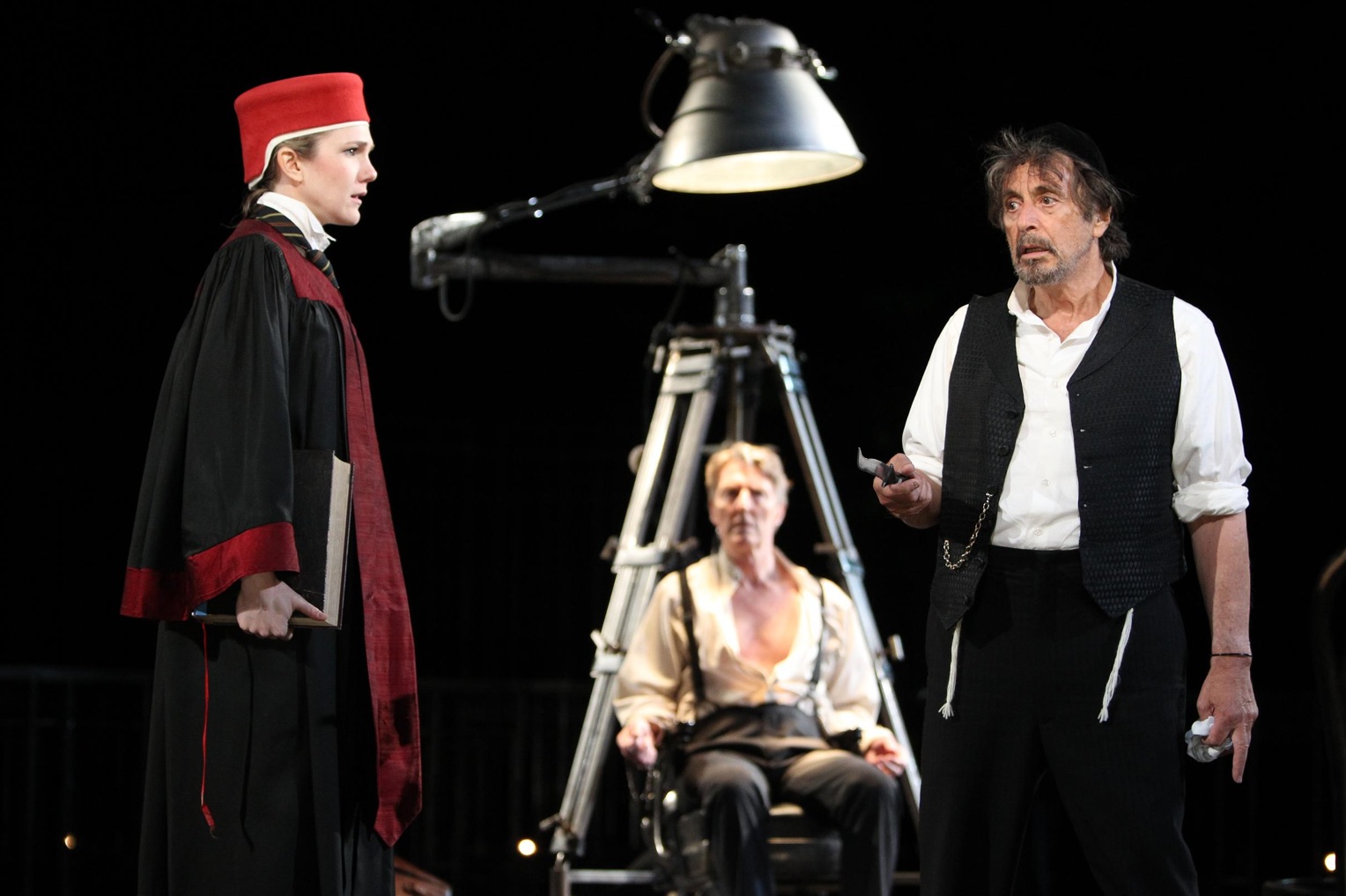 Lily Rabe, Byron Jennings, and Al Pacino

Related Articles
More Hot Stories For You