Photo Flash: Mara Davi, Taylor Frey and More Teach PS 221 Students in Brooklyn
25 Broadway performers crossed the Brooklyn Bridge and traveled deep into Crown Heights on Saturday, April 13 to teach 3rd, 4th, 5th graders and 6th graders at PS 221 how to sing, dance & act. The event was for an inspiring, new partnership between Boardman Productions and Seeds in the Middle, a 501c3 charity empowering students and schools in the obesity epidemic to get all the resources they need to get healthy. Scroll down for photos from the event!
The Story: Julie Boardman, founder of Boardman Productions (a NYC-based promotional marketing event staffing agency who primarily hires Broadway talent), first learned of PS 221's need for outside help from a fellow Young American, Shannon Miskowski - who saw a posting on FACEBOOK.
Ms. Boardman previously taught workshops with The Young Americans to students on multiple National Music Outreach Tours. She quickly realized that bringing those skills to PS 221 was a no-brainer...this time, she just added the help of her fellow Broadway performers. The team couldn't be more excited about inspiring the students at PS 221, the first Hip2B Healthy School, and helping to enrich their lives with the arts.
All NYC students from grades 2-8 face high-stakes standardized tests, starting Tuesday, April 16. They are under extreme pressure. What joy to enhance learning with the magic of the arts.
Teachers include: Mara Davi ("Smash," A Chorus Line, White Christmas, Drowsy Chaperone, 42nd Street), Taylor Frey (South Pacific, How to Succeed..., Hairspray, Finian's Rainbow), Marcus Paul James (RENT, In the Heights), Brittney Griffin (Dreamgirls), Leslie Diamond Lee (RENT), Julie Boardman (42nd Street), Jenny Neale (Butterflies are Free), Danielle Faitelson (Honky), Whit Baldwin (Merrily We Roll Along...), Erin West (42nd Street), Aaron Gaines, Aaron Jodoin, Lauren Fijol (Shout!), Amy Halldin (Grease), Jerese Twitty (Brooklyn Nets Dancer), Ryan Nicolls, Laurie Hymes, Donald Dashiell, Chris Rustin, Marnie Buckner, Jennifer Bigler & Dan Brown. With help from: Jarran Muse (Motown, Dreamgirls, White Christmas, Hairspray, 42nd Street), Steven Cardona (Disney Teaching Artist) and Michael Schwartz (Director).
Seeds in the Middle, named by fourth graders in central Brooklyn, inspires parents, educators, students and their community to access all opportunities beginnning with improving their health, enhancing arts education and greening their environment. They are joyful, respectful, educational and engaging. They nurture the whole child.
Their innovative strategy fights obesity initiates at schools. They weave proven programs into a comprehensive package to turn around ills driving down opportunity and advancement. They empower and educate all to get healthy and scale disparities. The pilot elementary school is PS 221 in Crown Heights, a neighborhood with one of New York city's highest obesity, diabetes, and heart disease rates.
Their program encompasses every class at PS 221, plus the surrounding community. They are the proud founders of the Crown Heights Farmers Market and Soccer for Harmony tournaments. They are proud to boast that our focus 4th grade class in 2012 surpassed citywide average scores on standardized tests! Less than half the students in District 17 are at grade level. But in Ms. Fearon's class, 87% scored at or above grade level (27% scored "4"s) in math, 69% in literacy and 96.2% in science.
At Seeds in the Middle, they teach how to grow, how to market, how to access and prepare nutritious food, how to exercise, how to engage in the arts, all the elements needed to promote life-changing lifelong health. Their partners come from all walks of life: chefs, athletes, educators, artists, builders and more. They cross cultures. They transform gray into green, destitution into inspiration.
Photo Credit: Danielle Faitelson


Voice class (Aaron Jodoin on piano, Michael Deleget also pictured)

Aaron Jodoin on piano and students

Leslie Diamond leads vocal warm-ups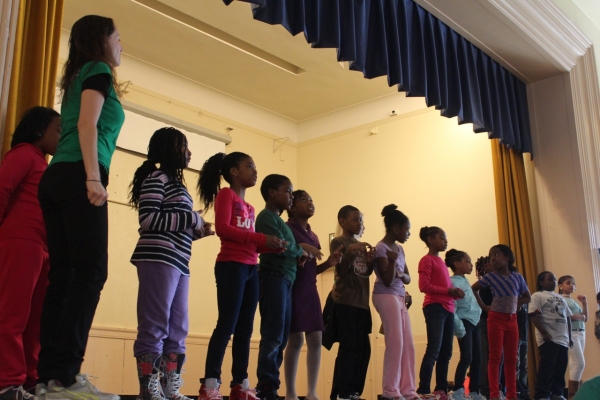 Jenny Neale & the PS 221 students singing from their diaphragm

Mara Davi tells a student how much she loves acting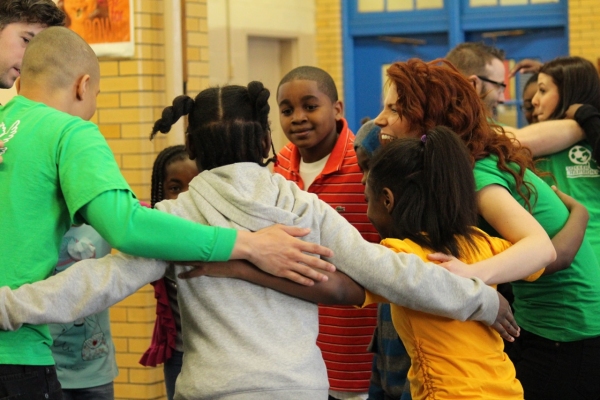 Whit Baldwin, Chris Rustin & Amy Halldin play an acting game with the students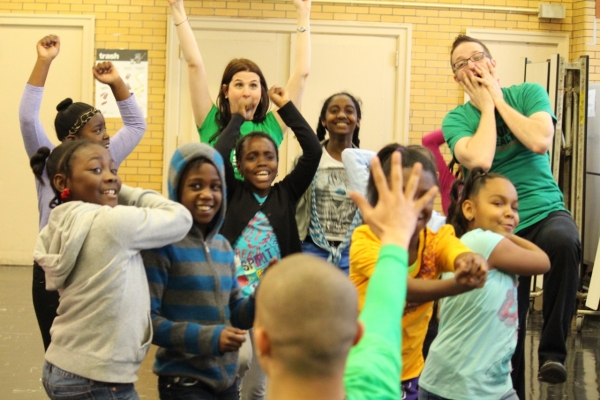 Chris Rustin directs a family portrait (Laurie Hymes & Ryan Nicolls pictured) making a tableau pic

Laurie Hymes & Amy Halldin do an acting exercise with PS 221

Aaron Gaines leads a group acting exercise with the students (also pictured: Amy Halldin, Chris Rustin & Mara Davi)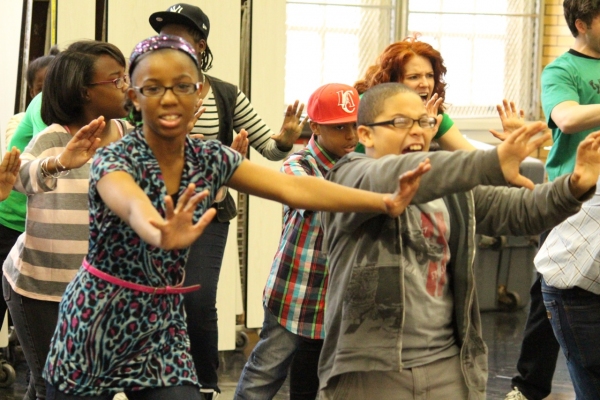 5th graders learn Laban movement with Amy Halldin

Learning Laban movement (Ryan Nicolls, Whit Baldwin, Laurie Hymes, Amy Halldin, Chris Rustin & Mara Davi pictured)

Taylor Frey teaching Hairspray. This move quickly became the students favorite.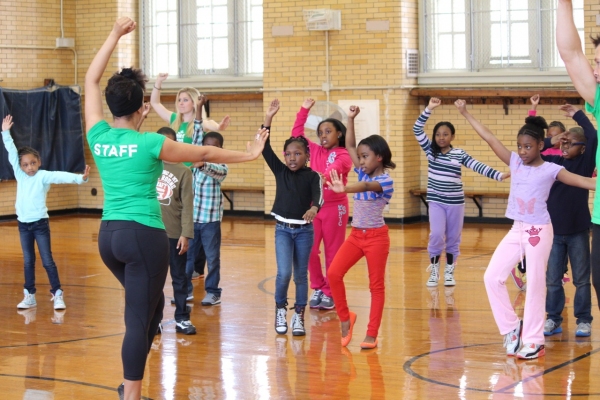 Students learning the choreography

Students loved this part..."the Beyonce move"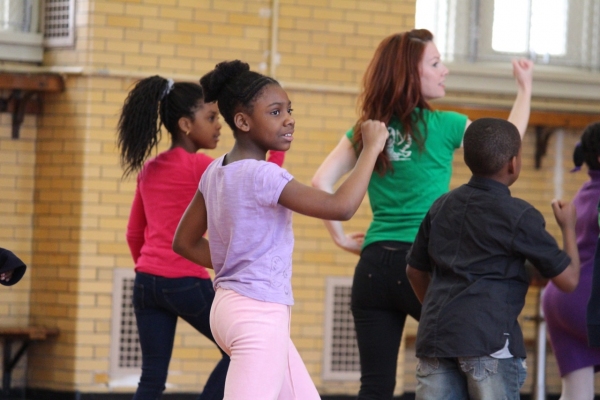 Erin West teaching by example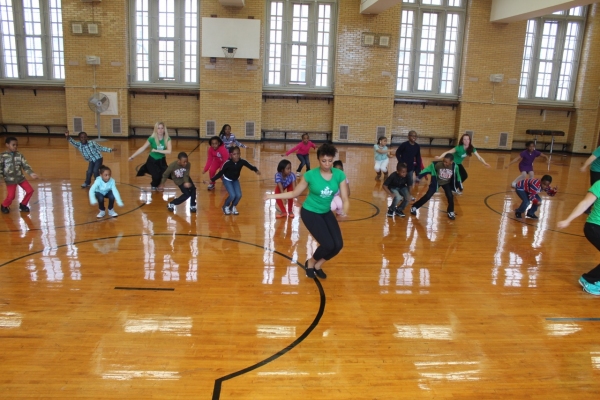 Brittney Griffin teaches PS 221 how to do the twist

Lauren Fijol & Erin West teach choreography to "You Can't Stop the Beat"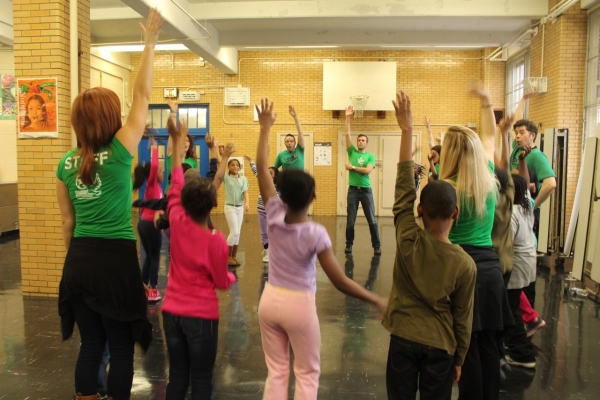 Mara Davi, Amy Halldin, Ryan Nicolls, Aaron Gaines & Whit Baldwin do character work with students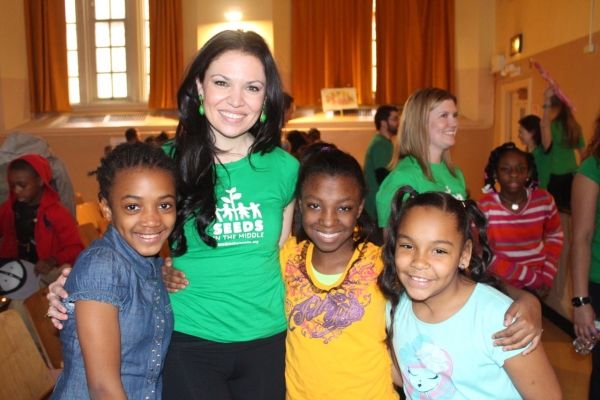 Event Producer Julie Boardman with PS 221 students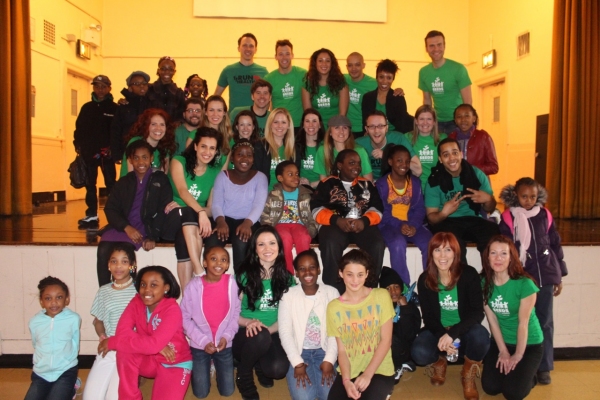 Bottom row left to right: Julie Boardman, Mara Davi, Erin West / 2nd row: Lauren Fijol, Dan Brown / 3rd row: Amy Halldin, Aaron Jodoin, Leslie Diamond, Jenny Neal, Jenna Fernandez, Laurie Hymes, Jennifer Bigler, Ryan Nicolls, Marnie Buckner / 4th row: Whit Baldwin / 5th row: Michael Deleget, Taylor Frey, Jerese Twitty, Chris Rustin, Brittney Griffin & Aaron Gaines