Photo Flash: Lonny Price Helms CLYDE 'N BONNIE in Atlanta - Performance Shots!
After years of development, Clyde 'n Bonnie: A Folktale premiered in suburban Atlanta at Aurora Theatre yesterday, March 15. Aurora Theatre first encountered the show in 2009 at the New York Musical Theatre Festival, the annual showcase of potential Broadway hits, like the Tony Award and Pulitzer Prize winning Next to Normal. Clyde 'n Bonnie is the musical brainchild of Broadway stars Hunter Foster and Rick Crom.
Check out the show in performance below!
Legendary Broadway veteran and Emmy Award-winning director Lonny Price helms this debut at Aurora Theatre. The accomplished Broadway dancer Josh Rhodes, who has been with the show throughout development, has choreographed the Atlanta production and Ann-Carol Pence, a local award-winner, has joined the team as music director.
Originally titled and billed as Bonnie & Clyde: A Folktale, the work has transformed through its development, and the name change reflects the unorthodox spirit of this oft' told tale. On the opening day of rehearsal at Aurora Theatre, Director Price said to the cast, "Unlike the 1970's film and other more dramatic renditions, our story will be told with a playful, irreverent humor."
The musical is set in a quaint southern town, where each year the townsfolk pay homage to their favorite anti-heroes with a historically dubious "good ol' musical about the bad ol' days." America's most romantic gangsters outwit and outrun a relentless, larger-than-life J. Edgar Hoover to the delight of the poor and downtrodden. As their relationship blossoms from "strictly business" to a passionate romance, their adventures are full of madcap mayhem with the Barrow gang doing anything and everything to stay one step ahead of the law. Much like the infamous real-life story, the play ends with a bang.
In recent years, Atlanta has become an important regional proving ground for future Broadway musicals, hosting the premiere of several musicals like Twyla Tharp's Tony-nominated Come Fly Away, Sister Act: The Musical, Alice Walker's The Color Purple and Elton John's and Tim Rice's Aida. This season, Aurora Theatre joins Atlanta's Tony Award winning ALLIANCE THEATRE as host of a much-anticipated production. Ghost Brothers of Darkland County, a play by Stephen King with music and lyrics by John Mellencamp debuts at The Alliance in April.
Like the Alliance, Aurora Theatre has demonstrated an artistic commitment to new musicals, leading to this prestigious premiere and establishing the company as a key figure in regional theatre's role in Broadway success. "We see the potential for tremendous growth and national interest through our commitment to fostering new musicals, said Producing Artistic Director Anthony Rodriguez. "How extraordinary for our patrons to get to see a show on its way to Broadway or before winning its first Tony or Drama Desk Award."
Now in their 16th Season and with over 300 events annually, Aurora Theatre has live entertainment to suit everyone's taste. The Aurora Theatre main stage season is comprised of Broadway's best plays and musicals alongside exciting new works of Contemporary Theatre. Additionally, Aurora produces concerts, Comedy Club events, children's programs, metro Atlanta's top haunted attraction, Lawrenceville Ghost Tours as well as Atlanta's only professional Spanish language theatre, Teatro Del Sol. Aurora Theatre is a world-class theatrical facility with two performances venues. It is nestled on the square in historic downtown Lawrenceville, with free attached covered parking and is surrounded by restaurants and shops.
Aurora Theatre has garnered numerous accolades highlighted by recent achievements that include the 2009 Pinnacle Award from the Gwinnett Chamber of Commerce, Creative Loafing's 2010 Best Theatre Company and GA Trend Magazines 2011 Best Places to Work in Georgia.
Photo Credit: Chris Bartelski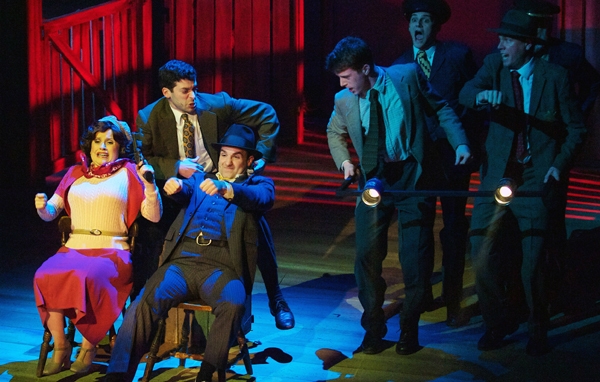 Laura Floyd, Tony Larkin, JC Long, Greg Bosworth, Corey Bradberry and Googie Uterhardt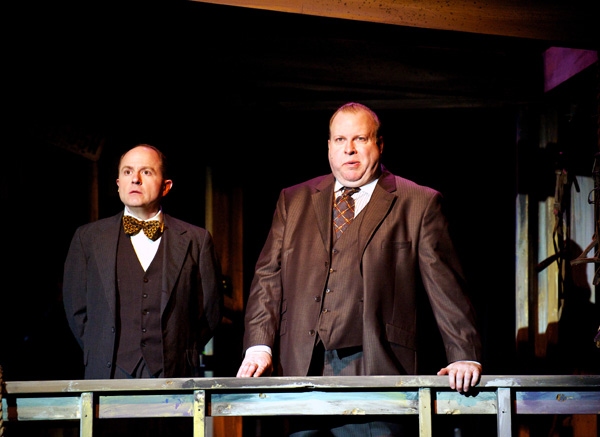 Steve Hudson and Bart Hansard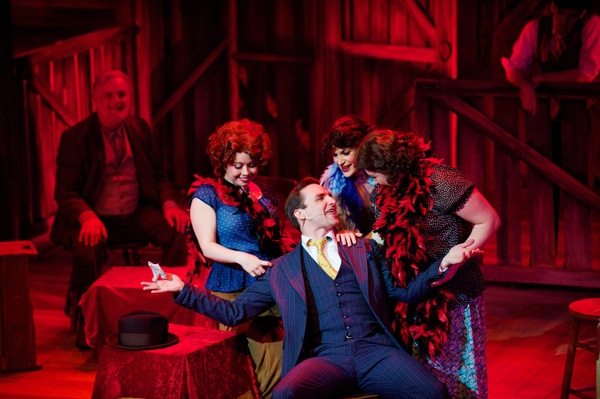 JC Long as Clyde Barrow (right to left) Caitlin Smith, Jennifer Smiles & Rachel Miller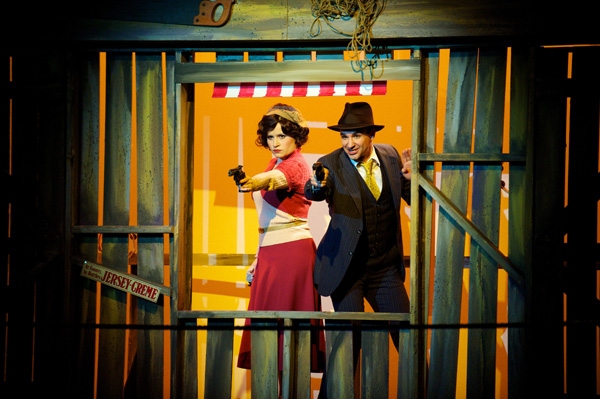 Laura Floyd as Bonnie Parker, JC Long as Clyde Barrow