Photo Flash: Kjersti Long, Rock 'n' Roll Prodigy Amazes NYC Audience
Eleven-year old rock n roll prodigy, Kjersti Long shocked the audience in her New York debut concert Friday, March 23rd at The Bitter End. Accompanied by Nashville's Born Crooked; Hunter Wolfe (guitar, vocals) and Are Wolfe (drums), Kjersti, pronounced 'care-stee' rocked a packed house at the iconic club.
From the start Long did not disappoint, opening with her own rendition of Heart's Alone; Ann and Nancy Wilson would be proud. The crowd was hooked. She followed with two originals, debuting I Cry and Not Helpless. Then kicked it into high gear with Janis Joplin's Piece of My Heart.
Never Enough and This Is Me from The Greatest Showman rounded out the night with back up vocals by Hannah Bonnett, Jessica Schuchardt, Justin Lopez, Ryan Apgar, Audrey Kreitner, Hailey DeStefano, Lila Pfefferle and Megan Simonelli.
Closing with Led Zeppelin's Stairway To Heaven, a signature cover, Long brought the house down. The audience left mesmerized and wondering how what they just saw was even possible.
Dean Kaelin is credited with discovering Long and developing her talent. Kjersti's repertoire includes covers by Heart, Lindsay Sterling, Benatar, Joplin and others. Her originals, a collaboration with Frankie Vinci, are based on real-life experiences.
Multi-platinum songwriter, producer and film composer, Frankie Vinci has shared the stage and worked in the studio along side some of the biggest names in the music business. Frankie landed a Triple Platinum award for a song he co-wrote with Kris Bergsnes & Bob Moulds called "Somebody Must Be Prayin' For Me" which was on Tim McGRaw's album "A Place In The Sun". The album went on to win the CMA for "Best Album of the Year" and also was nominated for a Grammy award for "Best Album of the Year" across all genres. Working in the recording studio with Vinci has helped kick Kjersti's music into high gear with the above mentioned originals Cry, Not Helpless, and Love Blind soon to be released.
Born Crooked performed their single, May the Best Man Win which has been featured at multiple sporting events for the NHL as well as single, Hypnotize Me. They covered Led Zeppelin's In My Time of Dying. An amazing, charismatic duo with a special on-stage connection, Born Crooked opens regularly for The Band Daughtry.
Credits to New Jersey's Brian Gallacher on piano, NYC native, Trevor Brown on Bass, and Leesa Csolak and LBC Talent (producers).
Proceeds benefited ASTRA, a non-profit software development company dedicated to building products that solve problems and promote better health and safety for minorities in the areas of anxiety, panic attack, and depression.
Photo/ Video credits to Solarc Productions. Based out of New York City, Solarc Productions is a full-service, boutique creative content company that specializes in producing film, photographic, and graphic content for various commercial, corporate, music video, industrial, editorial, and narrative projects.
For more information on Kjersti Long visit her website at www.kjerstilong.com or follow @kjersti.long.


Kjersti Long, Brian Gallacher on piano

Kjersti Long

Hannah Bonnett, Kjersti Long, Jessica Schuchardt, Audrey Kreitner, Ryan Apgar, Justin Lopez, Hailey DeStefano

Hannah Bonnett, Are Wolfe- Drums, Kjersti Long, Jessica Schuchardt, Audrey Kreitner, Trevor Brown-Bass, Ryan Apgar, Justin Lopez, Hunter Wolfe-Guitar, Hailey DeStefano, Lila Pfefferle, Megan Simonelli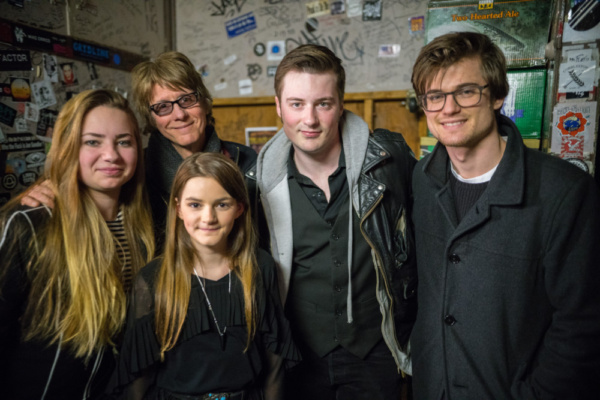 Are Wolfe, Frankie Vinci, Kjersti Long, Hunter Wolfe, Trevor Brown

Frankie Vinci, Kjersti Long, Anna Kaelin

Kjersti Long, Van Dean

Kjersti Wolfe, Brian Gallacher

Megan Simonelli, Lila Pfefferle, Kjersti Long, Hailey DeStefano

Justin Lopez, Kjersti Long, Hannah Bonnett, Ryan Apgar
Related Articles
More Hot Stories For You
Confirmed: Billy Porter Will Play the Fairy Godmother in Upcoming CINDERELLA Film
BroadwayWorld recently reported on a rumor that Billy Porter would be joining the cast of the upcoming Cinderella film from Sony, starring Camila Cabe... (read more)

Alice Walker Pens Moving Essay on THE COLOR PURPLE, Celie as a Character and Oluwaseyi Omooba
On Facebook this week, producer Scott Sanders shared the below letter from the Pulitzer Prize winning writer of The Color Purple, Alice Walker...... (read more)

DVR Alert: Lin-Manuel Miranda Will Appear on Tonight's SATURDAY NIGHT LIVE
This just in! Lin-Manuel Miranda will appear on tonight's episode of Saturday Night Live!... (read more)

Photo Flash: Tom Hiddleston & Company Celebrate Harold Pinter's Birthday at BETRAYAL
Stars of Betrayal raised their glasses to the late Harold Pinter last night, October 10, in celebration of what would have been the playwright's 89th ... (read more)

Ben Platt Reveals Further Details About Upcoming MERRILY WE ROLL ALONG Film
Further details have been revealed for the upcoming Merrily We Roll Along film, starring Ben Platt and Beanie Feldstein.... (read more)

HAMILTON's Miguel Cervantes and Family Mourn Passing of Three Year-Old Daughter, Adelaide
BroadwayWorld is saddened to report that Miguel Cervantes, who plays Alexander Hamilton in Chicago's Hamilton, and his wife, Kelly,  have confirmed th... (read more)