Photos: 'How The Grinch Stole Christmas' Press Preview
Dr. Seuss' How The Grinch Stole Christmas! - The Musical will be making its return to Broadway in time for the holidays from November 1 through January 6, 2008 at the St. James Theatre. Plus, this year marks the 50th anniversary of the classic book. 
In its premiere year The Grinch broke box office attendance records making it the #1 holiday show on Broadway for three consecutive weeks in December. Dr. Seuss' How The Grinch Stole Christmas! - The Musical will be offering 15 performances a week with 8 shows on weekends and multiple matinees during the week, providing families with even more opportunities to experience The Grinch.
The cast includes: Patrick Page (The Grinch), Ed Dixon (Old Max), Rusty Ross (Young Max), Darin DePaul (Grandpa Seth Who), Aaron Galligan-Stierle (JP Who), Tari Kelly (Mama Who), Caroline London (Cindy Lou Who), Jan Neuberger (Grandma Who), Athena Ripka (Cindy Lou Who). Plus the citizens of Whoville: Jahaan Amin, Juliette Allen Angelo, Hunter Bell, Janet Dickinson, Sky Flaherty, Eamon Foley, Sami Gayle, Brianna Gentilella, Amy Griffin, Joseph Harrington, Michael Hoey, Carly Hughes, Kurt Kelly, Liesl Jaye, Jess Le Protto, Marina Micalizzi, Katie Micha, Jillian Mueller, Andy Richardson, Josephine Rose Roberts, William Ryall, Jordan Samuels, Johnny Schaffer, Jeff Skowron, Tianna Jane Stevens, Heather Tepe and Janelle Viscomi.
The 2007 creative team includes: Jack O'Brien (Original Production Conceiver and Director), Timothy Mason (Book and Lyrics), Mel Marvin (Composer), Matt August (Director), John DeLuca (Original Choreographer), Bob Richard (Co-Choreographer), John Lee Beatty (Scenic Designer), Pat Collins (Lighting Designer), Robert Morgan (Costume Designer), Michael Curry (Puppetry), Joshua Rosenblum (Musical Director and Vocal Arranger), ACME Sound Partners (Sound Designer), Michael Starobin (Orchestrator), David Krane (Dance Music Arranger), Telsey + Co (Casting), Gregory Meeh (Special Effects Designer), Angelina Avallone (Makeup Designer), Thomas Augustine (Hair/Wig Designer).
Previews begin November 1, opening November 9 and runs though January 6, 2008 at the St. James Theatre at 246 West 44th Street.
Ticket prices range from $25 - $99 with Premium seating also available. Group tickets are on sale now. Tickets for the general public are now on sale. Telecharge, 212-239-6200 or www.GrinchMusical.com; Groups call 800-223-7565.
Photos by Ben Strothmann


Patrick Page returns to Broadway as The Grinch

Ed Dixon (Old Max), Patrick Page (Grinch) and Rusty Ross (Young Max)

Patrick Page dangles a disgusting teddy bear

Patrick Page teases with a giant candy cane

Patrick Page under the sickly sweet stockings

Patrick Page trapped by the pesky Who children

Patrick Page mercilessly tortured by The Who children

Patrick Page and The Who children

The Who children

Patrick Page and The Who children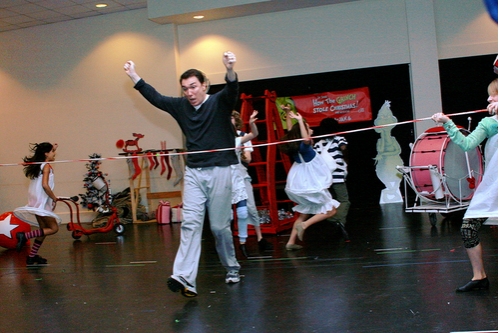 Patrick Page with The Who children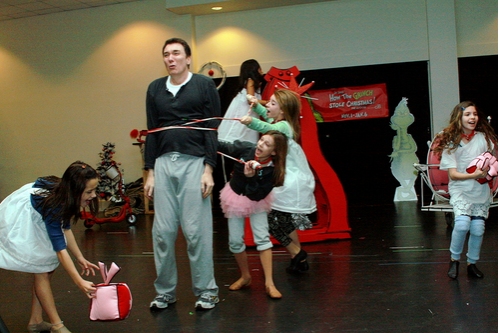 Patrick Page all tied-up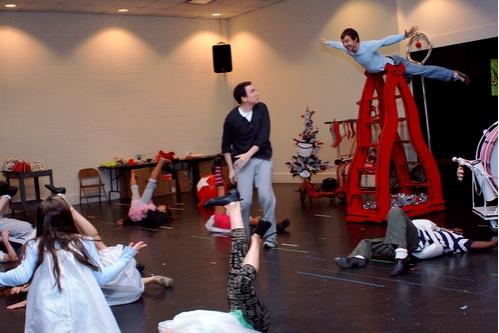 Patrick Page (center) and Rusty Ross (top)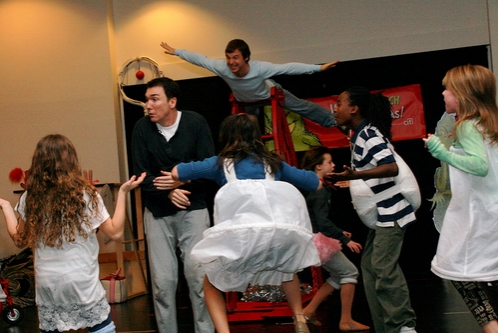 Patrick Page (center), Rusty Ross (background) and The Who children

Patrick Page (center) wrapped in Christmas cheer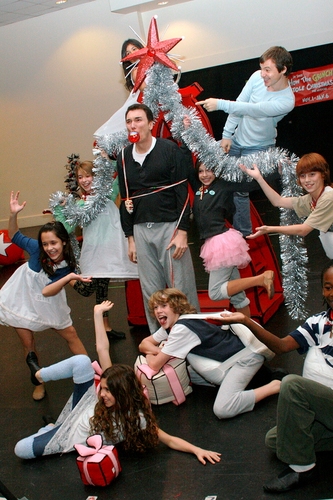 Patrick Page (center), Rusty Ross (top right) and The Who Children

Rusty Ross, Patrick Page and Ed Dixon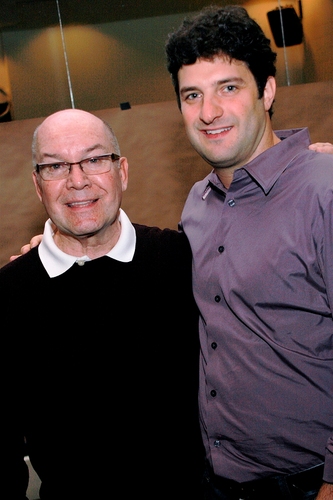 Jack O'Brien (Original Production Conceiver and Director) and Matt August (Director)

Matt August, Patrick Page and Jack O'Brien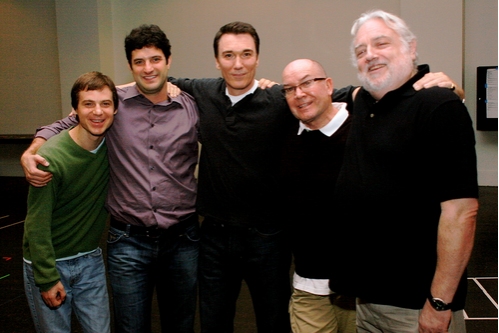 l-r: Rusty Ross, Matt August, Patrick Page, Jack O'Brien and Ed Dixon