Photos: First Look at the Stage Adaptation of Khaled Hosseini's A THOUSAND SPLENDID SUNS at A.C.T.
American Conservatory Theater (A.C.T.), currently celebrating its 50th anniversary subscription season, presents the world-premiere theatrical adaptation of Khaled Hosseini's international best-selling novel, A Thousand Splendid Suns (February 1-26, 2017). BroadwayWorld has a first look at the cast in action below!
The epic story of three generations of Afghan women who are bound together by marriage, family, and a secret past, A Thousand Splendid Suns is set amid the war-torn streets of modern-day Kabul. Strong-willed Laila, unmarried and pregnant, is forced to marry her older neighbor when her family and home are torn apart. In her new home, she forges an extraordinary and unlikely friendship with Mariam, her husband's first wife, and together the two women find the hope and strength to raise a new generation.
Adapted for the stage by acclaimed Irish-Indian playwright Ursula Rani Sarma, this stunning new production will feature live music from renowned composer and saw player David Coulter (who was last seen at A.C.T. in 2004 as the band leader in the acclaimed production, The Black Rider: The Casting of the Magic Bullets). Hosseini (The Kite Runner, And the Mountains Echoed), who resides in the Bay Area, has been intimately involved in the production.
Under the direction of A.C.T. Artistic Director Carey Perloff, A Thousand Splendid Suns features an international cast of actors, including (in alphabetical order) Barzin Akhavan, Denmo Ibrahim, Haysam Kadri, Jason Kapoor, Pomme Koch, Nadine Malouf, Kate Rigg, and Nikita Tewani.
The creative team for A Thousand Splendid Suns includes Ken MacDonald (Set Designer), Linda Cho (Costume Designer), Robert Wierzel (Lighting Designer), Jake Rodriguez (Sound Designer), David Coulter (Composer/Musician), and Humaira Ghilzai (Cultural Consultant).
A Thousand Splendid Suns is a co-production with Theatre Calgary. Press night will be held on Wednesday, February 8, 2017. Single tickets (ranging from $20-$105) are available at the A.C.T. Box Office at 415.749.2228 or online at www.act-sf.org.
Photo Credit: Kevin Berne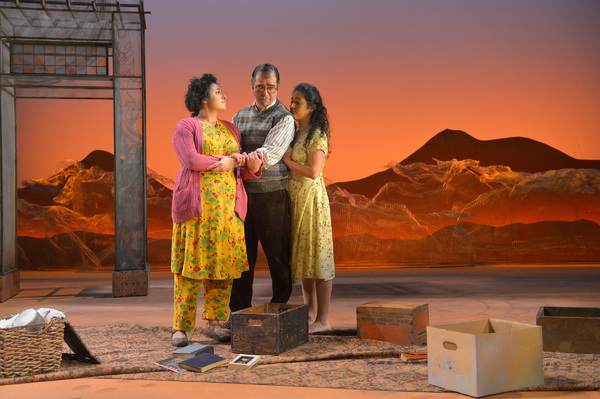 Laila (
Nadine Malouf
, right) and her parents (
Barzin Akhavan
and
Denmo Ibrahim
) prepare to flee their home in Kabul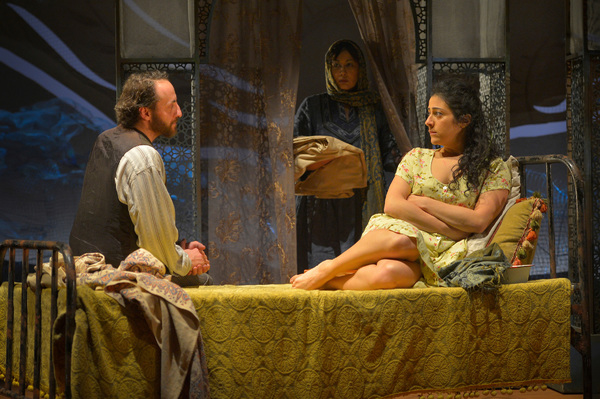 Laila (
Nadine Malouf
, R) agrees to marry Rasheed (Haysam Kadri), as Rasheed's wife, Mariam (
Kate Rigg
) watches on
A pregnant Laila (
Nadine Malouf
) is embraced by her husband Rasheed (Haysam Kadri) i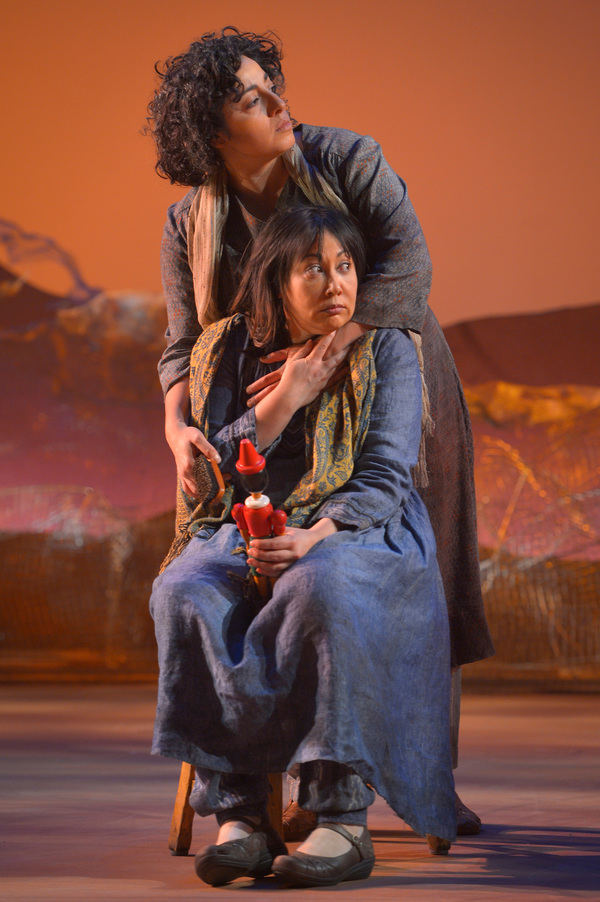 Mariam (
Kate Rigg
, seated) is comforted by her mother (
Denmo Ibrahim
)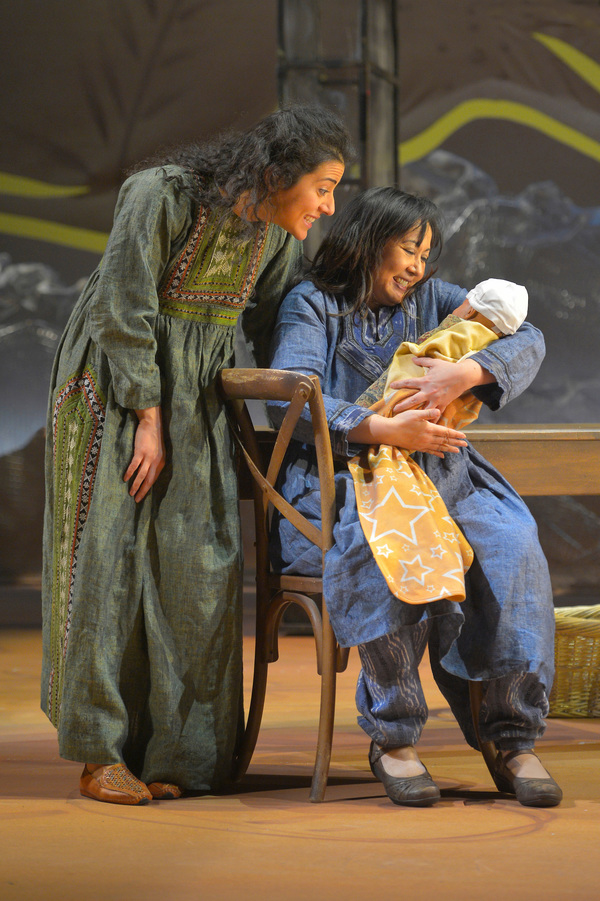 Mariam (
Kate Rigg
, seated) holds Laila's (
Nadine Malouf
) newborn child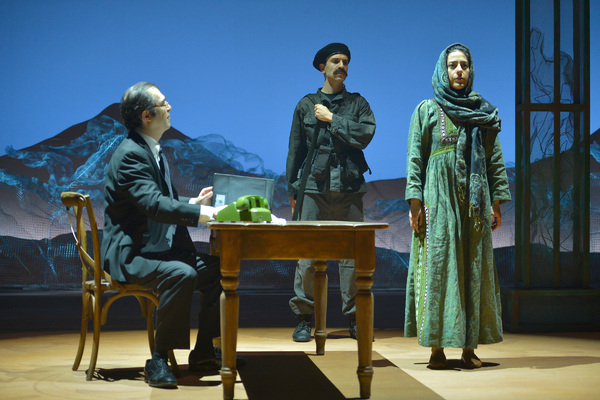 An interrogator (
Barzin Akhavan
, left) questions Laila (
Nadine Malouf
) about her travel plans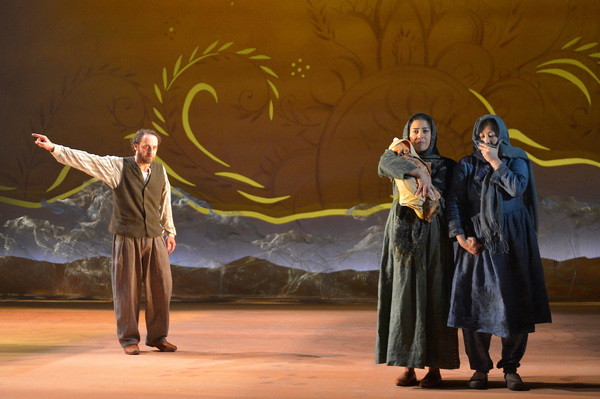 A furious Rasheed (Haysam Kadri) yells at Laila (
Nadine Malouf
, left) and Mariam (
Kate Rigg
)
Mariam (
Kate Rigg
, left) and Laila (
Nadine Malouf
, center) look on as Zalmai (Neel Noronha), Laila's son, gives his sister Aziza (Nikita Tewani) a soccer ball
Laila (
Nadine Malouf
) speaks privately with Tariq (Pomme Koch)
A man (
Barzin Akhavan
) gives Laila (
Nadine Malouf
, right) a tour of Mariam's home town. In background: Aziza (Nikita Tewani), Tariq (Pomme Koch, center), and Zalmai (Neel Noronha)
Composer and musician David Coulter (right) performs a live score