Click Here for More Articles on SHAKESPEARE IN THE PARK
Photos: First Look at Gregg Henry and More in JULIUS CAESAR at Shakespeare in the Park
The Public Theater's Free Shakespeare in the Park production of Julius Caesar, directed by Oskar Eustis, is in performances now and runs through Sunday, June 18 at with an official press opening on Monday, June 12. BroadwayWorld has a first look at the cast in action below!
The Public Theater's Artistic Director Oskar Eustis directs Julius Caesar, Shakespeare's play of politics and power, last seen in the Park 17 years ago. Rome's leader, Julius Caesar, is a force unlike any the city has seen. Magnetic, populist, irreverent, he seems bent on absolute power. A small band of patriots, devoted to the country's democratic traditions, must decide how to oppose him. Shakespeare's political masterpiece has never felt more contemporary.
The complete cast of Julius Caesar will feature Tina Benko (Calpurnia); Teagle F. Bougere (Casca); Yusef Bulos (Cinna the Poet); Eisa Davis (Decius Brutus); RoBert Gilbert (Octavius); Gregg Henry (Caesar); Edward James Hyland (Lepidus, Popilius); Nikki M. James (Portia); Christopher Livingston (Titinius, Cinna); Elizabeth Marvel (Antony); Chris Myers (Flavius, Messala, Ligarius); Marjan Neshat (Metullus Cimber); Corey Stoll (Marcus Brutus); John Douglas Thompson (Caius Cassius); and Natalie Woolams-Torres (Marullus). The non-equity company will include Isabel Arraiza (Publius Clitus); Erick Betancourt; Mayaa Boateng (Soothsayer); Motell Foster (Trebonius); Dash King; Tyler La Marr (Lucillius); Gideon McCarty; Nick Selting (Lucius, Strato); Alexander Shaw (Octavius' Servant); Michael Thatcher (Cobbler); and Justin Walker White (Pindarus).
JULIUS CAESAR will feature scenic design by David Rockwell; costume design by Paul Tazewell; lighting design by Kenneth Posner; sound design by Jessica Paz; original music and soundscapes by Bray Poor; and hair, wig, and makeup design by Leah J. Loukas.
Photo Credit: Joan Marcus

Nikki M. James
and
Corey Stoll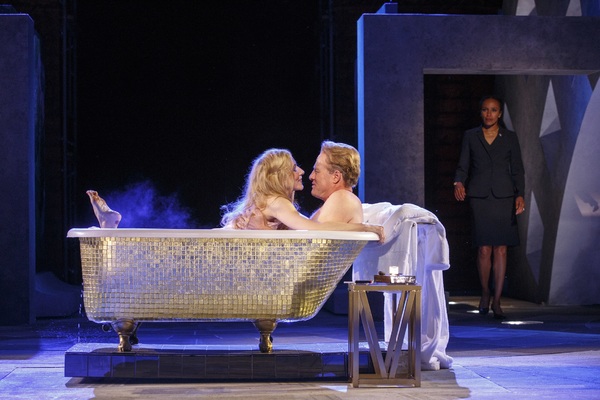 Tina Benko
,
Gregg Henry
, and
Eisa Davis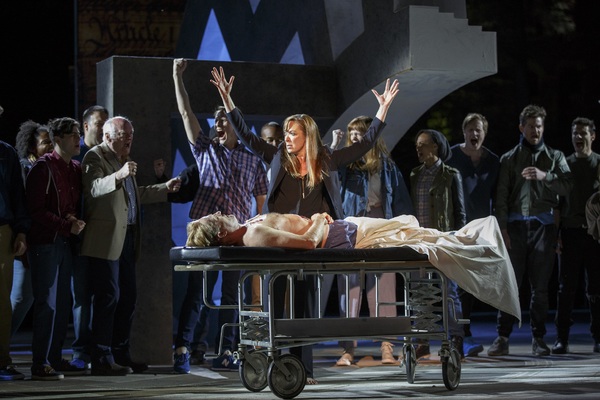 Elizabeth Marvel
,
Gregg Henry
, and the company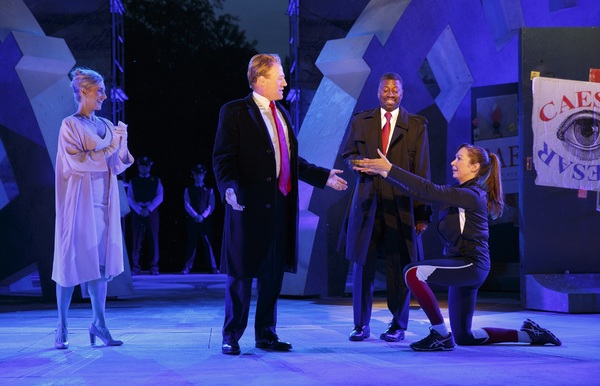 Tina Benko
,
Gregg Henry
,
Teagle F. Bougere
, and
Elizabeth Marvel
Gregg Henry
(center) and the company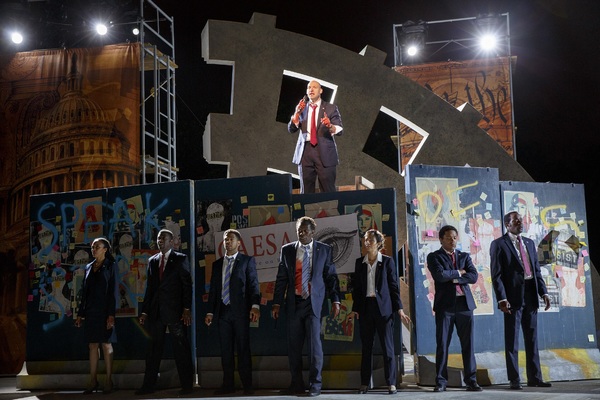 Corey Stoll
(above) and the company
Elizabeth Marvel
(center) and the company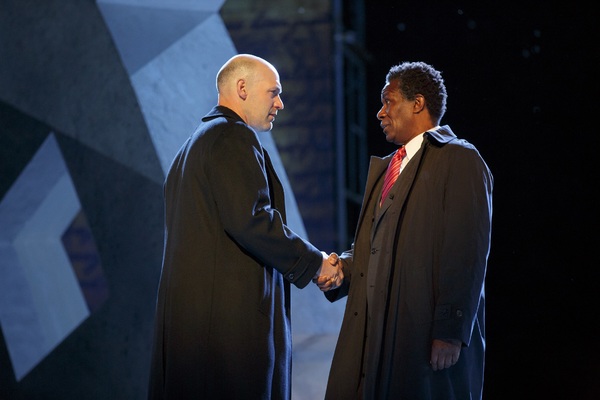 Corey Stoll
and
John Douglas
Thompson
Elizabeth Marvel
and the company