Photo Flash: First Look at Broadway-Hopeful HELLDRIVERS OF DAYTONA World Premiere at the Royal George
Ladies and gentlemen, start your engines...and prepare for a bumpy ride! The rubber will meet the road as the World Premiere of the hilarious new pop rock musical HELLDRIVERS OF DAYTONA takes the stage, opening tonight, September 12, at 7:30 p.m., and running through October 30 at The Royal George Theatre, 1641 North Halsted Street, Chicago. BroadwayWorld has a first look at the cast in action below!
With music by Berton Averre (The Knack), lyrics by Rob Meurer (Platinum Records with Christopher Cross), and book by Emmy Award-winner Mark Saltzman (The Tin Pan Alley Rag, The Adventures of Milo and Otis), these award-winning creative minds have put the pedal to the metal in this NASCAR-themed musical full of girls, cars, and rockin' guitars.
In HELLDRIVERS OF DAYTONA, tensions flare as drivers compete for the top slot in the 1965 Daytona Speedway Jackpot 500. Amidst a sea of tanned surfers, speedway groupies, motorheads and bikini babes, Lucky Stubbs (James Nedrud) must find a way to win his dream girl, Pepper Johnson (Samantha Pauly), from rival driver Count Porcini Portobello (Jeff nominee David Sajewich), a dangerously enticing European hotshot. The race for love and glory is on in this spoof of 1960s Elvis-style rock movies, a ride that's fast, furious and funny.
Following stagings and workshops for the show in Texas, Wyoming, Illinois and California, the World Premiere of HELLDRIVERS OF DAYTONA in its pre-Broadway tryout at The Royal George Theatre is produced by Natasha Davison (Gotta Dance on Broadway, The Prom at The ALLIANCE THEATRE) and Richard Friedman (General Manager at Theatre at the Center, Mind Over Chicago at the Apollo Theater, Ring of Fire at The Mercury, Always...Patsy Cline at the Apollo Theater) and will be directed and choreographed by Danny Herman (Numerous World Premiere credits, Pre-Broadway workshop of Scandal, National Tour of Dreamgirls) with co-choreography by Rocker Verastique. Musical Director Linda Madonia will bring the score, featuring a rollicking mix of power pop and rock and lush Beach Boys-flavored harmonies, to life.
Joining Samantha Pauly as "Pepper", David Sajewich as "Count Porcini Portobello" and Jeff Award Nominee James Nedrud as "Lucky" in HELLDRIVERS OF DAYTONA are Trey Curtis as "Kahuna"; Aaron M. Davidson as "Cardoc"; Julia Rose Duray as "Margaret Ann"; Andres Enriquez as "Pitstop"; Claire Lilley as "DeeDee"; Rachel Melius as "Mary Lou"; Jeff Award Nominee Leah Morrow as "Laura" and Chris Selefski as "Horndog". The cast also includes Cara Smith, Jerreme Rodriguez, Adrienne Storrs and Vincent Hooper.
The production will feature set design by Scott Adam Davis, costume design by Brenda Winstead, lighting design by Denise Karczewski, sound design by Barry G. Funderburg and Mike Patrick, properties design by Brittney O'Keefe, projections design by Ross Hoppe and stage management by Kristi Martens.
Photo Credit: Guy Rhodes


Leah Morrow (Laura), James Nedrud (Lucky Stubbs)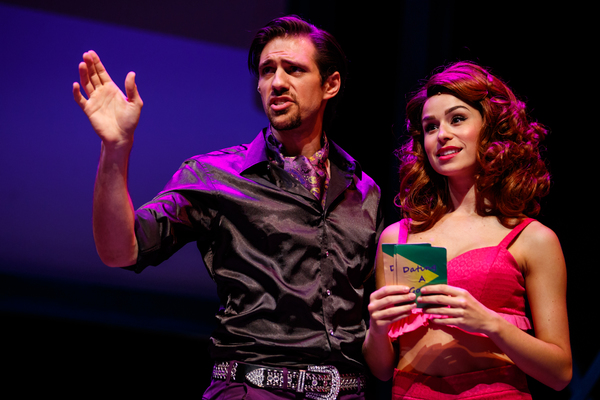 David Sajewich (Count Portabello Porcini), Samantha Pauly (Pepper)

Samantha Pauly (Pepper), David Sajewich (Count Portabello Porcini)

James Nedrud (Lucky Stubbs), Samantha Pauly (Pepper)

Claire Lilley (Dee Dee), Rachel Melius (Marylou), Julia Rose Duray (Margaret Ann Olsen), Leah Morrow (Laura)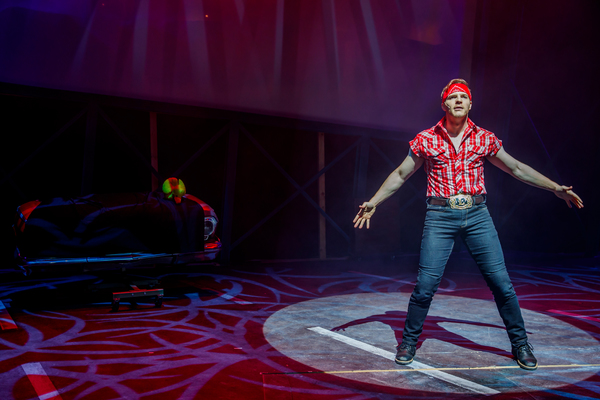 James Nedrud (Lucky Stubbs)

James Nedrud (Lucky Stubbs)

James Nedrud (Lucky Stubbs), Samantha Pauly (Pepper)

James Nedrud (Lucky Stubbs), Samantha Pauly (Pepper)