Photos: Dirty Rotten Scoundrels Tour
The national tour of the scamming, scheming, double-crossing hit Broadway musical Dirty Rotten Scoundrels will play the following locations in the months to come:
Salt Lake City, UT
04/24/07-04/29/07
Capitol Theatre
San Jose, CA
05/01/07-05/13/07
San Jose Center for the Performing Arts
Sacramento, CA
05/16/07-05/27/07
Community Center Theatre
Hartford, CT
06/05/07-06/10/07
Mortensen Hall, The Bushnell
Cleveland, OH
06/12/07-06/24/07
Palace Theatre, Playhouse Square Center
San Diego, CA
07/17/07-07/22/07
Civic Theatre
Chicago, IL
7/31/07-08/12/07
Auditorium Theatre of Roosevelt University
The cast includes Tony-nominated actor
Tom Hewitt
as suave and sophisticated con man Lawrence Jameson. He's joined by
D.B. Bonds
, who plays Freddy Benson, the brash and vulgar swindler Lawrence takes under his wing.  Other principals include
Laura Marie Duncan
as Christine Colgate,
Chicago
stage veteran Hollis Resnik as Muriel Eubanks, Drew McVety as Andre Thibault and
Jenifer Foote
 as Jolene Oakes.
The musical reunites David Yazbek (music and lyrics) with Tony Award winners Jack O'Brien (direction) and Jerry Mitchell (choreography), the Tony-nominated team behind The Full Monty. The raucous new musical comedy show features a book by Jeffrey Lane.  "Based on the popular 1988 MGM film, Dirty Rotten Scoundrels centers on two con men living on the French Riviera – the suave and sophisticated Lawrence Jameson, who makes his lavish living by talking rich ladies out of their money; and a small-time crook named Freddy Benson, who, more humbly, swindles women by waking their compassion with fabricated stories about his grandmother's failing health.  After meeting on a train, they unsuccessfully attempt to work together only to find that this small French town isn't big enough for the two of them. So they make a bet: the first one to swindle $50,000 from a young heiress, triumphs and the other must leave town. What follows are a series of schemes, masquerades and double-crosses in which nothing may ever be exactly what it seems," state press notes.
For tickets and more information, go to www.amtsj.com and www.BroadwayInChicago.com.
Photos by Carol Rosegg & Chris Bennion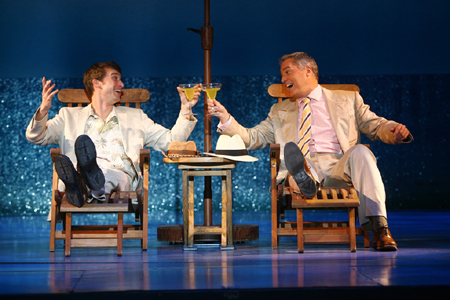 D.B. Bonds and Tom Hewitt
Tom Hewitt
and ensemble

Laura Marie Duncan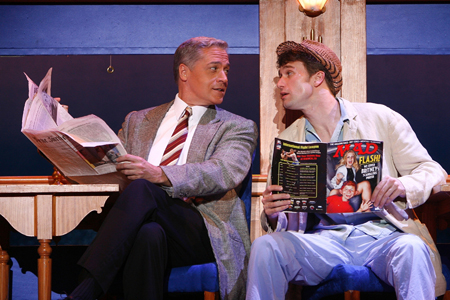 Tom Hewitt
and
D.B. Bonds

Drew McVety and Hollis Resnick


The Dirty Rotten Scoundrels national tour company


The Dirty Rotten Scoundrels national tour company


Tom Hewitt and D.B. Bonds


Hollis Resnick and Drew McVety


Tom Hewitt, D.B. Bonds, and Drew McVety