Photo Flash: Denzel, Lady Gaga & More Nab Prizes at 73rd ANNUAL GOLDEN GLOBES
The 2016 awards season officially began last night with the Golden Globes, honoring excellence in film and television. The 73rd Annual Golden Globe Awards, hosted by Ricky Gervais, aired Sunday, January 10, 2016, LIVE from the Beverly Hilton Hotel inBeverly Hills, CA.
This year's trophies were presented by an all-star list of celebrities including Amy Adams, Jaimie Alexander, Patricia Arquette, Melissa Benoist, Orlando Bloom, Kate Bosworth, Sophia Bush, Gerard Butler, Jim Carrey, Matt Damon, Viola Davis, Chris Evans, Will Ferrell, America Ferrera, Harrison Ford, Tom Ford, Jamie Foxx, Morgan Freeman, Lady Gaga,Mel Gibson, Ryan Gosling, Grant Gustin, Maggie Gyllenhaal, Tom Hanks, Kevin Hart, Amber Heard, Taraji P. Henson, Jonah Hill, Bryce Dallas Howard, Terrence Howard, Kate Hudson, Lily James,Ken Jeong, Dwayne Johnson, Michael Keaton, John Krasinski, Jennifer Lawrence, Eva Longoria, Jennifer Lopez, Tobey Maguire, Helen Mirren, Julianne Moore, Katy Perry,Brad Pitt,Eddie Redmayne, Andy Samberg, Amy Schumer,J.K. Simmons, Jason Statham, Channing Tatum, Mark Wahlberg and Olivia Wilde.
Click here for the full list of winners and check out photos from last night's broadcast below!
Photos by: Paul Drinkwater/NBC


Leonardo DiCaprio, "The Revenant", Winner, Best Actor - Motion Picture, Drama at the 73rd Annual GOLDEN GLOBE AWARDS held at the Beverly Hilton Hotel on January 1

73rd ANNUAL GOLDEN GLOBE AWARDS -- Pictured: (l-r) Brie Larson, "Room", Winner, Best Actress - Motion Picture, Drama at the 73rd Annual GOLDEN GLOBE AWARDS held at the Beverly Hilton Hotel on January 10, 2016 -- (Photo by: Paul Drinkwater/NBC)

73rd ANNUAL GOLDEN GLOBE AWARDS -- Pictured: Eddie Redmayne, Presenter at the 73rd Annual GOLDEN GLOBE AWARDS held at the Beverly Hilton Hotel on January 10, 2016 -- (Photo by: Paul Drinkwater/NBC)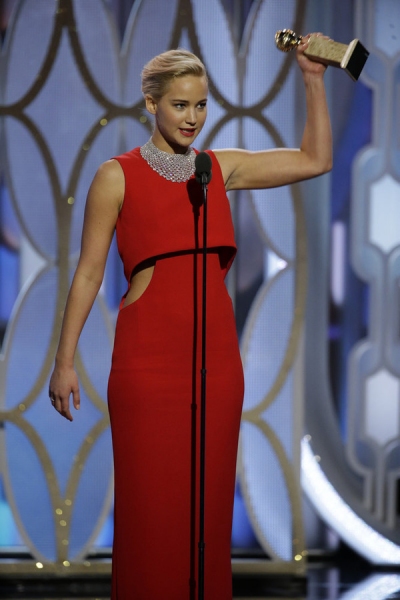 73rd ANNUAL GOLDEN GLOBE AWARDS -- Pictured: Jennifer Lawrence, "Joy", Winner, Best Actress - Motion Picture, Comedy at the 73rd Annual GOLDEN GLOBE AWARDS held at the Beverly Hilton Hotel on January 10, 2016 -- (Photo by: Paul Drinkwater/NBC)

73rd ANNUAL GOLDEN GLOBE AWARDS -- Pictured: Michael Keaton, Presenter at the 73rd Annual GOLDEN GLOBE AWARDS held at the Beverly Hilton Hotel on January 10, 2016 -- (Photo by: Paul Drinkwater/NBC)

73rd ANNUAL GOLDEN GLOBE AWARDS -- Pictured: Taraji P. Henson, "Empire", Winner, Best Actress - TV Series, Drama at the 73rd Annual GOLDEN GLOBE AWARDS held at the Beverly Hilton Hotel on January 10, 2016 -- (Photo by: Paul Drinkwater/NBC)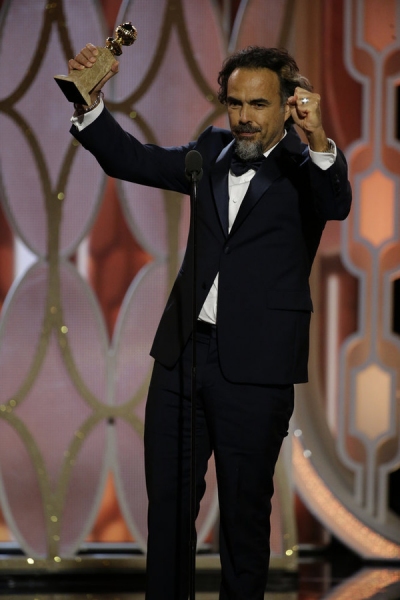 73rd ANNUAL GOLDEN GLOBE AWARDS -- Pictured: Alejandro G. Inarritu, "The Revenant", Winner, Best Director - Motion Picture at the 73rd Annual GOLDEN GLOBE AWARDS held at the Beverly Hilton Hotel on January 10, 2016 -- (Photo by: Paul Drinkwater/NBC)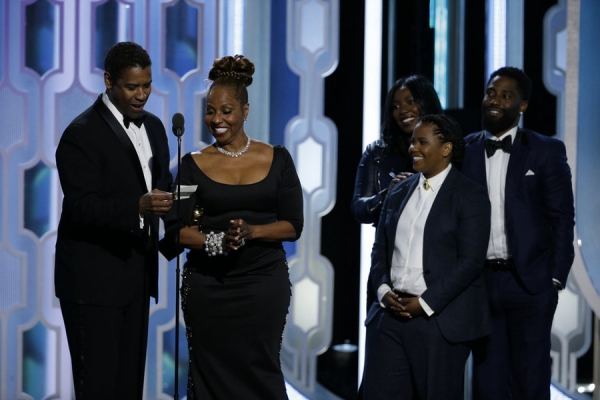 73rd ANNUAL GOLDEN GLOBE AWARDS -- Pictured: Denzel Washington and Family, Winner, Cecil B. Demille Award at the 73rd Annual GOLDEN GLOBE AWARDS held at the Beverly Hilton Hotel on January 10, 2016 -- (Photo by: Paul Drinkwater/NBC)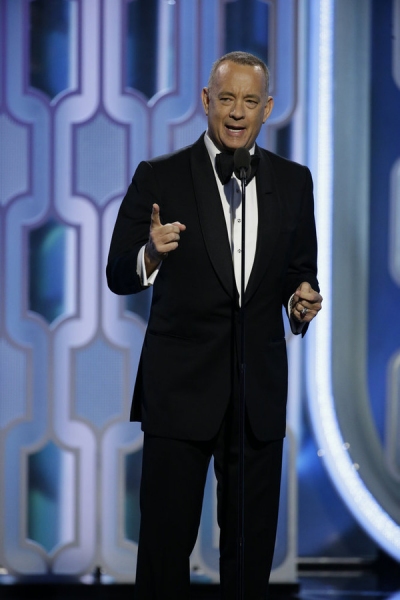 73rd ANNUAL GOLDEN GLOBE AWARDS -- Pictured: Tom Hanks, Presenter at the 73rd Annual GOLDEN GLOBE AWARDS held at the Beverly Hilton Hotel on January 10, 2016 -- (Photo by: Paul Drinkwater/NBC)

73rd ANNUAL GOLDEN GLOBE AWARDS -- Pictured: Sam Esmail, "Mr. Robot", Acceptor, Best TV Series, Drama at the 73rd Annual GOLDEN GLOBE AWARDS held at the Beverly Hilton Hotel on January 10, 2016 -- (Photo by: Paul Drinkwater/NBC)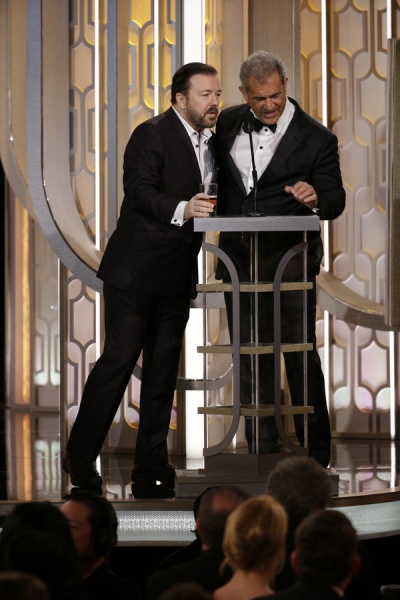 73rd ANNUAL GOLDEN GLOBE AWARDS -- Pictured: (l-r) Ricky Gervais, Host; Mel Gibson, Presenter at the 73rd Annual GOLDEN GLOBE AWARDS held at the Beverly Hilton Hotel on January 10, 2016 -- (Photo by: Paul Drinkwater/NBC)

73rd ANNUAL GOLDEN GLOBE AWARDS -- Pictured: Ricky Gervais, Host at the 73rd Annual GOLDEN GLOBE AWARDS held at the Beverly Hilton Hotel on January 10, 2016 -- (Photo by: Paul Drinkwater/NBC)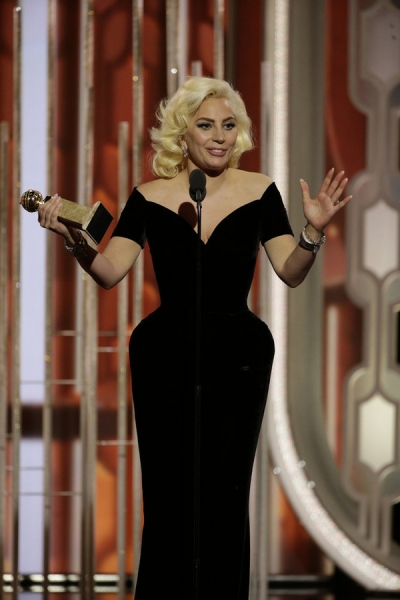 73rd ANNUAL GOLDEN GLOBE AWARDS -- Pictured: Lady Gaga, "American Horror Story: Hotel", Winner, Best Actress - Limited Series or TV Movie at the 73rd Annual GOLDEN GLOBE AWARDS held at the Beverly Hilton Hotel on January 10, 2016 -- (Photo by: Paul Drinkwater/NBC)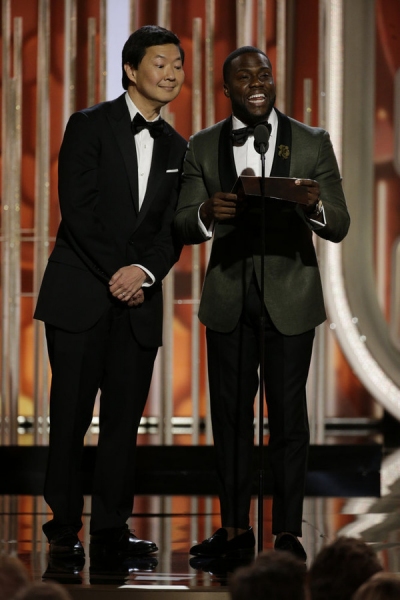 73rd ANNUAL GOLDEN GLOBE AWARDS -- Pictured: (l-r) Ken Jeong, Kevin Hart, Presenters at the 73rd Annual GOLDEN GLOBE AWARDS held at the Beverly Hilton Hotel on January 10, 2016 -- (Photo by: Paul Drinkwater/NBC)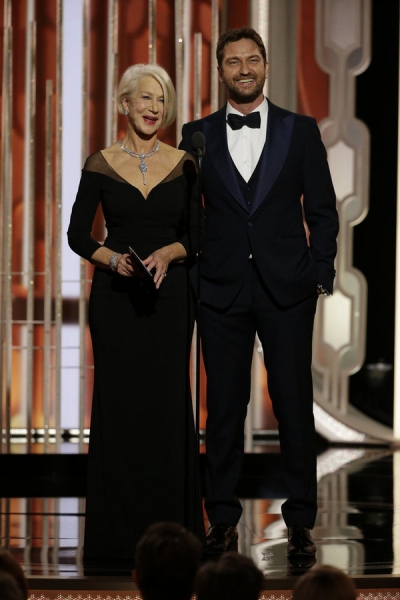 73rd ANNUAL GOLDEN GLOBE AWARDS -- Pictured: (l-r) Helen Mirren, Gerard Butler, Presenters at the 73rd Annual GOLDEN GLOBE AWARDS held at the Beverly Hilton Hotel on January 10, 2016 -- (Photo by: Paul Drinkwater/NBC)

73rd ANNUAL GOLDEN GLOBE AWARDS -- Pictured: Aaron Sorkin, "Steve Jobs", Winner, Best Screenplay - Motion Picture at the 73rd Annual GOLDEN GLOBE AWARDS held at the Beverly Hilton Hotel on January 10, 2016 -- (Photo by: Paul Drinkwater/NBC)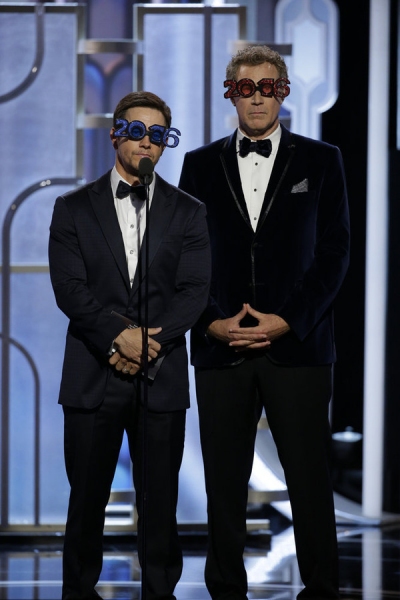 73rd ANNUAL GOLDEN GLOBE AWARDS -- Pictured: (l-r) Mark Wahlberg, Will Ferrell, Presenters at the 73rd Annual GOLDEN GLOBE AWARDS held at the Beverly Hilton Hotel on January 10, 2016 -- (Photo by: Paul Drinkwater/NBC)

73rd ANNUAL GOLDEN GLOBE AWARDS -- Pictured: Sylvester Stallone, "Creed", Winner, Best Supporting Actor - Motion Picture at the 73rd Annual GOLDEN GLOBE AWARDS held at the Beverly Hilton Hotel on January 10, 2016 -- (Photo by: Paul Drinkwater/NBC)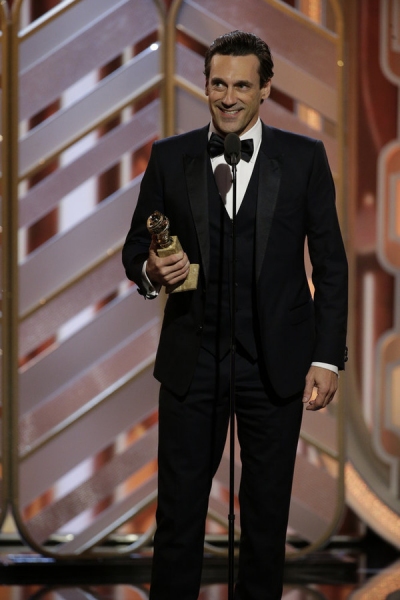 73rd ANNUAL GOLDEN GLOBE AWARDS -- Pictured: Jon Hamm, "Mad Men", Winner, Best Actor - TV Series, Drama at the 73rd Annual GOLDEN GLOBE AWARDS held at the Beverly Hilton Hotel on January 10, 2016 -- (Photo by: Paul Drinkwater/NBC)

73rd ANNUAL GOLDEN GLOBE AWARDS -- Pictured: Quentin Tarantino, "The Hateful Eight", Winner, Best Original Score - Motion Picture at the 73rd Annual GOLDEN GLOBE AWARDS held at the Beverly Hilton Hotel on January 10, 2016 -- (Photo by: Paul Drinkwater/NBC)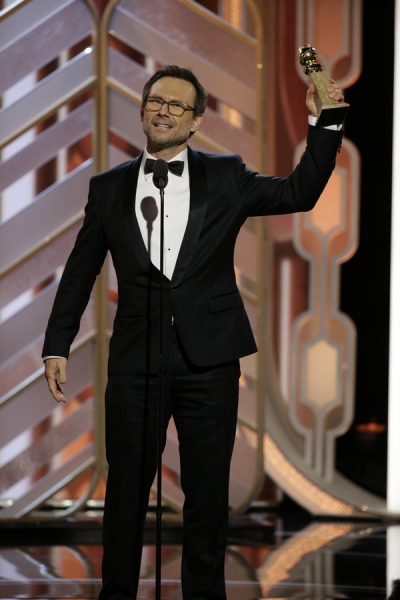 73rd ANNUAL GOLDEN GLOBE AWARDS -- Pictured: Christian Slater, "Mr. Robot", Winner, Best Supporting Actor - Series/Limited Series/TV Movie at the 73rd Annual GOLDEN GLOBE AWARDS held at the Beverly Hilton Hotel on January 10, 2016 -- (Photo by: Paul Drinkwater/NBC)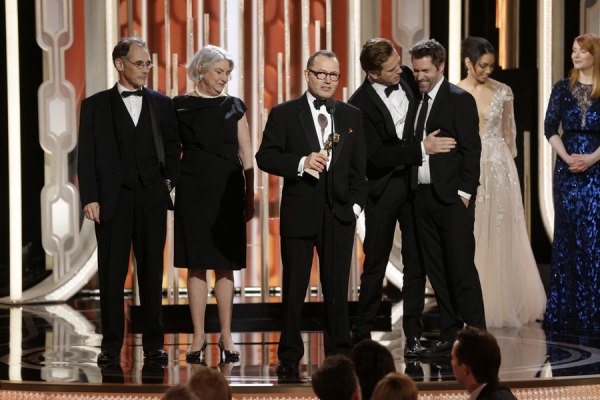 73rd ANNUAL GOLDEN GLOBE AWARDS -- Pictured: Colin Callender, "Wolf Hall", Acceptor, Best Television Limited Series or Motion Picture Made for Television at the 73rd Annual GOLDEN GLOBE AWARDS held at the Beverly Hilton Hotel on January 10, 2016 -- (Photo by: Paul Drinkwater/NBC)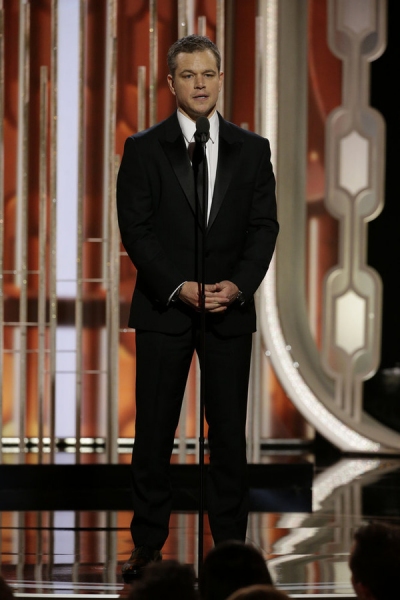 73rd ANNUAL GOLDEN GLOBE AWARDS -- Pictured: Matt Damon, Presenter at the 73rd Annual GOLDEN GLOBE AWARDS held at the Beverly Hilton Hotel on January 10, 2016 -- (Photo by: Paul Drinkwater/NBC)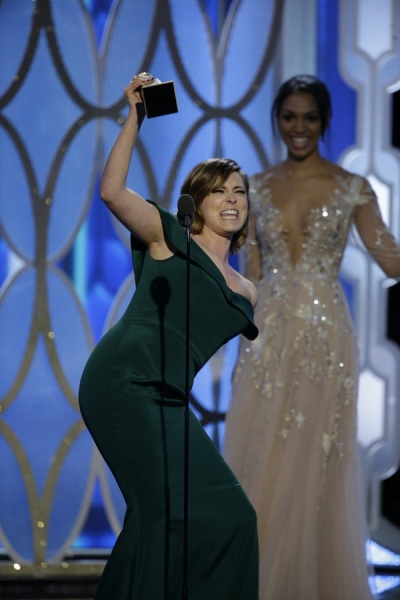 73rd ANNUAL GOLDEN GLOBE AWARDS -- Pictured: Rachel Bloom, "Crazy Ex-Girlfriend", Winner, Best Actress - TV Series, Comedy or Musical at the 73rd Annual GOLDEN GLOBE AWARDS held at the Beverly Hilton Hotel on January 10, 2016 -- (Photo by: Paul Drinkwater/NBC)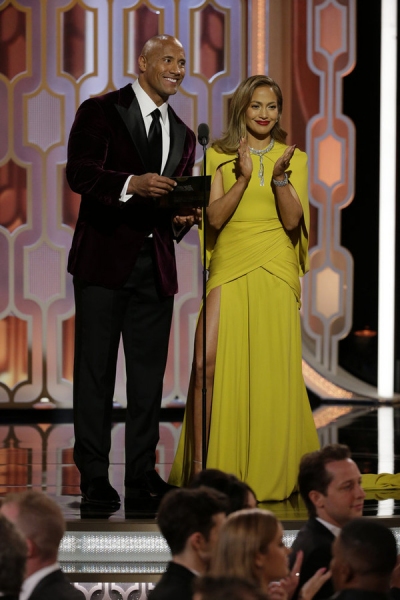 73rd ANNUAL GOLDEN GLOBE AWARDS -- Pictured: (l-r) Dwayne Johnson, Jennifer Lopez, Presenters at the 73rd Annual GOLDEN GLOBE AWARDS held at the Beverly Hilton Hotel on January 10, 2016 -- (Photo by: Paul Drinkwater/NBC)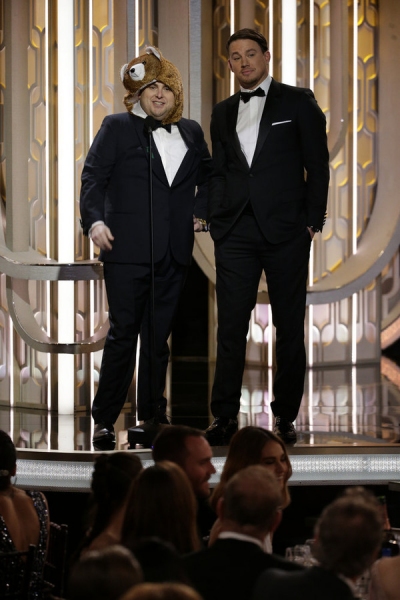 73rd ANNUAL GOLDEN GLOBE AWARDS -- Pictured: Jonah Hill, Channing Tatum, Presenters at the 73rd Annual GOLDEN GLOBE AWARDS held at the Beverly Hilton Hotel on January 10, 2016 -- (Photo by: Paul Drinkwater/NBC)
Related Articles