Photo Flash: Cast Announced for Lestat, Trying Out in SF
In its inaugural production for the Broadway stage, Warner Bros. Theatre Ventures (Gregg Maday, Executive Vice President) presents LESTAT. Inspired by Anne Rice's Vampire Chronicles, LESTAT is the first theatrical score from the legendary songwriting team of Elton John and Bernie Taupin, and has a book by Linda Woolverton.
Directed by
Robert Jess Roth
with musical staging by
Matt West
, LESTAT stars
Hugh Panaro
in the title role,
Carolee Carmello
as Gabrielle,
Jack Noseworthy
as Armand,
Jim Stanek
as Louis,
Roderick Hill
as Nicolas,
Michael Genet
as Marius and Allison Fischer as Claudia.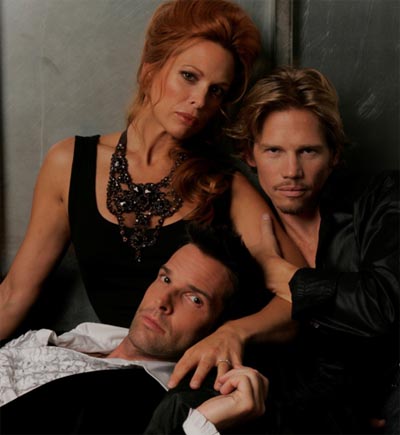 Carolee Carmello, Jack Noseworthy and Hugh Panaro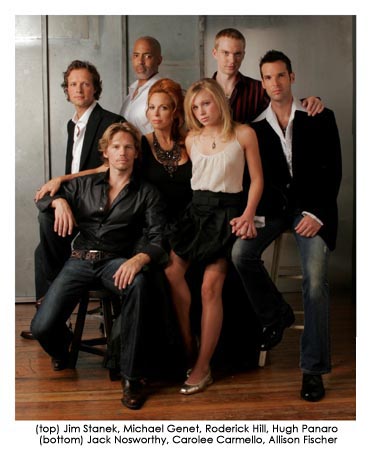 Photos by: Paul Kolnik
In its inaugural production for the Broadway stage, Warner Bros. Theatre Ventures (Gregg Maday, Executive Vice President) presents LESTAT. Inspired by Anne Rice's Vampire Chronicles, LESTAT is the first theatrical score from the legendary songwriting team of Elton John and Bernie Taupin, and has a book by
Linda Woolverton
. Directed by
Robert Jess Roth
with musical staging by
Matt West
, LESTAT stars
Hugh Panaro
in the title role,
Carolee Carmello
as Gabrielle,
Jack Noseworthy
as Armand,
Jim Stanek
as Louis,
Roderick Hill
as Nicolas,
Michael Genet
as Marius and Allison Fischer as Claudia. LESTAT is scheduled to arrive on Broadway in the spring of 2006, following a pre-Broadway world premiere at San Francisco's Curran Theatre from Saturday, December 17, 2005 through Sunday, January 29, 2006. Broadway theater, first Broadway preview, Broadway opening night and Broadway ticket information to be announced soon.
"Lestat," Anne Rice's most celebrated and beloved literary character, is being brought to life on the stage with a score by Grammy and Academy Award winning composer Elton John and lyricist Bernie Taupin in their first theatrical collaboration. LESTAT is the romantic and heartbreaking story of the extraordinary journey of one man who escapes the tyranny of his oppressive family only to have his life taken from him. Thrust into the seductive and sensual world of an immortal vampire, Lestat sets out on a road of adventures in a quest for everlasting love and companionship but is forced to reconcile his innate sense of good with his primal need to exist.
"This musical is the fulfillment of my deepest dreams," said author Anne Rice. "Elton's music and Bernie's lyrics have captured the pain and the passion of the characters perfectly, and the entire adaptation has re-created the very essence of the books. Working with the whole team -- Rob Roth, Linda Woolverton, and of course Elton and Bernie -- has been one of the most rewarding experiences of my entire career. The talent, the brilliance, and the generosity of these folks is beyond belief. I'm humbled; I'm grateful; and I'm so excited that I can hardly stand it. Lestat, Louis and Claudia are about to be reborn."
"Interview with the Vampire is one of my favorite books and Anne Rice is one of my favorite authors," commented composer Elton John. "LESTAT is the first stage musical that I've written with Bernie which makes it even more special for me."
"Anne had always loved the idea of seeing her Vampire Chronicles set in some sort of serious and seductive musical setting and for all of the parties involved this is the opportunity of a lifetime," said lyricist Bernie Taupin. "Elton and I have threatened for years to work together on something for Broadway but until now had never found anything that appealed to both of us collectively or suited my own personal writing style. We have unified these books into a linear storyline and our intention is to make a stylish, sexy, intelligent and richly hypnotic show that is stripped of gothic clichés and that shows the vampire dealing with his damnation on a more realistic and human level. Please let me make this clear this is NOT a rock opera."
LESTAT has a cast of sixteen which features Rachel Coloff, Nikki Renee Daniels, Joseph Dellger, Colleen Fitzpatrick, Megan Reinking, Drew Sarich, Will Swenson, Steve Wilson and Tommar Wilson.
LESTAT has a scenic design by Derek McLane, costume design by Tony Award-winner Susan Hilferty, lighting design by Kenneth Posner, sound design by Jonathan Deans, visual concept design by David McKean, and hair design by Tom Watson. LESTAT has orchestrations by Steve Margoshes and Guy Babylon, with musical supervision by Guy Babylon, musical direction by Brad Haak, and vocal arrangements by Todd Ellison.
CREATIVE TEAM BIOS
ELTON JOHN (Music) Lestat marks Elton John's third musical for Broadway, following the tremendous success of the smash hits The Lion King and Aida. In the early 1990s, John embarked on songwriting collaborations with lyricist Tim Rice, resulting in the soundtrack to the Walt Disney Pictures blockbuster The Lion King, for which he won an Academy Award. The album produced two top selling, award winning singles for John: Can You Feel the Love Tonight and Circle of Life. In 1997, The Lion King debuted on Broadway, receiving six Tony Awards, including Best Musical, and in 1998, a Grammy for Best Musical Show Album. In March 2000, the Tony Award-winning Aida opened on Broadway and John was honored with another Grammy for the Best Musical Show Album. The smash-hit stage production of Billy Elliot, for which John wrote the music with Lee Hall, is currently running in London. John, whose legendary career has spanned more than three decades, is one of the top-selling solo artists of all time with 35 gold and 25 platinum albums, and 29 consecutive Top 40 hits. He has sold more than 200 million records worldwide. The National Academy of Recording Arts and Sciences has awarded John multiple Grammys, including the Grammy Legend Award, as well as honored him with the MusicCares Person of the Year Award. John's recent album, Elton John's Greatest Hits: 1970-2002, is a retrospective album highlighting songs written in collaboration with long-time writing partner Bernie Taupin. A great humanitarian, John is committed to working not only for his own charity, the Elton John AIDS Foundation, one of the largest public non-profit organizations in the AIDS arena, but other charities and arts organizations as well. In 1998, John was knighted by the Queen of England who honored him with the title Sir Elton John, CBE.
BERNIE TAUPIN (Lyrics) has been responsible for some of the most memorable and commercially successful lyrics of the modern rock era. His collaboration with Elton John alone has given us classic recordings like "Honky Chateau," "Goodbye Yellow Brick Road" and "Captain Fantastic and the Brown Dirt Cowboy" since it began in the '60s and their recordings have sold over 150 million copies. When Bernie charitably revised the lyrics of the hit song "Candle in the Wind" to reflect the tragic death of Princess Diana in 1997, the single, which benefited the Diana Princess of Wales Memorial Fund, sold an unprecedented 35 million copies in 38 days and currently ranks as the biggest selling single of all time. Taupin has been nominated for several Grammy Awards, been inducted into the Songwriter's Hall of Fame, and is only the second lyricist in history to receive the ASCAP Golden Word award, the other being the legendary Sammy Cahn. In addition to his collaborations with Sir Elton, Taupin has co-composed the rock classics "We Built This City" for Jefferson Starship, and "These Dreams" for Heart, both number one singles in America. He is also a singer, author, painter and humanitarian, with three solo albums and two CDs with the roots-rock band Farm Dogs. His autobiography, A Cradle of Halos was published in 1988. In 1992 and 1995 respectively, he produced the star studded Commitment to Life VI and VIII, which raised over $8 million for AIDS Project Los Angeles.
Linda Woolverton (Book). Writing credits include the screenplay for the Golden Globe-winning and Academy Award-nominated animated feature film Beauty And The Beast and the book for the stage production of Beauty and the Beast, which was nominated for a Tony and won an Olivier Award. She has also shared screenwriting duties on Homeward Bound: The Incredible Journey and The Lion King and shared writing duties for the book of Elton John and Tim Rice's Aida. Woolverton has also written two young adult novels: Star-Wind and Running Before The Wind, both published by Houghton-Mifflin.
Robert Jess Roth (Director) received a Tony Award nomination for his Broadway debut, Beauty and the Beast, which is now in its twelfth year on Broadway and the six-longest-running Broadway show in history. He has also received numerous nominations and awards from around the world for his direction, including the Jeff Award, the Ovation Award, the Dora Award and the Dramalogue Award. He has directed productions of Beauty the world over, including in London, where the show won the Olivier Award for Best Musical. He recently co-wrote the book, along with Douglas J. Cohen, and directed the world premiere of The Opposite of Sex at the Magic Theatre in San Francisco. The show will have its New York premiere next summer. Rob is also developing Buzz!!, a Las Vegas spectacular based on the life of Busby Berkeley with a book by Larry Gelbart and score by Alan Menken and David Zippel, which is scheduled to debut in 2008. Rob directed Alice Cooper's hugely successful Brutal Planet World Tour, as well as the follow-up, Dragontown. Rob lives in New York City, where he collects vintage rock and roll posters and dreams of owning a black lab puppy.
Matt West (Musical Staging) received the L.A. Drama-Logue Award for Beauty and the Beast. He also received London's Olivier, the Drama Desk and Outer Critics' Circle award nominations for Beauty. He has directed and choreographed productions that include The Wanderer at Tokyo's Parko Theatre, The Little Mermaid, Peter Pan and Cinderella for Disney Home Video, and "Mickey's Nutcracker" for the Disney Channel. Matt created the role of Bobby in the film A Chorus Line directed by Sir Richard Attenborough. Broadway and regional credits: A Chorus Line; Hello, Dolly!; Peter Pan.
Derek McLane (Scenic Design) Broadway credits include: the Tony-winning I Am My Own Wife, Little Women, The Women, Present Laughter, London Assurance, Holiday, Honour, Summer and Smoke, The Three Sisters. Off Broadway: Hurlyburly, Aunt Dan and Lemon, The Creadeux Canvas, What the Butler Saw, Servicemen, East is East, subUrbia, The Waverly Gallery, Hello Again, Saturday Night, Captains Courageous, Time and Again, Violet. Elsewhere in the United States: The entire Sondheim Celebration at Kennedy Center in Washington, DC., productions at most major resident theatres and operas. He received a 1997 and 2004 OBIE Awards for Sustained Excellence in Scenic Design, Drama Logue Award, Michael Merritt Award, five Drama Desk Nominations and a Lucille Lortel Award.
SUSAN HILFERTY (Costume Design) designed more than 200 productions. Her directorial collaborators include Athol Fugard (set, costumes, co-director), James Lapine, Robert Falls, Joe Mantello, JoAnne Akalaitis, Mark Lamos, Frank Galati, Des McAnuff, David Petrarca, Richard Nelson, Chris Ashley, Marion McClinton, Laurie Anderson, Tony Kushner, Carole Rothman, Garry Hynes and Emily Mann. Recent work: Wicked, Assassins, Into the Woods (Hewes Award, Tony nomination), Lapine's Fran's Bed, Jitney, Dirty Blonde, Alvin Ailey Love Stories, Rodney's Wife. Currently: Manon, L.A. Opera; August Wilson's new play Radio Golf. She designs opera, film, TV and dance and chairs the Department of Design for Stage/Film at NYU Tisch. Her numerous awards include 2004 Tony, Drama Desk and Outer Critics Circle awards for Wicked.
KENNETH POSNER (Lighting Design) Broadway: Wicked, Hairspray, The Adventures Of Tom Sawyer (Tony, Drama Desk, and Outer Critics Circle nominations), Dirty Rotten Scoundrels, Little Women, The Frogs, The Goat, Imaginary Friends, Swing, The Man Who Had All The Luck, Uncle Vanya, Side Man (Lortel Award), You're A Good Man Charlie Brown, The Lion In Winter, Little Me, A View From The Bridge (Drama Desk Nomination), The Last Night Of Ballyhoo, Getting Away With Murder, The Little Foxes, The Rose Tattoo, The Father, The Rehearsal. Off-Broadway: Valhalla, The Wild Party (Lortel Award, Drama Desk, and Outer Circle Critics nominations), The Play About The Baby, Tick-Tick-Boom, The Waverly Gallery, That Championship Season, Pride's Crossing (Lortel Award), As Bee's In Honey Drown, Cowgirls, The Food Chain, SuBURBIA. OBIE for Sustained excellence in lighting design.
JONATHAN DEANS (Sound Design) has been involved in more than 140 productions. His recent credits include Cirque du Soleil's Las Vegas productions Zumanity, "O" and Mystère and in Orlando La Nouba. Past Broadway credits include Fosse, Follies, Seussical, Parade, Candide, The Music Man, Ragtime, Disney's King David and Beauty and the Beast. For several years he taught theatre sound design to MFA students at UCLA.
DAVID McKEAN (Visual Concept Design) has illustrated several award winning graphic novels including Signal To Noise and Mr. Punch (written by Neil Gaiman), Cages and Pictures That Tick (self-penned) and Arkham Asylum (by Grant Morrison), which is still the most successful graphic novel ever published. His best-selling children's books include The Wolves in The Walls and Coraline. He has illustrated and designed hundreds of CD, book and comic covers, and created international ad campaigns for Kodak, Nike, BMW Mini and the British Government among others. David has worked as a conceptual designer/digital artist for the Harry Potter films, and TV art films with Iain Sinclair. He has directed a handful of short films and in 2004/5, his first feature MirrorMask for Sony Pictures/The Jim Henson Company.
TOM WATSON (Hair Design) is head of the wig department at the Metropolitan Opera. He designs hair and wigs for many theatres including Santa Fe Opera, Opera Theatre St. Louis, New York Theatre Workshop and the Goodman in Chicago. He has also designed wigs for the Broadway productions of Wicked, Cat on a Hot Tin Roof, The Violet Hour, Anna in the Tropics, Dirty Blonde, Jane Eyre, Into the Woods and Amour.
GREGG MADAY (Producer) Executive Vice President of Warner Bros. Theatre Ventures, has been at Warner Bros. Studios in Burbank, California since 1988. He has supervised over 500 hours of television series and movie productions. Before Warner, Gregg was head of Comedy and Drama Development at CBS Television where he began his broadcasting career. Prior to CBS, Gregg completed his MFA in Directing at Carnegie Mellon University in Pittsburgh. While there, he was Producer/Artistic Director of The Park Players, a repertory touring company. Gregg has directed over thirty regional and academic stage productions.
CAST BIOS
Hugh Panaro (Lestat) Broadway debut in Les Misérables as Marius, the role he originated in the first national company. Hugh created the roles of Buddy in Side Show, Julian in Jules Styne's The Red Shoes, and the title role in the American premiere of Martin Guerre. He made his West End debut in the original London company of Harold Prince's Show Boat as Ravenal, the role he played on Broadway and in Toronto. Hugh has performed with symphony orchestras across the U.S. and abroad. Mr. Panaro is one of the few actors to play both Raoul (1991) and the Phantom (currently) in the Broadway production of The Phantom of the Opera.
Carolee Carmello (Gabrielle) Broadway: Lucille Frank in Parade (Drama Desk Award, Tony nom.); Kate in Kiss Me, Kate; Marguerite in The Scarlet Pimpernel; Abigail in 1776; Oolie in City of Angels; Cordelia in Falsettos; Ms. Pennywise in Urinetown, and Donna in Mamma Mia. Off-Broadway: Elegies; A Class Act; john and jen; Das Barbecü; I Can Get It for You Wholesale; Vagina Monologues; Hello Again (Obie Award). National tours: Chess, Big River, Les Misérables, Falsettos. TV: Maple La Marsh on "Remember W.E.N.N." (SAG Award nomination), "Frasier," "Law & Order."
Jack Noseworthy (Armand) Broadway: Sweet Smell of Success, Jerome Robbins' Broadway (original company), A Chorus Line (final company). National: Cats. Regional: Take Flight (O'Neill), Pippin (Paper Mill), Equus (LA Drama Critics Award – Best Actor), Hearts Desire (Cleveland). Film: Unconditional Love (opposite Kathy Bates), U571 (opposite Matthew McConaughey), Breakdown (opposite Kurt Russell), Event Horizon (opposite Laurence Fishburne), Idle Hands, The Brady Bunch Movie, Barb Wire, Encino Man, Alive. TV: "Dead at 21" (MTV, series lead), "What We Did That Night," "A Place for Annie," "Mrs. Cage," "Relativity."
Jim Stanek (Louis) Broadway: A Funny Thing Happened On The Way To The Forum (Hero), Little Women, The Rivals, Indiscretions. Off-Broadway: Slut the Musical; I Love You, You're Perfect, Now Change; and more. Film/TV: Borough Of Kings, Murder, He Squeaked, "Adversaries" (NBC pilot), "Guiding Light" (Dr. Corey Butler). Recordings: 3hree Musketeers, A Funny...Forum.
Roderick Hill (Nicolas) Credits: Singing Forest (Long Wharf), Cymbeline (Royal Shakespeare Company/TFNA), Nerds: The Musical (NY Stage and Film), The Irish Curse (Fringe Festival), What The Butler Saw (Huntington), Diosa (Hartford Stage), Romeo and Juliet (Shakespeare Festival of St. Louis), Master Harold…and the Boys (Playmakers Rep.), Film/TV: Kinsey, Cosa Bella, Oxygen, "Chappelle's Show," "Stranger's With Candy."
Michael Genet (Marius) Film: She Hate Me, 25th Hour, Booty Call, One Fine Day. Television: "Deadline," "Forget-Me-Not-Murders," "NY Undercover," "Law & Order," "As The World Turns." Broadway: A Few Good Men, Hamlet, Northeast Local. Writing credits: She Hate Me (w/Spike Lee), Pork Pie (Kennedy Center Award), "Hallelujah" (American Playhouse).
ALLISON FISCHER (Claudia) Broadway: A Christmas Carol (MSG). Off-Broadway: Violet, The Prince and The Pauper, Children's Letters To God, King Island Christmas. Workshops: Lestat, Witches of Eastwick, Goodbye My Island, Under The Bridge, Wonderful Alice, A Little Princess. Recordings: The Prince and The Pauper, Wonderful Alice, Under The Bridge and more.