Photo Flash: Alan Gilbert Conducts NY Phil in Walt Disney Concert Hall Debut
Music Director Alan Gilbert and the New York Philharmonic, America's oldest orchestra, came to Walt Disney Concert Hall in the final event of the LA Phil's 2011/12 Visiting Orchestras series, this Wednesday, May 9. Virtuoso pianist Yefim Bronfman joined the program, performing the West Coast premiere of Piano Concerto No. 2, by New York Philharmonic Composer-in-Residence Magnus Lindberg. Also on the program were Dvorák's Carnival Overture and Tchaikovsky's Symphony No. 4. Though Gilbert had previously appeared at Walt Disney Concert Hall (WDCH), most recently during the 2006/07 season, the performance was the New York Philharmonic's WDCH debut. See below for photos from the orchestra's knock-out concert in Los Angeles!
The concert was the second stop of the New York Philharmonic's CALIFORNIA 2012 TOUR, featuring seven concerts in six cities, ending May 15, in San Diego. This is the orchestra's first U.S. tour with Gilbert as Music Director, and the first extensive visit to California since 1999.
Founded in 1842, the New York Philharmonic is the oldest symphony orchestra in the United States and one of the oldest in the world; on May 5, 2010, it performed its 15,000th concert. Music Director Alan Gilbert succeeds a distinguished line of 20th-century musical giants that goes back to Gustav Mahler and Arturo Toscanini. The orchestra has always played a leading role in American musical life, commissioning and/or premiering works by each era's leading composers, some of which have won the Pulitzer Prize. Renowned around the globe, the Philharmonic has appeared in 430 cities in 63 countries – including the February 2008 historic visit to Pyongyang, DPRK, for which the Philharmonic earned the 2008 Common Ground Award for Cultural Diplomacy. Credit Suisse is the exclusive Global Sponsor of the New York Philharmonic.
Music Director Alan Gilbert, The Yoko Nagae Ceschina Chair, began his tenure at the New York Philharmonic in September 2009, launching what New York Magazine called "a fresh future for the Philharmonic." The first native New Yorker in the post, he has introduced the positions of The Marie-Josée Kravis Composer-in-Residence and The Mary and James G. Wallach Artist-in-Residence, an annual three-week festival, and CONTACT!, the new-music series, and has sought to make the orchestra a point of civic pride for the city as well as for the country. Mr. Gilbert's 2011/12 Philharmonic season comprises world premieres and pillars of the repertoire to shed fresh perspectives on both the new and the established. It also includes tours to Europe and California, appearances at Carnegie Hall, and a program at the Park Avenue Armory featuring Stockhausen's Gruppen. Mr. Gilbert also made his Philharmonic debut as soloist when he joined Frank Peter Zimmermann in J.S. Bach's Concerto for Two Violins in October 2011.
Yefim Bronfman is widely regarded as one of the most talented virtuoso pianists performing today. His commanding technique and exceptional lyrical gifts have won him consistent critical acclaim and enthusiastic audiences worldwide, whether for his solo recitals, his prestigious orchestral engagements or his rapidly growing catalogue of recordings. Bronfman's 2011/12 U.S. season began with the Chicago Symphony's opening Gala conducted by Riccardo Muti followed by return engagements to the orchestras in Philadelphia, Toronto, Portland, OR, Kansas City and a residency with the Cleveland Orchestra in Miami, Cleveland and New York focusing on the concerti and chamber music of Brahms. A recital tour in winter culminates with Carnegie Hall followed by the world premiere of Magnus Lindberg's Piano Concerto No. 2 commissioned for him by the New York Philharmonic, with whom he is currently touring the west coast.
Photo credit: Chris Lee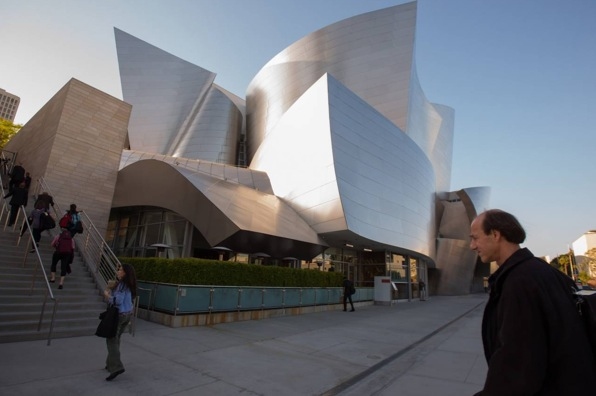 Horn player Howard Wall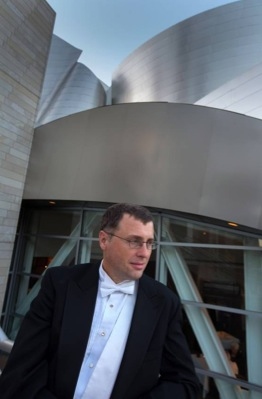 Violist Peter Kenote

Walt Disney Concert Hall

Music Director Alan Gilbert

Alan Gilbert and the NY Philharmonic

Pianist Yefim Bronfman, Alan Gilbert and the NY Philharmonic

Yefim Bronfman, Alan Gilbert and Magnus Lindberg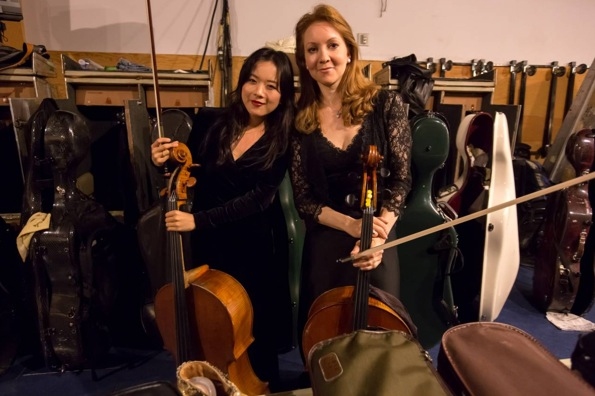 Cellists Sumire Kudo and Elizabeth Dyson

Alan Gilbert and the NY Philharmonic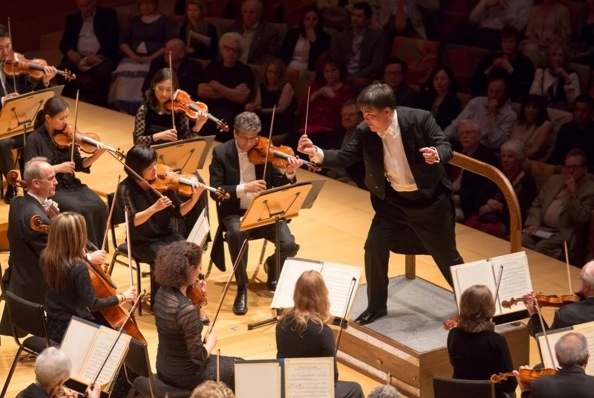 Alan Gilbert and the NY Philharmonic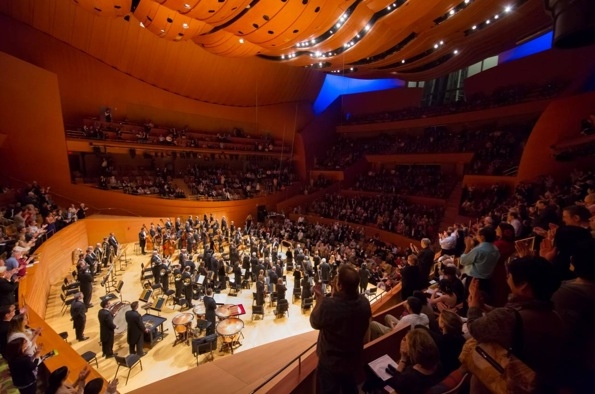 New York Philharmonic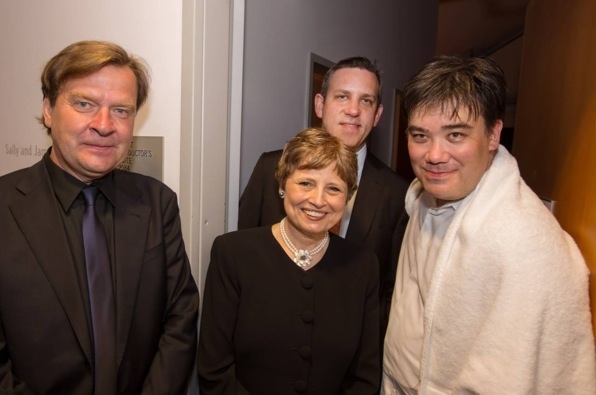 Magnus Lindberg, Matthew VanBesien, Alan Gilbert and Deborah Borda (president/CEO of LA Phil)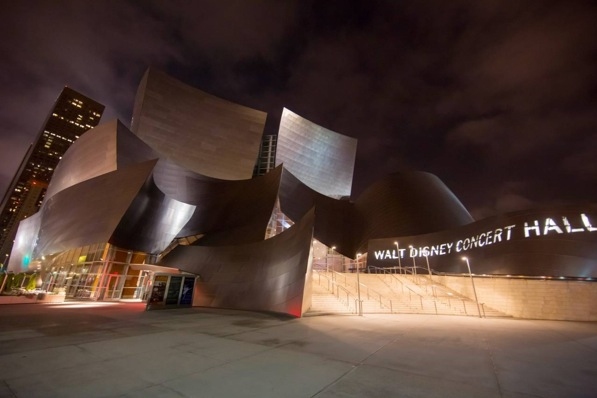 Walt Disney Concert Hall

Related Articles
More Hot Stories For You
Broadway Actor Doreen Montalvo, Known For IN THE HEIGHTS and ON YOUR FEET, Dies at 56
BroadwayWorld is saddened to report that stage and screen actor Doreen Montalvo has died at age 56. The news was confirmed by friends on social media....

VIDEO: Watch Audra McDonald, Javier Muñoz and George Salazar in John McDaniel's New Musical, STICKS & STONES
The online concert premiere of the new musical Sticks & Stones will feature a star-studded cast including Audra McDonald, Javier Muñoz and George Sala...

Photo Flash: Matthew Broderick, Joel Grey and More Celebrate the Return of Joe Allen
Joe Allen Restaurant, the iconic haunt of the Broadway community, has opened its doors once again after 7 months, due to the government mandated shutd...

Tony-Nominee Anthony Chisholm Passes Away At 77
BroadwayWorld is saddened to report the passing of Tony-nominated actor, Anthony Chisholm. ...

VIDEO: Mandy Patinkin and Kathryn Grody Explain Why YOU Should Vote!
Mandy Patinkin and his wife Kathryn Grody want YOU to vote this November and they've come together again through the magic of Twitter to tell you why....

Meet Our NEXT ON STAGE: SEASON 2 College Top 15!
You voted, here they are! In no particular order, meet our top 15 in the college category....