Photo Coverage: YOUR MOTHER'S COPY OF THE KAMA SUTRA Cast Meets the Press!
Rehearsals are currently underway for the Playwrights Horizons (Tim Sanford, Artistic Director; Leslie Marcus, Managing Director) World Premiere production of YOUR MOTHER'S COPY OF THE KAMA SUTRA, a new play by Kirk Lynn (Co-Artistic Director, Austin's Rude Mechanicals). The cast met the press earlier today and you can check out photos from the festivities below!
Directed by Obie Award winner Anne Kauffman (Detroit, Maple and Vine at PH; Belleville; This Wide Night; The Thugs), the production will begin previews Friday evening, March 28 at 7:30 PM with an Opening Night set for Monday, April 21 at 7PM. The limited engagement will play through Sunday evening, May 11 at Playwrights Horizons' Peter Jay Sharp Theater (416 West 42nd Street).
The cast of YOUR MOTHER'S COPY OF THE KAMA SUTRA will feature Maxx Brawer (Don't Go Gentle), Zoë Sophia Garcia (La Ruta), Rebecca Henderson (The Whale, The Retributionists at PH; Too Much, Too Much, Too Many), Will Pullen (Marie Antoinette), Chris Stack (Marie Antoinette, Killers & Other Family) and Sarah Sutherland (Beneath the Harvest Sky, Catherine Meyer on Veep).
Carla (Ms. Garcia) agrees to marry Reggie (Mr. Stack) on one condition: to break down any walls between them, they'll reenact their individual sexual histories with one another, good and bad, for better or worse. Years later, these stories bring unexpected hope to their household, now forced to confront those barriers a second time. Kirk Lynn's tough-love comedy navigates the boundaries of intimacy, finding startling empathy in the story of a father hell-bent on saving his family.
Photo Credit: Jennifer Broski


Zoe Sophia Garcia, Chris Stack

Sarah Sutherland, Rebecca Henderson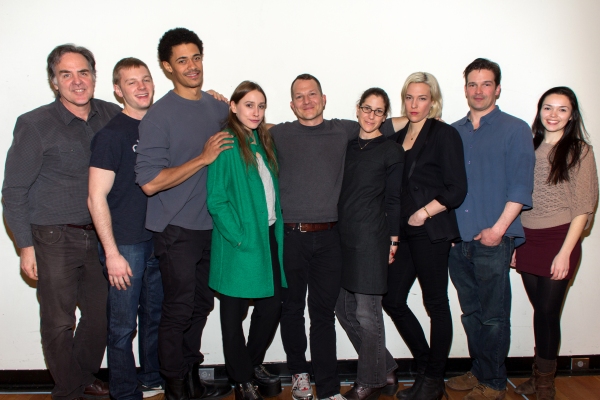 Tim Sanford, Will Pullen, Maxx Brawer, Sarah Sutherland, Kirk Lynn, Anne Kauffman, Rebecca Henderson, Chris Stack, Zoe Sophia Garcia

Related Articles