Photos: Meet the Cast of STANDING ON CEREMONY!
Joan Stein and Richard Frankel, are presenting Standing on Ceremony: The Gay Marriage Plays, featuring Tony Award-nominee and Theatre World Award winner Craig Bierko (The Music Man), Daytime Emmy nominee and frequent "Live with Regis and Kelly" co-host Mark Consuelos, Emmy Award-nominee Polly Draper ("thirtysomething") and Tony Award-winner Harriet Harris (Thoroughly Modern Millie) Previews on Monday, November 7 with an official opening night set for Sunday, November 13 at the Minetta Lane Theatre. Yesterday, the company met the press and BroadwayWorld was on hand for the event. Check out photos of the cast below!
The production is partnering with Freedom to Marry, the campaign to win marriage nationwide, for its Off Broadway premiere and will donate a portion of all ticket sales to Freedom to Marry and other organizations promoting marriage equality.
Directed by Stuart Ross, Standing On Ceremony: The Gay Marriage Plays brings together some of America's most illustrious and Award-winning playwrights, including Mo Gaffney, Jordan Harrison, Jeffrey Hatcher, Moisés Kaufman, Joe Keenan, Neil LaBute, Wendy MacLeod, José Rivera, Paul Rudnick and Doug Wright, for a heartfelt, funny and altogether illuminating evening of short plays that celebrates the courage to be in a relationship - any relationship.
Conceived by Brian Shnipper, Standing On Ceremony: The Gay Marriage Plays began as a series of benefit events in Los Angeles, taking on a life of their own as an inspiring theatrical evening.
As previously announced, Standing on Ceremony has joined with Tectonic Theater Project (Moisés Kaufman, Artistic Director; Greg Reiner, Executive Director) for Standing on Ceremony: The National Event, to help take the play's message across the country (and the globe). For one night only, on Monday, November 7, curtains will rise on Standing On Ceremony: The Gay Marriage Plays across America and beyond as more than 40 participating theaters everywhere present the play to raise awareness and funds in support of marriage equality. The evening will feature an introduction before the play that will be streamed live to participating theatres across the globe. Audience members can also watch a live streaming post performance Q&A, and can participate regardless of their locale, by submitting questions via Twitter in real time.
For tickets and more information, visit www.standingonceremony.net.
Photo Credit: Peter James Zielinski


Joan Stein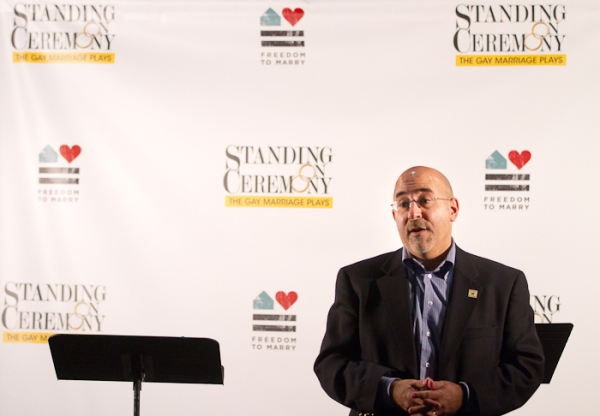 EVan Wolfson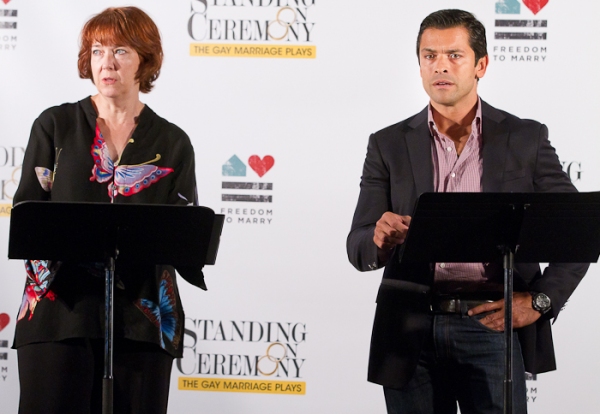 Harriet Harris and Mark Consuelos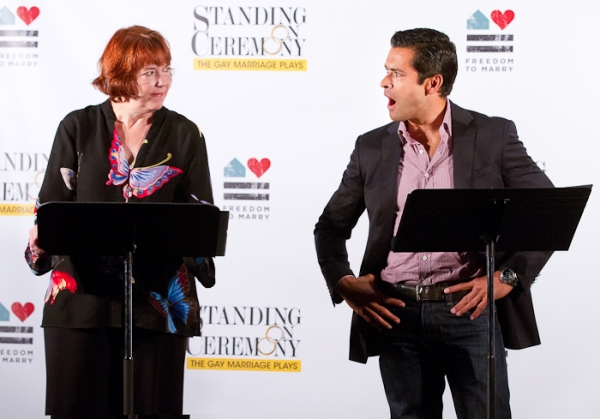 Harriet Harris and Mark Consuelos

Harriet Harris and Mark Consuelos

Harriet Harris and Mark Consuelos

Jordan Harrison, Paul Rudnick, Doug Wright, and Moises Kaufman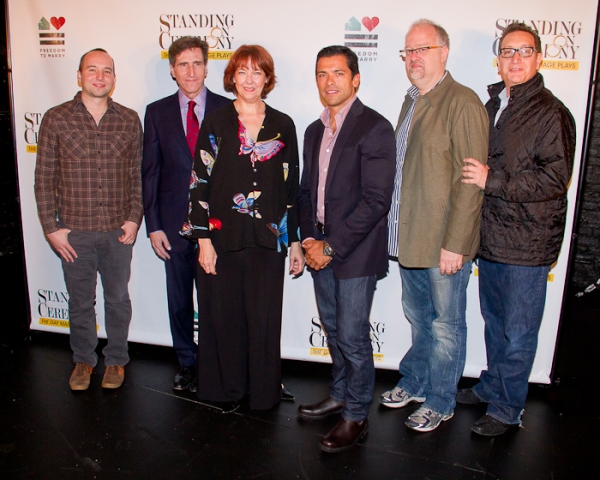 Jordan Harrison, Paul Rudnick, Harriet Harris, Mark Consuelos, Doug Wright and Moises Kaufman

Harriet Harris and Mark Consuelos

Richard Frankel, Joan Stein, Harriet Harris, EVan Wolfson, and Mark Consuelos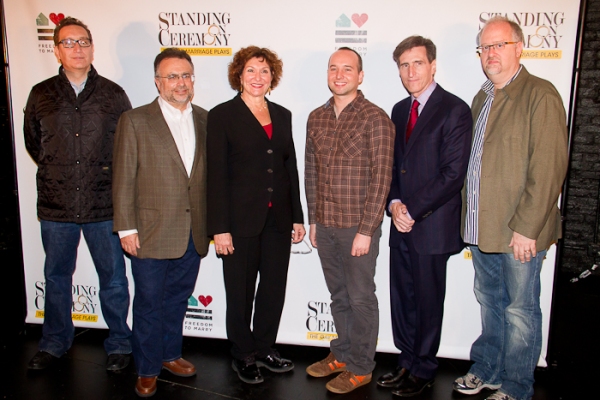 Moises Kaufman, Richard Frankel, Joan Stein, Jordan Harrison, Paul Rudnick, and Doug Wright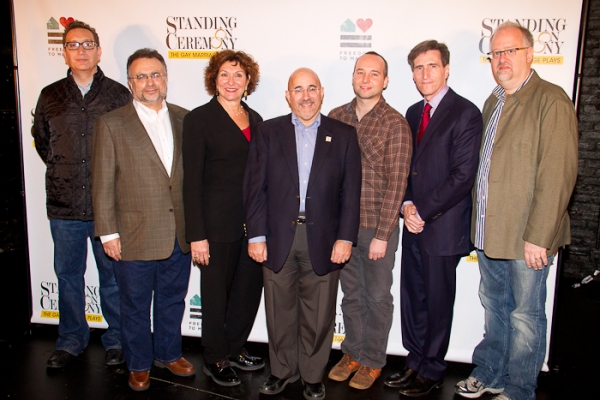 Moises Kaufman, Richard Frankel, Joan Stein, EVan Wolfson, Jordan Harrison, Paul Rudnick, and Doug Wright

Richard Frankel, Joan Stein, and EVan Wolfson