Click Here for More Articles on LA CAGE AUX FOLLES
Photo Coverage: LA CAGE AUX FOLLES Takes Final Bow on Broadway
LA CAGE AUX FOLLES, the 2010 Tony Award winner for Best Revival of a Musical, played its final Broadway performance on Sunday, May 1 at 3:00 PM at the Longacre Theatre (220 West 48th Street). At closing, the production had played 433 performances and 15 previews. LA CAGE AUX FOLLES will be launching a national tour this fall, starting in October in Des Moines, IA and starring George Hamilton.
LA CAGE AUX FOLLES features music and lyrics by Jerry Herman and book by Harvey Fierstein, based on the play by Jean Poiret. This production was choreographed by Lynne Page and directed by Terry Johnson, who won a 2010 Tony Award for his direction.
LA CAGE AUX FOLLES starred Harvey Fierstein as Albin, Christopher Sieber as Georges; Mike McShane as M. Dindon/M. Renaud; Veanne Cox as Mme. Dindon/Mme. Renaud; Chris Hoch as Francis; Heather Lindell as Anne; A.J. Shively as Jean-Michel; Christine Andreas as Jacqueline; Wilson Jermaine Heredia as Jacob; Ashley Kate Adams as Colette; Michael Lowney as Etienne and Bruce Winant as Tabarro. Also starring as the notorious and dangerous Cagelles were Matt Anctil as Angelique, Sean Patrick Doyle as Chantal, Yurel Echezarreta as Phaedra, Logan Keslar as Bitelle, Terry Lavell as Mercedes and Karl Warden as Hanna. The production also features Christophe Caballero, Todd Lattimore, Dale Hensley, Caitlin Mundth and Cheryl Stern.
LA CAGE AUX FOLLES featured set design by Tim Shortall, costume design by Matthew Wright, lighting design by Nick Richings, sound design by Jonathan Deans and wig and makeup design by Richard Mawbey. Musical supervision, orchestrations and dance arrangements were by Jason Carr. Musical director was Todd Ellison.
LA CAGE AUX FOLLES was produced by Sonia Friedman Productions, David Babani, Fran and Barry Weissler and Edwin W. Schloss, Bartner/Tulchin, Broadway Across America, Matthew Mitchell, Raise the Roof 4 Richard Winkler/Bensinger Taylor/Laudenslager Bergère, Arlene Scanlan/John O'Boyle, Independent Presenters Network, Olympus Theatricals, Allen Spivak, Jerry Frankel/Bat-Barry Productions, Nederlander Presentations, Inc/Harvey Weinstein.


Christopher Sieber and Harvey Fierstein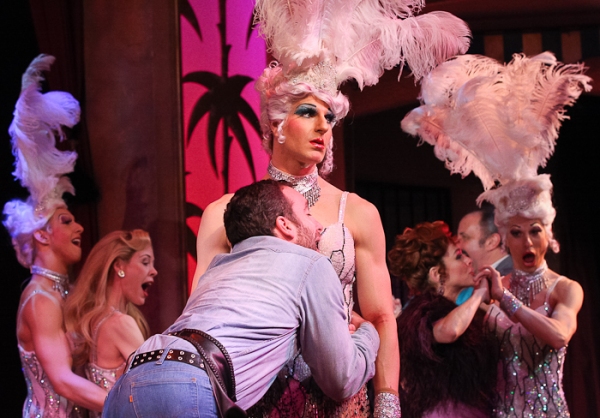 The cast of La Cage aux Folles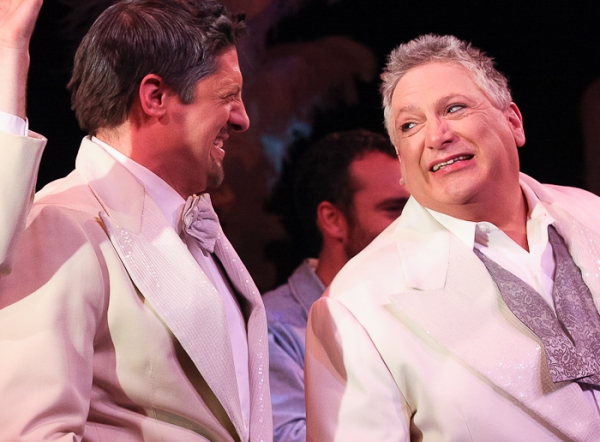 Christopher Sieber and Harvey Fierstein

Christopher Sieber and Harvey Fierstein

The cast of La Cage aux Folles

Christopher Sieber and Harvey Fierstein

The cast of La Cage aux Folles

Christopher Sieber and Harvey Fierstein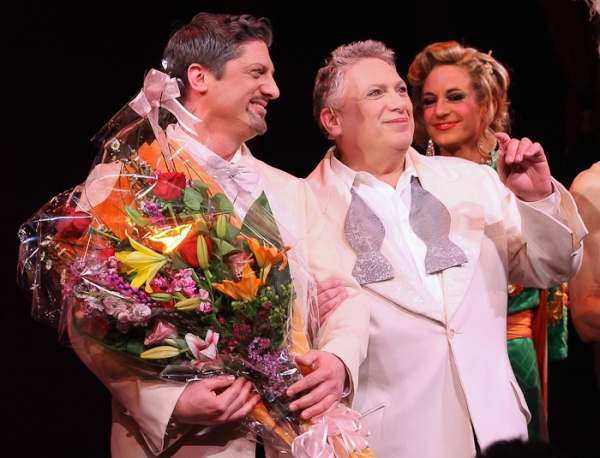 Christopher Sieber and Harvey Fierstein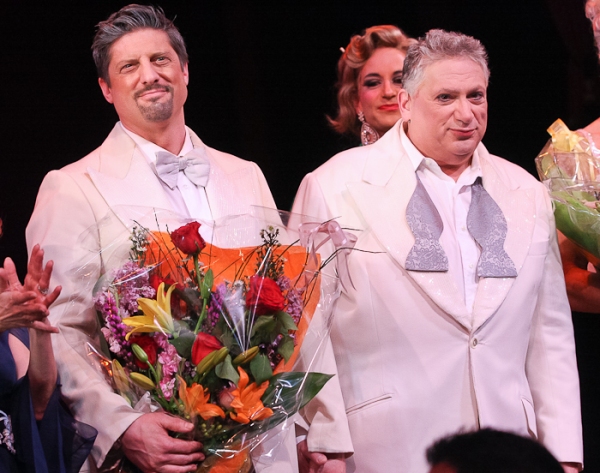 Christopher Sieber and Harvey Fierstein

Christopher Sieber and Harvey Fierstein

Christopher Sieber and Harvey Fierstein

Related Articles
As an Equity actor, Peter is photographing the industry from the inside out. He has performed in numerous shows regionally, sung a duet with Richard (read more...)