Photo Coverage: June Allyson Tribute in L.A.
A bevy of MGM film greats gathered November 2 in the El Portal Theatre in Hollywood to salute late stage and screen star June Allyson. The sold-out program, entitled Hollywood Salutes June Allyson with Legends of the Silver Screen, included appearances by Gloria DeHaven, Margaret O'Brien, Jane Russell and Debbie Reynolds, among others.
The reunion of these legendary performers was produced by Paul Ryan (who also hosted) and
Karen G. Cadle
, the same duo behind SAG's
Celebrity Master Class
series. "June Allyson has the distinction of being one of the undisputed original industry icons. After starting out on Broadway, she was soon discovered by Hollywood, and established herself as one of the brightest stars in the remarkable stable of talent at MGM studios and would become one of the first top motion picture stars to have her own weekly television show, 'The Dupont Show with June Allyson,'" according to press materials.  Allyson, whose films included
Good News, The Glenn Miller Story
and
Executive Suite
, passed away in July of this year; she was 88 years old. 
The MGM Panel members - Reynolds, O'Brien, DeHaven, Patricia Marshall-Gelbart and non-panel member Russell arrived in classic 1940's cars on a traditional red carpet before Ryan introduced them to the crowd.  Fans and press stood to the side asking for autographs and interviews.  Panel discussions began with "Dancing with the Stars" personality Mario Lopez leading Reynolds onto the stage with a two step-soft shoe.  Topics for the evening ranged from loving anecdotes of working and playing with Allyson to shared MGM memories of the beloved star.
Photos by Bill Dow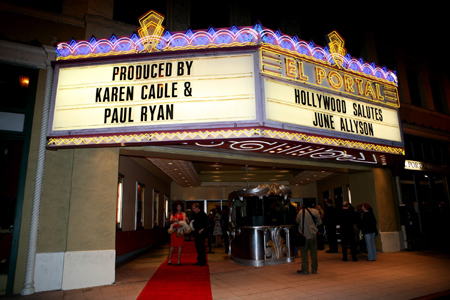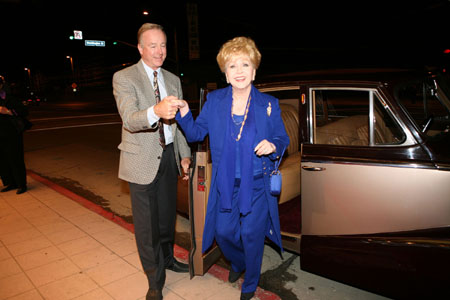 MGM star Debbie Reynolds arrives on red carpet in classic 1940 car

 MGM panel--Patricia Marshall-Gelbart, Gloria DeHaven, Debbie Reynolds and Margaret O'Brien flank host Paul Ryan

Debbie Reynolds and Mario Lopez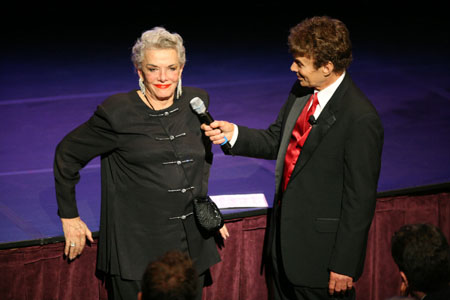 Jane Russells tells audience and host Paul Ryan why she loved June Allyson

Tribute Producer Karen Cadle and Host Paul Ryan thank the audience to attending

The Allyson/Powell family - Grandson Ricky, Daughter Pam, Son Richard and Richard's wife

Melanie Griffith and mother Tippi Hedren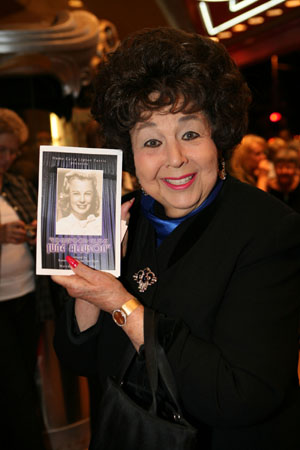 Jane Withers displays the evening's tribute program