Opportunity Announces Cast For The Strawberry Theatre Festival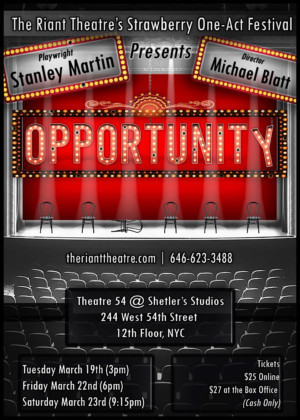 After 700 submissions Mixed Messages has announced its cast of Opportunity which will be shown at The Strawberry Theatre Festival March 19, 2019 (3:00 p.m), March 22, 2019 (6:00 p.m), and March 23, 2019 (9:15 p.m) at Theatre 54 at Shetler Studios 244 West 54th Street, 12th Floor, Nyc.
The cast of "Opportunity" includes Lauran L' Rae (T.V's "Bull" and "Pose") as Melissa, *Luis E. Mora (Off Broadway's Naked Boys Singing) as Charlie, Yhá Mourhia Wright (Best Actress Award winner and writer for her Web Series "#LoveMyRoomie") as Ashley, Alain Pierre (NYC's Story Pirates and Sketchfest) as Craig, *Ashley E. Matthews (Las Vegas's Rock of Ages) as Jessica , and *Jayson Kerr (Natl. Tours Jesus Christ Superstar and Evita) as Joshua.
Opportunity is about 6 dancers, from the broadway flop "McKinley: The other American Musical", coming back together for a cast reunion. It's a dark comedy that delves into the lives of ensemble members in today's Industry and what internal/external struggles they go through to create and keep the opportunities that they receive.
The original concept of Opportunity came from Stanley Martin when he and his Broadway castmates of Aladdin were taking a Bob Krakower acting class at One on One Studios. Stanley Martin has been working on this piece for two and a half years, and from that Opportunity has already had several cold readings including a well received staged reading in April 2018 at The Royal Family Theatre in NYC. Now it will be the first Actors Equity Approved Showcase for this production. The dark comedy is a One-act that is expected to run only one hour.
Stanley Martin (Playwright) A native of Bucks County, Pennsylvania, has written several sketches performed at UCB Theatre (Chelsea and Hell's Kitchen) as well as filmed ones which you can view on his YouTube (Mixed Messages) instagram (@staart421 and @officialMixed Messages). A 2016 recipient of "The Audience Favorite Award" from the Former Metropolitan Room where he has written, directed, and starred in two of his cabarets (Green Eyed Soul, Smoke and Mirrors).
The production team includes the talents of Michael Blatt as the director, an adjunct professor at AMDA and a recipient of the 2016 Outstanding Director Award at the Mid-Town International Theatre Festival for his work in Wimberley. Parsons alumni, Angela M. Fludd, as the costume designer (Red Hills, Food For The Gods). Meghan Abel on props (B'way production prop credits Les Miserables, Promises Promises, 9 to 5, Legally Blonde, Mystery of Edwin Drood). Three-time MAC Award Nominee, Jonny Mercado, on lighting/sound and Chandler Converse, Bachelor of the Arts degree from Agnes Scott College, as the stage manager.
Here is the link for Ticket info: https://www.therianttheatre.com/item.php?id=432
Shop BroadwayWorld

Shop this season's new musicals! Get dressed up for a night at the theatre, or just a night at home, with merch from some of Broadway's biggest hits including SOME LIKE IT HOT, KIMBERLY AKIMBO, and more!
Related Stories