New York Satellite Presents Two New One Act Musicals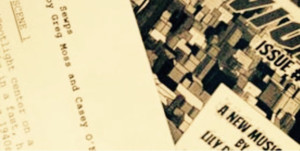 NYSPresents, in conjunction with the University of California, Irvine, will commence performances of THE SEWPS and THE SCARLET SAVIOR on Friday, April 20, and Saturday, April 21, at The Playroom Theatre.
Benet Braun serves as Musical Director. Myrona DeLaney directs.
NYSPresents commissions musical theatre writing teams to develop new works as part of UCI's New York Satellite Program monthlong musical theatre intensive in Manhattan. This year's writers received video submissions in late January, and had six weeks to write a one act musical work tailored to and for the talents of NYSP's 15 actors. This is the second year of NYSPresents, having produced 10 successful seasons of 4@15: Four New Fifteen-Minute Musicals with director
Brian Blythe
. THE SEWPS with Book, Music and Lyrics by
Greg Moss
and Casey O'Neil,follows Ellen Worthmore, the wealthiest young woman in New York City, on the night of her debutante ball. As she runs after her kid sister, and away from her aristocratic life, she discovers the city's best-kept secret, the Sewer People, and must choose between enduring the high life or thriving under the surface. In THE SCARLET SAVIOR: Issue #1 (Book and Lyrics by Lily Dwoskin and Music by Austin Nuckols) Maggie Sullivan, a small town superhero, gets hired by Superheroes Inc. to take over as New York City's first female superhero in the wake of the famous i murder by New York's villain, The Siren. But life isn't a comic book and Maggie soon learns that the lines between heroes and villains aren't so clearly drawn. Featured in the new works are Eriel Brown,
Alyssa Corella
,
Madison Dietrich
, Max DeLoach,
Connor Marsh
, Monica Minix, Nancy Morgester, Spencer Peterson, Erika Redding, Shakiba Shadman, Sydney Sheffield, Kyrra Thiel, Sydney Wesson, Keaton Wilkerson, and Mackenzie Zakoor. LILY DWOSKIN is a lyricist, librettist and playwright located in New York City. She graduated from the Graduate Musical Theatre Writing Program at NYU. She is the bookwriter/lyricist for the musical Hyena in Petticoats, as well as the ten minute musical, I Want to Eat Brains which was produced at Black Coffee Productions. Lily was also featured in
William Finn
's "Ridiculously Talented..." cabaret at
Barrington Stage Company
. She worked on "The Count", an ongoing project for the Lilly Awards that aims to increase gender parity in American Theatre. Lily loves cute animals, superhero movies, and board games.
Greg Moss
is a writer, composer, and performer from New York City. He holds a B.A. from
Sarah Lawrence
College and an M.F.A. in Musical Theatre Writing from NYU Tisch School of the Arts. His work has been produced at 54 Below, New York University, The Kraine Theater, The Brick Theater, and many other venues all over New York City. He improvises monthly with his short-form team, Rufus Khan, and plays Elmer Eldridge, a role he created, in Wanda and Pietro: Live! at the Peoples Improv Theater. Selected musical writing credits: The Great Cat Massacre (with Casey O'Neil), Common Grounds (music by Casey O'Neil), Dimanche Dans Le Parc Avec Tulane, (music by
Emily Rose Simons
), A Hundred Thousand Places, (music by
Peter Michael
von der Nahmer), Tabletop Cabaret: Hedgepig Races (book by
Lisa Reinke
). He is a proud member of the
Dramatists Guild
and ASCAP. AUSTIN NUCKOLS is a Brooklyn based pianist, composer, writer, and performer. Hailing from Mechanicsville, Virginia (which is actually a real place), he studied Mathematics and Music at University of Richmond and received his MFA in Musical Theatre Writing from New York University. As a musical theatre composer and lyricist, his work has been performed across the nation, through his children's shows (After Ever After (TheatreWorks, Texas), Allison Wonderland (Pantomonium Productions, NYC)) and larger scale works (Same Old Tune (University of Richmond), Hyena in Petticoats (
Dramatists Guild
, NYC)). Over the past year he has music directed in NYC (Off Broadway: It Came From Beyond, Frankenstein, Lili Marlene) and has worked extensively as a music director for children and adults with developmental disabilities. He wrote Inside Cloud 9 as a commission from the Dreamers Theatre/Firehouse Theatre; a devised musical theatre piece from the troupe's life experiences as adults with autism. Outside of the musical theatre world, Austin is an avid quidditch player (yes, actually; no, he doesn't fly) and served as the Snitch Coordinator for the US Quidditch League. CASEY O' NEIL is a composer, lyricist, and writer native to the NYC area. He received a BM in Trombone Performance from the Eastman School of Music and an MFA from the Graduate Musical Theatre Writing Program at NYU Tisch School of the Arts. His writing can be found in concert works, films, podcasts, song cycles, operas, comics and musicals, and has been presented at TheatreWorks, The Bruno Walter Auditorium, 54 Below, The Buffalo Film Festival,
Barrington Stage Company
, and
Lauren Flanigan
's living room. Selected credits include: The Essentials, a feature film; Soft & Salty Winds, orchestral tone poem (winner of the CCO composition competition); Danny & The Rocket, a new musical (Marella
Martin Koch
, book & lyrics); Hank & Elodie's Magic Book Adventures, a comic series (Joel Golombeck, illustrations); The Elephant in the Room, a song cycle. He is also a two time recipient of the Tisch I.P.A. Staff Grant (The Elephant in the Room, The Great Cat Massacre). His Opera, The Bone Keepers (Sophia Chapedjev, libretto) will be presented at Hunter College and Fort Greene Park this May.
Coneil13@gmail.com
Performances are FRIDAY, APRIL 20 @ 6:30pm and SATURDAY, APRIL 21
@ 6:30pm and 8:30pm. Tickets: $10 (general admission) available at the door or online at
www.eventbrite.com
. Performances at The Playroom Theatre,
151 West 46th Street, 8th floor
.
---
Shop BroadwayWorld

Shop this season's new musicals! Get dressed up for a night at the theatre, or just a night at home, with merch from some of Broadway's biggest hits including SOME LIKE IT HOT, KIMBERLY AKIMBO, and more!
---
Related Stories