New Work by Anna Deavere Smith, Collaborations with WP Theater, and More Amongst New York Theatre Workshop's 2018/19 Season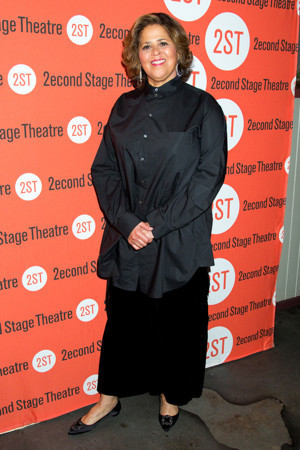 New York Theatre Workshop (NYTW) announces five productions as part of its complete 2018/19 Season, and the first production of their 2019/20 Season. The season begins in Fall 2018 with WHAT THE CONSTITUTION MEANS TO ME by two-time Obie Award winner Heidi Schreck (Grand Concourse, "I Love Dick") and directed by Obie Award winner Oliver Butler (The Amateurs, The Light Years); followed by the New York Premiere ofSLAVE PLAY by Jeremy O. Harris (Daddy).
The season continues in 2019 with the first co-production of a two-play collaboration with WP Theater (Artistic Director Lisa McNulty and Managing Director Michael Sag), HURRICANE DIANE, by Pulitzer Prize finalist Madeleine George (The (curious case of the) Watson Intelligence) and directed by Tony Award nominee, two-time Obie Award winner and NYTW Usual Suspect Leigh Silverman (Violet). The second co-production will take place at WP Theater with details to be announced at a later date.
Following HURRICANE DIANE is SANCTUARY CITY, by NYTW Usual Suspect and former 2050 Fellow Martyna Majok (queens, Ironbound).
The 2018/19 Season will conclude with a new project from Pulitzer Prize finalist, MacArthur Award winner and NYTW Usual Suspect Anna Deavere Smith (Notes from the Field, Fires in the Mirror).
New York Theatre Workshop is also proud to announce the first production of their 2019/20 Season, NYTW Usual Suspect Mfoniso Udofia'srunboyrun and IN OLD AGE, two plays to be performed together as an evening of work. runboyrun and IN OLD AGE follow 2017's Sojournersand Her Portmanteau, another pairing of work from Udofia's nine-part saga, The Ufot Cycle.
NYTW will also welcome six new artistic fellows into their artist community as part of the 2050 Artistic Fellowship Program. The 2018/19 Artistic Fellows are Melis Aker, Michael Alvarez, Nana Dakin, Philip Howze, Seonjae Kim, and Divya Mangwani. Full information about the fellowship program is available at nytw.org.
The 2050 Fellowship is named in celebration of the U.S. Census Bureau's projection that by the year 2050, there will be no single racial or ethnic majority in the United States. This projection provokes thoughts at NYTW about the transformations that will take place in the American landscape - technologically, environmentally, demographically and artistically. They are a catalyst for broader questions about our moral and artistic future. How do we define diversity? Whose stories aren't being told? What lies ahead for our world? In response to these questions, NYTW's longstanding Fellowship program has continually evolved to support the diversity of voices and aesthetics that will make up this new minority majority. A sister program, the 2050 Administrative Fellowship, serves as a unique training ground for early-career arts administrators.
2018/19 SEASON
WHAT THE CONSTITUTION MEANS TO ME
Directed by Oliver Butler
As a high school student seeking college scholarships, Heidi Schreck crisscrossed the country delivering impassioned speeches about the Constitution in American Legion Halls. As the captivating Obie Award-winning playwright and performer recreates those town halls, complete with droll Legionnaires and precocious adversaries, she exposes the profound impact the Ninth Amendment has had on generations of women and fiercely examines the very future of our inalienable rights. Obie Award winner Oliver Butler directs. This production originated as part of Summerworks 2017, produced by Clubbed Thumb in partnership with True Love Productions. What the Constitution Means to Me was commissioned by True Love Productions.
SLAVE PLAY
By Jeremy O. Harris
The old South lives on at the MacGregor Plantation - in the breeze, in the cotton fields...and in the crack of the whip. It's an antebellum fever-dream, where fear and desire entwine in the looming shadow of the Master's House. In this provocative and explosive new play, Jeremy O. Harris rips apart history to shed new light on the nexus of race, gender and sexuality in 21st century America. Slave Play is the recipient of the Rosa Parks Playwriting Award, the Lorraine Hansberry Playwriting Award and The Lotos Foundation Prize in the Arts and Sciences.
HURRICANE DIANE
Directed by Leigh Silverman
A co-production with WP Theater
Meet Diane, a permaculture gardener dripping with butch charm. She's got supernatural abilities owing to her true identity-the Greek god Dionysus-and she's returned to the modern world to gather mortal followers and restore the Earth to its natural state. Where better to begin than with four housewives in a suburban New Jersey cul-de-sac? Pulitzer Prize finalist Madeleine George pens a hilarious evisceration of the blind eye we all turn to climate change and the bacchanalian catharsis that awaits us, even in our own backyards. Tony nominee and NYTW Usual Suspect Leigh Silverman directs.
SANCTUARY CITY
DREAMers. Lovers. Life-long friends. Negotiating the promise of safety and the weight of responsibility, they'll fight like hell to establish a place for themselves and each other in America. NYTW Usual Suspect and former 2050 Fellow Martyna Majok brings us an unforgettable story that asks what we're willing to sacrifice for someone we love.
PLUS A NEW PROJECT FROM Anna Deavere Smith
Preeminent writer and performer and MacArthur Award winner Anna Deavere Smith brings a vital new solo show to New York Theatre Workshop in the Summer of 2019. Posing insightful questions without easy answers, her vigorous and virtuosic verbatim-style theatre weaves together deeply personal narratives and academic perspectives. Covering subjects from race riots and healthcare to politics and the school-to-prison pipeline, she and her work have been recognized with tremendous acclaim and accolades including the prestigious National Humanities Medal.
2019/20 SEASON
RUNBOYRUN & IN OLD AGE
After captivating audiences and critics in 2017, NYTW Usual Suspect Mfoniso Udofia returns with another pairing from her powerful, nine-part saga, The Ufot Cycle. Both rooted in the family's Massachusetts home, runboyrun and In Old Age pose questions about how to move forward when the past inhabits your very foundation. In runboyrun, Disciple and Abasiama Ufot have been living the same day over and over again for decades until the dam breaks and time rushes forward while also reeling backwards. They must uncover years of memories and cross great distances to find each other and unearth the roots of their marriage. In Old Age follows Abasiama far into the future as she learns the true nature of love just as life takes a new turn.
Performance schedules, casting and full creative teams will be announced at a later date.
A variety of 2018/19 Season membership packages are now on sale at www.nytw.org or by calling 212-460-5475 (Monday-Sunday noon-curtain time).
This spring, three-time Obie Award winner Rachel Chavkin returns to New York Theatre Workshop with Caryl Churchill's incisive drama LIGHT SHINING IN BUCKINGHAMSHIRE. In 1647 England, power is shifting and, amid the chaos and confusion, revolutionaries across the country are dreaming of a new future. Performances begin April 18, 2018 with an opening night set for Monday, May 7 for a limited run through Sunday, May 27, 2018.
The 2017/18 Season will conclude this summer with THE HOUSE THAT WILL NOT STAND by Marcus Gardley. In the heat of summer in 1813, Louisiana passed from France to the United States. On the eve of the transfer, in a house in mourning, freedom hangs in the balance for a steely widow and her three eligible daughters, all free women of color. Inspired by Federico García Lorca's The House of Bernarda Alba, Marcus Gardley's lyrical, nuanced play, THE HOUSE THAT WILL NOT STAND, is directed by Obie Award winner, former 2050 Fellow and NYTW Usual Suspect Lileana Blain-Cruz.
New York Theatre Workshop, now in its fourth decade of incubating important new works of theatre, continues to honor its mission to explore perspectives on our collective history and respond to the events and institutions that shape all our lives. Each season, from its home in New York's East Village, NYTW presents five new productions, over 80 readings and numerous workshop productions for over 45,000 audience members. NYTW supports artists in all stages of their careers by maintaining a series of workshop programs, including work-in-progress readings, summer residencies and artist fellowships. Since its founding, NYTW has produced over 150 new, fully staged works, including Jonathan Larson's Rent; Tony Kushner's Slavs!and Homebody/Kabul; Doug Wright's Quills; Claudia Shear's Blown Sideways Through Life and Dirty Blonde; Paul Rudnick's The Most Fabulous Story Ever Told and Valhalla; Martha Clarke's Vienna: Lusthaus; Will Power's The Seven and Fetch Clay, Make Man; Caryl Churchill's Mad Forest, Far Away,A Number and Love and Information; Jessica Blank and Erik Jensen's Aftermath; Rick Elice's Peter and the Starcatcher; Glen Hansard, Markéta Irglová and Enda Walsh's Once; David Bowie and Enda Walsh's Lazarus; Dael Orlandersmith's The Gimmick and Forever; Anaïs Mitchell's Hadestown; and eight acclaimed productions directed by Ivo van Hove. NYTW's productions have received a Pulitzer Prize, seventeen Tony Awards and assorted Obie, Drama Desk and Lucille Lortel Awards.
FOR MORE INFORMATION ABOUT NYTW:
Photo Credit: Jennifer Broski