Nai-Ni Chen Dance Company to Present In-Person Showcase Of Touring Works
Masks and proof of vaccination are required.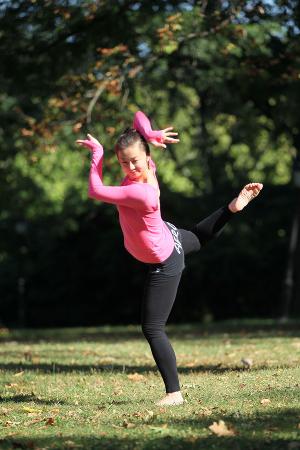 Nai-Ni Chen Dance Company is welcoming the first 10 people who RSVP to a FREE open rehearsal showcasing their touring works. The showcase will occur at NY Ctiy Center Studio 4 on Saturday, January 15, 2022 at 4pm.. Audience will be socially distanced. Masks and proof of vaccination are required. RSVP through the link is required due to limited capacity. To request a reservation visit: https://nainichen.org/apap.
About Nai-Ni Chen Dance Company:
Choreographer/Dancer, Nai-Ni Chen was a unique artist whose work crosses cultural boundaries. Each of her dances reflects her personal vision as an immigrant and an American female artist with deep roots in the Asian culture. From this very personal perspective, she created new works that reflect current issues with global influences. Many of her works have been developed in collaboration with renowned artists such as the Ahn Trio, Glen Velez, Joan La Barbara, Myung Hee Cho, Karen Young, and Bei Dao, among others. Bridging the grace of Asian elegance and American dynamism, the Nai-Ni Chen Dance Company is a premier provider of innovative cultural experiences that reflect the inspiring hope and energy of the immigrant's journey.
The company's ground-breaking works have focused on themes from ancient legends that reflect issues of the present time to purely abstract, contemporary dances influenced by the mix of cultures Nai-Ni Chen experiences in New York. An Asian American company that celebrates cross-cultural experience, the Company's productions naturally bring forth issues of identity, authenticity, and equality. The Company has presented at some of the most prestigious concert halls such as New York's Joyce Theater and Lincoln Center, and the Tampa Bay Performing Arts Center in Florida. The Company appears annually at the New Jersey Performing Arts Center, Queens College, the College of Staten Island and on Ellis Island. Internationally, the Company has presented at international festivals including Open Look Festival in Russia, the Silesian International Contemporary Dance Festival, the Konfrontations International Festival in Poland, the Chang Mu International Dance Festival in Korea, the Meet in Beijing International Arts Festival in China, and the Tamaulipas International Arts Festival in Mexico.
The Nai-Ni Chen Dance Company has received more than 20 awards from the National Endowment for the Arts and numerous Citations of Excellence and grants from the New Jersey State Council on the Arts. Advancing dance education, the Nai-Ni Chen Dance Company is currently in residence at New Jersey City University pioneering a program with the University's A Harry Moore Laboratory School teaching dance to urban children with disabilities. For additional Company information, visit their website, www.nainichen.org; write to Nai-Ni Chen Dance Company, P.O. Box 1121, Fort Lee, NJ 07024; or call (800) 650- 0246. To donate to Nai-Ni Chen Dance Company, visit: https://www.nainichen.org/donate.