Musicals Tonight! Announces Revival Of ANYTHING GOES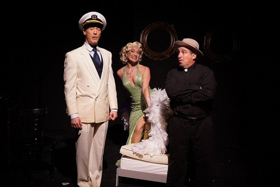 Back by popular demand, Musicals Tonight!'s production of Cole Porter's Anything Goes returns to The Lion Theatre at Theatre Row (410 West 42 Street) for a limited engagement February 27th through March 11th. Anything Goes is helmed by Casey Colgan who returns to the production as director and choreographer. Tickets are $45 and can be purchased through www.telecharge.com or by calling (212) 239-6200.
Reprising their roles for Musicals Tonight!'s Anything Goes are Meredith Inglesby (Newsies) as Reno Sweeney, Carlos Lopez (Man of La Mancha) as Moonface and Nic Thompson as the Captain (Mary Poppins), in addition to Briana Fallon, Cameron Lucas, Jessica Moore, Blake Spellacy, Becky Elizabeth Stout, Alexandria Van Paris and David Visini.
They will be joined by Cameron Benda, Mark Coffin, Jordan De Leon, Jan Leigh Herndon (La Cage aux Follies), Albert Hsueh, Nick Walker Jones (Nice Work If You Can Get It), Beth Stafford Laird, Spencer S. Lawson, Brian Ogilvie (Something Rotten), Daniel Scott Walton, and Kristen Welsh.
Christopher Stephens is the musical director and costumes are designed by Jack Maisenbach.
The original 1934 production of Anything Goes ran for over a year and has been revived on Broadway three times since then. Well known songs include "I Get a Kick Out of You," "You'd Be So Easy to Love, "You're the Top," "It's De-Lovely," and "Let's Misbehave."
Anything Goes takes place on board the luxury liner S.S. American where nightclub singer/evangelist Reno Sweeney is en route to England. Her pal Billy Crocker has stowed away to be near his love Hope Harcourt, who is engaged to someone she doesn't love. Joining this love triangle are Public Enemy #13, Moonface Martin and his sidekick in crime Erma. With the help of elaborate disguises, tap-dancing sailors and blackmail, Reno and Moonface join forces to help Billy in his quest to win Hope's heart.
The playing schedule for Anything Goes is as follows: Tuesdays, Wednesdays, Thursdays and Saturdays at 7:30 PM, with matinees on Wednesdays, Fridays, Saturdays and Sundays at 2PM (February 27th through March 11th).
Mel Miller, founded Musicals Tonight! in 1998 with the mission to keep early musicals alive and affordable. To date, they have presented 98 productions. Musicals Tonight! prides itself on the ability to bring back virtually- forgotten musicals for new audiences to discover and old audiences to rediscover. Musicals Tonight! has been unique in New York for its very elaborate and skilled fully staged readings of early musicals in their original forms. These range from the Gershwins' Lady, Be Good!, to Rodgers and Hart's Chee-Chee, to Cole Porter's Gay Divorce.